Loose forwards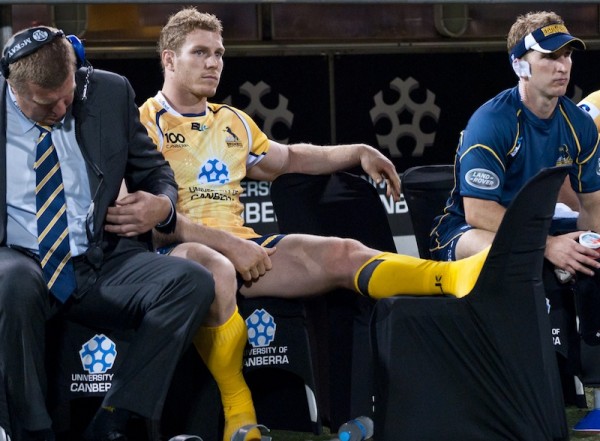 David Pocock (Openside, Brumbies) is arguably the best openside flanker in the world. If not, he is unarguably in the top three.
Pocock tore his anterior cruciate ligament in the Brumbies' round four thrashing of the Waratahs on March 9, and went in to surgery on March 14 in Brisbane.
Pocock can be expected back in Wallaby Gold in 2014, with a full return to the Brumbies preseason by early January 2014.
If he keeps at his physio like this then he'll be back terrorising the other Test nations better then ever in the future.
Scott Higginbotham (No.8, Rebels) is another explosive Wallaby loose forward whose season was cut short when playing the Reds on May 17. Higginbotham attempted a tackle on former Reds teammate, flanker Beau Robinson, dislocating his shoulder in the process.
Higginbotham underwent a full shoulder reconstruction to repair extensive ligament damage on June 4, and the recovery timeline is such that his soonest possible return to Rugby would be late November 2013. Higginbotham was not taken on the EOYT.
Wycliff Palu (No.8, Waratahs)has been long plagued with significant injuries. On the 20th of July, Palu tore his right meniscus, a cartilage in the knee, during training with the Waratahs.
Palu had surgery on the 28th, and will not be back until January 2014. At 31 years of age, and with his history of injuries, a retirement decision could be looming either this year or the next.
Hugh McMeniman (Blindside, Force) made a stunning return to international rugby after leaving Australia for Japan in 2009 after a three year stint at the Queensland Reds. The Nudgee College Old Boy suffered significant shoulder issues during the 2013 regular season with the Western Force, and was badly injured against the All Blacks in Bledisloe I, requiring a full shoulder reconstruction in late August. Force and Wallaby fans can expect to see 'The Madness' at his competitive best by late February 2014.
Jake Schatz (No.8, Reds) was a favourite son of Wallaby Coach Ewen McKenzie during his reign as Queensland Reds Head Coach, and the Australian U/20s Captain of 2010 was set to make his Wallaby debut against the Springboks in Brisbane on September 7, but was cruelly ruled out with a knee injury after the captain's run on September 6.
Scans revealed Schatz has suffered a tear of his Meniscus in his right knee. Schatz underwent surgery in late September, and is due back on November 3, 2014. Schatz was not selected for the Wallabies' Northern Tour.
Fotu Auelua (No.8, Brumbies), the 115 kilogram wrecking ball from Canberra, was sidelined with a shoulder injury playing against the Wellington Hurricanes on May 31 this year. Auelua was hopeful of a return to Super Rugby in time for the Brumbies' Finals' Charge, but it was not to be.
Auelua had surgery on August 14, and is hopeful of a return to Canberra in time for the 2014 season. Official rehabilition timeline expects a full recovery by early February 2014.