Outside Backs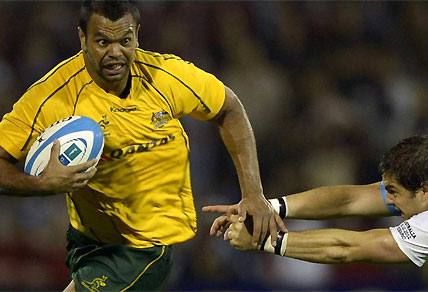 Beale first injured his shoulder on the 2012 Wallaby EOYT, but decided to play through the Super Rugby season with the Melbourne Rebels. Beale went in to surgery on July 30, several weeks after the 2-1 series loss against the British & Irish Lions. Beale was excluded from the EOYT 2013 Squad due to his rehabilitation, and will have recovered by early January 2014.
Joe Tomane (Winger, Brumbies) and Chris Feauai Sautia (Wing, Reds) were both reported to have suffered minor hamstring tears in Wallaby camp on October 15 2013. Neither injury required surgery, but a 10-day recovery period was mandated by Wallaby doctors.
Tomane and Sautia have both been selected by Ewen McKenzie to tour Europe on the EOYT.
Nick Cummins (Winger, Force) broke his hand playing against Los Pumas on his home patch in Western Australia on September 14. Cummins did not receive surgery, and is cleared to play by October 25. With some luck, we'll see a lot more of Nick Cummins in the future.
Jesse Mogg (Fullback, Brumbies) went through a stellar 2013 campaign that saw him rise to the status of a household name, all while carrying a shoulder injury sustained in March whilst entertaining the visiting Sharks. Mogg was largely disappointing as he was dropped in to the furnace of playing the Lions ultimately before his time had come.
Mogg has an operation on September 20, and his recovery timeline has not yet been finalised. Brumbies fans can expect to see him lighting up Canberra Stadium in time for the Super Rugby in 2014.
Cam Crawford (Winger, Waratahs) is one talented 'Tah who has largely spent his career in a sling. Given his opportunity to start with the Waratahs in 2013, Crawford stormed through his 8 matches scoring 7 tries, making him the 2nd highest try-scorer in Super Rugby (tied with Israel Folau). Crawford achieved this while carrying a shoulder injury through the season.
Crawford travelled with the Waratah Barbarians to Argentina, where he experienced some success. Crawford returned home to Sydney and imediately underwent surgery to attach a bone graft to his chipped shoulder bone on August 15.
Crawford expects to resume full training by early December 2013. Crawford was not selected on the EOYT due to injury.
Rod Davies (Winger, Reds) is only a single Test cap holder (and what a debut that was!), but he was still an option for Ewen McKenzie as his stable of outside backs was decimated by injury. Davies tore his left posterior cruciate ligament in a Reds win over the Waratahs on July 13, and can be expected back in March next year.
Dom Shipperley (Winger, Reds) was injured on August 10 playing for his Queensland Premier Rugby side, Brothers, against eventual competition winners Easts. During the course of the game, Shipperley injured his shoulder, requiring surgery on August 20.
Shipperley is scheduled to begin full contact training with the Reds after Christmas.
Lachie Turner (Winger, Reds) is another unavailable choice for Wallaby selection due to injury. Turner, one of the fastest men in Australian Rugby, broke his leg in a Shute Shield match for Eastwood on April 20 2013. Turner was operated on April 22, and will be ready to join the Reds preseason camp in December 2013.