While this isn't exactly a fair comparison of overall place kicking styles (routines), the difference between Quade's execution and that of Aaron from this match is marked. It's fair to say although both very accomplished kickers, they have together suffered their fair share of the 'yips' in recent times and I was looking forward to running the microscope over this encounter.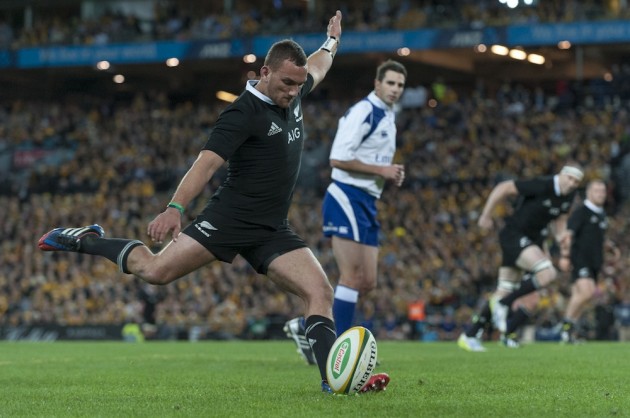 Bledisloe III was always going to have the right sort of anticipation for anyone that has an eye for the kicking game. A cruising All Blacks crew playing in front of 29,000 confident fans at the indoor 'swimming pool'. Coupled with a Wallabies outfit looking to stave off a series whitewash on Kiwi soil. We can already see the mental challenge for any rugby performance.
Rather than take you through the 'running sheet' for each player's routine, I will highlight a few key points and differences that determined the outcome of the attempts highlighted in our video.
Routine is so much more than technique. The effects of psychological application including visualisation, internal cueing and attentional focus can ultimately determine the quality of technical execution. A kickers role here is not to put the cart before the horse, so to speak.
And so to Quade. Aside from his steely concentration, Cooper's commitment to routine & process was evident in the fact it did not vary all night. Many tests, as a coach, can be conducted with players to determine susceptibility to distraction. In this match, Quade was always going to be tested. So first points to Cooper for applying and trusting his 'system'…
It could also be argued, that Aaron "physically" missed the kick in the video, but it (in my opinion) was his "mental" application through the routine affected the outcome. This often happens when players are kicking from beyond their (distance) range or are feeling scoreboard or time pressures. I have seen this from Aaron before (Super Rugby Final 2013) and wonder of his commitment to this area of his performance.
THE KICKS IN QUESTION:
http://youtu.be/4bXC6ulw1mg
Aaron appears to have rushed his set up process, and gave himself less time to gather than I recall is the norm for him.
'Rushing' to the tee, as occurred here, can cause hips to sink at heel strike which compromises a sound kicking posture. Quite simply, Aaron was not balanced at the point of impact. The distance may have played on his mind as he appeared to swing/strike too hard. His inability to "close off" his non kicking side caused counter rotation which is evident by the anchor effect of his support leg. Here the kicking leg force has dominated, causing a severe hook to the left. Not to mention his support foot a little short of the tee, affecting hip rotation and timing. Let's not ignore contact point on the ball- the foot wrapped wide causing mis-kick and where the ball landed. Falling away, there wasn't ever going to be optimal power transfer. The damage had been done before contact.
For Quade, almost a mirrored opposite. Firstly, he looked in control of his Pre Performance Routine. No mean feat considering the tee was only metres from the Dunnas faithful. Superior balance and stability at tee arrival, coupled with ideal 'posture' give a great platform from which to kick. It was the nature of his controlled approach to the tee that allows for this.
His contact (strike) as you can see was directly through the line of the ball, parallel to target. Delivering with explosive foot speed, Quade was able to successfully kick smoother, not harder.
It was his non-kicking side that did a great job in securing the straight ball flight. A "shoulder through the door" movement at contact closes off that side of the body providing assistance and preventing rotation (pivoting) and anchoring. He achieved this whilst maintaining a compact technique and transfer of weight in the direction of the goals. Just have a look how he landed, beautiful in the eyes of a kicking coach.
AND THE WINNER IS?…
Although we know Aaron is a well established kicker, and they both have work ahead to achieve "great" status, a unanimous points decision on this occasion to Quade Cooper…
For all the kicking 'nerds' out there I hope this has been a nice break from reading about the usual rugby topics (and no less exciting and important of course) and shed some light on an often overlooked and under-analysed area of our great game.
By Stuart Lierich
Specialist Kicking & Catching Coach/Consultant