That sucked. Just… sucked. What a shocker.
It's hard for me to even try and be rational here. I'm pretty angry. But here goes:
Congratulations England
The better team, well done. What an incredible defensive effort. So much heart, so much toughness. They deserve the spoils of victory – a truly historic series win. They have played most of the series without the ball, and have been in control of all but 10 minutes of both games.
It's almost impossible to pick a man of the match, as all 15 players had their moments and it was a true team effort. But again what hurts the most is they played SMART. Which is what we used to do. They played to their strengths and executed their game plan to perfection.
Well played lads.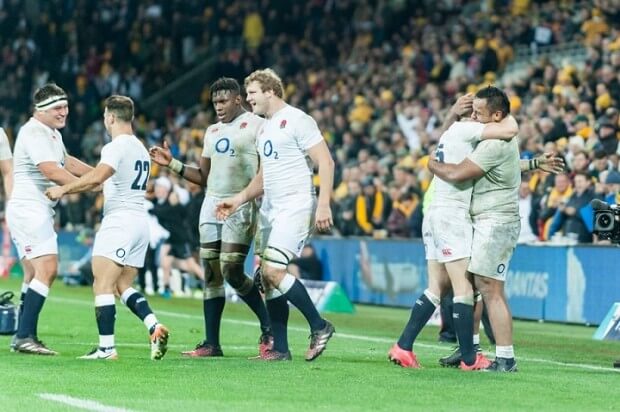 Intelligence
What was our game plan? No idea. From the first ten minutes we knew two things: firstly, it was going to be a tight, physical game, and secondly that it was a bit wet and handling was difficult. So for anyone with three rugby brain cells, that means your game plan MUST involve:
Kicking for territory, and playing it down THEIR END.
Playing tight with ball in hand, and earning the right to go wide.
Take the points whenever you are offered them.
How many of these three tactics did we employ? ZERO. A duck. None. England? Three out of three.
We stuck to our guns, trying to play a side-to-side game and England picked us off every. Single. Time. It was so predictable, it was so dumb. And that was the game, as it was last week.
Leadership
Where was our leadership out there? Why were we getting involved in off-the-ball niggle at every breakdown? That is not how the Wallabies play rugby, it never has been. We were throwing ourselves around, and it cost us. It was just dumb rugby (see a theme developing?).
Stephen Moore is in real risk of being dropped next week. He was largely anonymous, and completely outplayed by TPN. He also gave away a stupid, stupid penalty when we had three points in the bag. In the BAG. We needed a real leader out there, and unfortunately we didn't have one.
But it wasn't like anyone else was any better. Michael Hooper spurned three points in front of the posts to go for a try. We were down six points with 15 minutes to play, an ETERNITY in this game. Dumb captaincy. Any cool heads in the backline? Nah. Headless chooks, the lot of them.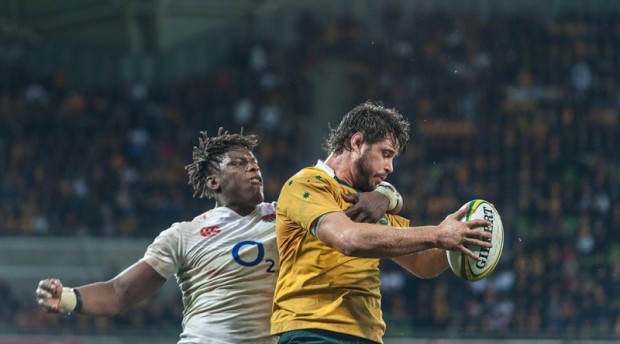 Accuracy
It's a buzz word you often hear in rugby these days, accuracy. Let's break down our game tonight in search of the much-vaunted accuracy:
Passing – nope. Nick Phipps had a shocker (in slippery conditions, but a shocker nonetheless), and Foley was not much better. Passes were up, down, behind, on the ground.
Catching – noooope. 14 handling errors and counting. Shithouse.
Kicking – Another no. Very telling that our best kicks actually came from Nick Phipps. And that one time Sean McMahon grubbered it through… and then dropped it.
Selection – Ba bowwww. We needed a second playmaker, a second kicking option. We didn't have one, and paid the price.
So a big ZERO in all facets there.
Positives
But let's be a bit brighter for a second. We should have won that game by 20. We created so many chances. We built momentum, we had them on the rack… and then bottled it.
It's a bit like golf – it's all well and good to shoot three great rounds and put yourself in contention, but there is a reason why the last 9 holes are called the Championship holes. It's where the truly great players stand up, hit great shots and hole long putts. We played some sexy shots tonight, but when it came time to hole the 10-footer on the 18th? We bottled it. Wasted all the good work up until that point. Sorry if that went a little off track, been watching a lot of the US Open lately.
Our forwards were OK, our set piece was OK, we did enough good things to win the game. But we just didn't.
Joubers
Don't think I haven't forgotten about you Craig. He had a shocker tonight, and unfortunately 90% of the calls went England's way. He ignored the offside line (even when Nigel Owens TOLD HIM THAT ENGLAND WERE OFFSIDE AT A LINEOUT). He ignored high tackles. He ignored the 'release the tackled player' law (has that been repealed or something?). He called 'advantage over' for no reason at the end of the first half, robbing us at a shot at goal which would have levelled the scores.
He had a nightmare game. Very poor indeed. He certainly wasn't alone out there, though, and England were the better side and deserving winners. But still… we just couldn't catch a break out there.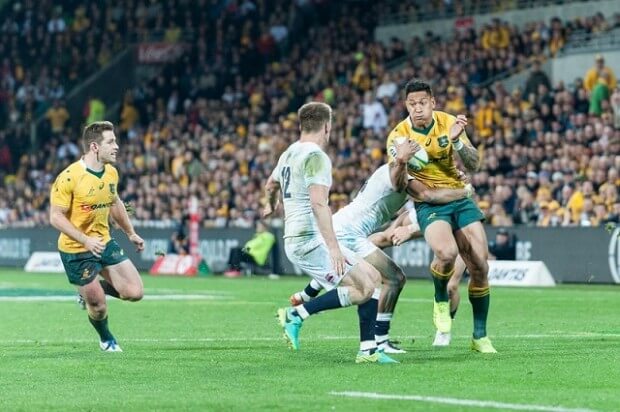 Coaching
Eddie Jones has beaten Michael Cheika in straight sets, 6-2, 6-3, 6-2. Just to continue the tortured sporting metaphors.
Cheika needs to take a lot of the blame for the dumb, dumb rugby we have played.
Picking up the pieces
We need to win in Sydney, it's as simple as that. The bulk of the international season is still ahead of us, and we need momentum badly. So let's look at changes:
I'd drop Stephen Moore and start TPN, who offers a lot more around the ground. Hooper will take the mantle as captain, and while he's not a great skipper… I'm not sure Moore is at the moment either.
The rest of the forwards were good enough, I suppose, and there isn't really anyone banging down the door to be included. Scott Fardy was poor tonight but deserves to be persevered with. I thought McMahon was OK.
In the backs… there isn't too much you can do either. Bring in a second playmaker at 12, but other than that? It's not like you can drop Foley, we just don't have anyone else.
That's the thing that annoys me the most. This is our best team, give or take a player. We've just been beaten by a smarter team.
If we had half the brains England do, we'd be 2-0 up I reckon.