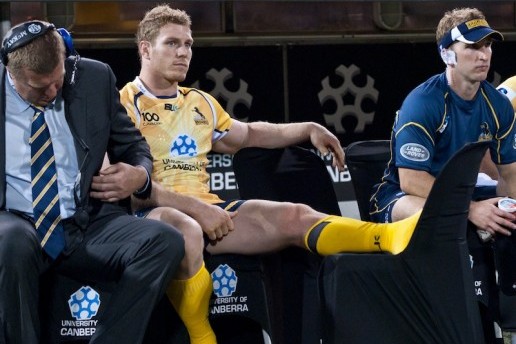 Locks
Scott Fardy (Second Row, Brumbies) was the Wallaby find of the season, an explosive ball runner and a hard worker off the ball. Coming off a breakout game in Rosario against Los Pumas on October 6, Fardy was diagnosed by team doctors as suffering from bleeding behind the eye.
Although bleeding had stopped, Fardy was ruled out of training for the next two weeks, missing the final Bledisloe Cup match in Dunedin.
Fardy was cleared to train and play on October 20. Also selected in the EOYT Squad, he will likely start on November 2 in the Test against England
Rob Simmons (Second Row, Reds) has joined the Wallaby Injury List. Simmons has re-sprained the medial ligament in his left knee this morning (31/10/2013 AUS) while training ahead of Australia's clash against England at Twickenham.
Simmons is expected to miss 2 weeks, and is currently expected to return for the match against Ireland in Dublin.
The injury is a re-occurence of the same injury Simmons suffered against the All Blacks in Dunedin.
Hugh Pyle (Second Row, Rebels) was having a very good season in Melbourne in 2013 when he injured his shoulder in the May 17 derby against the Queensland Reds.
Pyle went under the knife on June 4, and the Rebels released a statement anticipating the big forward would recover from his arthroscopic shoulder surgery in time to finish out the season with the Rebels.
Pyle was, however, still unavailable for selection on the EOYT due to injury considerations. No further information has been officially released, but a 6-7 month recovery timeline is standard for an operation of this nature. Pyle admitted yesterday morning that he 'has a fair bit of rehab to get through'.