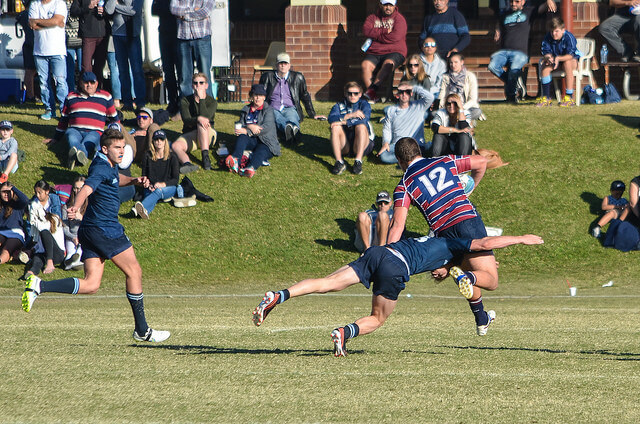 Match of the Round: Gregory Terrace at Churchie (25-27)
Getwithme
Churchie have defeated visiting Gregory Terrace 27-25 in a dramatic opening to the 2015 GPS Rugby season.
Guided home by a vocal crowd of supporters, spirited performances from both sides left the result hanging in the balance for the entirety of the match.
The Red and Black rejected the opportunity to kick a winning penalty goal with full-time approaching, electing to instead score a try from a rolling maul.
While their execution was off, Terrace's commitment to running rugby ensured that the Game of the Season tag was hotly contested from round one.
Churchie flyhalf Brodie Croft was a favourite in the Man of the Match stakes after scoring a sublime double, contributing a crucial 17-points to his team's ledger.
Terrace's back three, spearheaded by winger Will Eadie, added three tries of their own to take the result to the wire in the final moments.
The visitors seized an early lead when a slow fold on the right wing provided Will Eadie a chance to score, smooth footwork pushing Terrace out to a five-nil lead.
Churchie replied within an instant as Brisbane Bronco's U-20s star Jayden Su'a capitalised on a defensive error, bursting through a hole and offloading for fullback Jack Mason to equalise.
With the game starting to gain speed, holes were widening and players were beginning to take the opportunity.
One such player was Brodie Croft, last year's Premiership-winning winger turned flyhalf, who dummied through the line and jinked his way over for a five pointer, adding the conversion.
After Croft added a penalty goal to take the lead, Terrace struck back through their own Rugby League convert Quillian Pritchard-Malaki, scooting away for the corner from his fullback position to cut the deficit to 15-12.
A strong carry from Australian Schoolboy loose forward Sam Wallis sparked Churchie's final attacking play of the half, setting the scene for Croft to cross out wide for his second.
A yellow-card for repeated infringements cut the flyhalf's celebrations short, forcing him to watch his teammates repel several raids on their own line by a resilient Terrace side from the sideline. Half time 20-15 to ACGS.
Terracian wing Will Eadie outdid himself again as the second half opened, chasing down an exit kick only to grubber ahead, winning the footrace to carry his side into a 22-20 lead.
As the second half unravelled, Terrace's reserve front row forced a scrum penalty which sent Churchie's hooker to the bin.
Lock Pat Carrigan sent the ball sailing through the posts, increasing the lead to five with 20-minutes remaining.
Churchie looked more convincing with each tick of the clock, growing in confidence with each phase and eventually wresting back the lead through the hand of Jayden Su'a and the boot of Brodie Croft.
Another long range try was called back after a skirmish in back play drew the attention of the referee, resulting in a red card (and one week suspension) to Churchie's openside flanker James MacMillan.
As both sides continued to toil, Terrace won a penalty eight metres in from touch on the 22, but neglected to take the points option, instead gunning for the line.
A poorly thrown lineout turned the ball over, allowing Croft to guide his side through the last few phases to a 27-25 win.
Churchie 27 – Tries: Jayden Su'a , Brodie Croft (2), Jack Mason  Conversions: Brodie Croft (2) Penalties: Brodie Croft (1)
Terrace 25 – Tries: Quillian Pritchard-Malaki, Will Eadie (2) Conversions: Pat Carrigan (2) Penalties: Pat Carrigan (1)
THE PLAYERS
For Churchie, Brodie Croft was everywhere, even when he wasn't on the field and has several attacking weapons in his arsenal.
As expected, Jaydn Sua dominated in collision in the backline and was supported well in the forwards by Hockings and Wallis
For Terrace, forwards Pat Carrigan, Will Beirne and Jack Lutvey did well as Will Eadie ran rampant in the backs. Watch out for upcoming fly half Isaac Lucas after a strong performance today.
The Game Changer
Brodie Croft's return to the field gave Churchie some much needed direction and execution in a period where GT looked the goods.