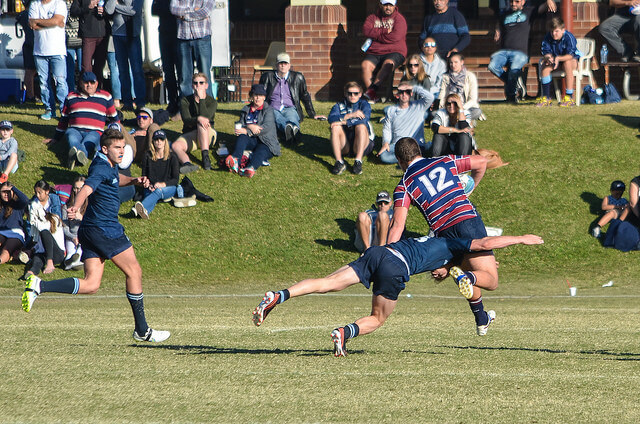 Toowoomba Grammar at Nudgee College
TheKing
To view John Sayers photography for the match, please follow this link: https://www.flickr.com/photos/maroondamimages/19624605680/in/album-72157656058945251/
Nudgee College welcomed Toowoomba Grammar School onto their hallowed Ross Oval pitch in the first instalment of GPS Rugby 2015, bidding their guests farewell at 25-7.
Ross Oval's reputation as a graveyard for the premiership ambitions of visiting schools was reinforced yet again as the Nudgee Rugby-machine dispatched another opponent.
The match pitted Queensland Schoolboys captain Reece Hewat against his state deputy Hamish Stewart, while Queensland I props Gavin Luka and Harry Weld went head-to-head at scrum-time.
However, the first half was marred by three yellow cards to the visitors within 15-minutes.
A pair of tip-tackles from number eight Will Shelton and halfback Harry Green earned generous yellow cards, while a deliberate knock-down in the red zone condemned inside centre Ashton Watson to the bin also.
Rusty play prevented Nudgee from capitalising on their significant numbers advantage, despite building plenty of momentum by dominating the set-piece.
Nudgee's lineout was untouchable, with throws to back-rowers Reece Hewat and Tom Zappala at the back enabling Nudee's well-organised backline to attack Toowoomba's wide channels with ease.
The first try of the day was scored from a set-piece move reminiscent of an All Blacks game plan circa 1995: get the ball into the hands Australian Schoolboys breakaway Kalala Meni.
A short lineout won, Nudgee fired the ball into midfield for Meni, easily breaking three tackles before looping a long cut-out to sibling TJ on the left wing.
Australian Barbarians prop Gavin Luka powered through four tacklers from close range soon after to open his 2015 account, sending Nudgee to the break leading 17-0.
Refereeing that ranged from pedantic to lax gave both sides an equal chance to win the breakdown penalty lottery, though it put a damper on the free-flowing potential of the match.
Nudgee College flyhalf Liam Moseley refused to overplay his hand, content to marshall troops from breakdown to breakdown, the reverse of what could be said of his opposite number.
Toowoomba's stars worked hard in the second half to engineer a comeback, but were met at every turn by a Nudgee XV that was always a step or two ahead.
The Mountain Men conceded a penalty with ten remaining to trail 20-0, but struck back instantly through Queensland II representative Ashton Watson.
An up-and-under targeting Nudgee's blindside wing TJ Meni was snatched away by the inside centre 40m out from goal, going on to sprint away untouched for a converted try.
Kalala Meni replied with an impressive try from close range to seal the win and the Green and Gold Rugby man of the match award.
Accolades must also be awarded to his back-row compatriots Reece Hewat and Tom Zappala for stellar performances around the pitch and in the air.
Toowoomba Grammar will host Brisbane State High up the range for the latter's first match of the season.
Nudgee will enjoy an early bye, but will aim to keep their momentum going for a Round 3 trip to Brisbane Grammar's Northgate playing fields.
Nudgee College 25 (Tries: Gavin Luka, Kalala Meni, TJ Meni; Conversions: Liam Moseley (2) Penalties: Liam Moseley (2)
Toowoomba Grammar School 7 (Tries: Ashton Watson; Conversions: Hamish Stewart)