Wow well didn't the quarter finals kick off with a bang? Two great games between four very evenly-matched teams. Great to watch as a neutral bystander with no dog in the fight. Certainly makes watching the games a whole lot less stressful. Firstly we will examine the Argentina v Wales clash; then take a look at the NZ v Ireland spectacular. Finally, we will wrap the day's news with a look at the Australian coaching shenanigans.
*Note: Monday's news was written prior to the England V Fiji, and South Africa V France games being played.
We will also take a visit to the brand new Green & Gold Rugby Store. Complete with our unique MARGA "Make Australian Rugby Great Again" merchandise. So stick your head in and buy some fabulous G&GR merch, to help us revive this great game!
Argentina 29 defeated Wales 17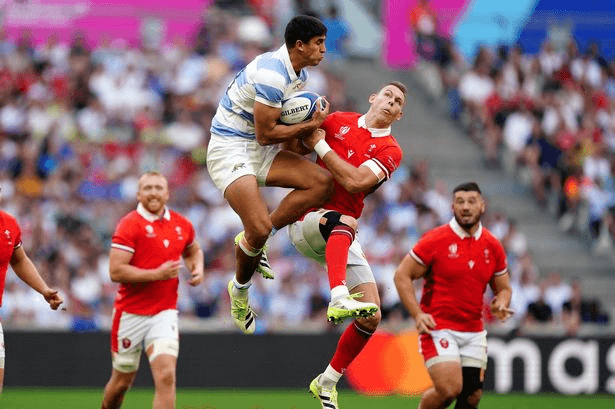 See Hoss' G&GR Match report here.
Argentina has booked their place in the Rugby World Cup 2023 semi-finals after they clawed their way back from behind, down 10-0, to beat Wales 29-17 at Stade de Marseille on early Sunday morning Australian time. In an absolutely compelling quarter-final match, it was the FISMs who were victorious thanks to a very impressive final quarter. The match was competitive and close throughout until the last 4 minutes when Argentina grabbed a fabulous intercept pass, bolting 45 metres, to score pushing the Argies into the lead. And then with one minute left on the clock, the Argies grabbed a 3 pointer to add the icing on the cake thus leaving the Taffs dejected. But they performed valiantly for a team that most people had written off coming into this year's RWC.
Of note was something I haven't seen happen in over a decade, Jaco Peyper left the field, appearing to suffer a calf muscle injury from a leg collision with a player at the base of a ruck. Englishman Karl Dickson came on to referee the rest of the game. Best wishes to Jaco for a speedy recovery.
New Zealand 28 defeated Ireland 24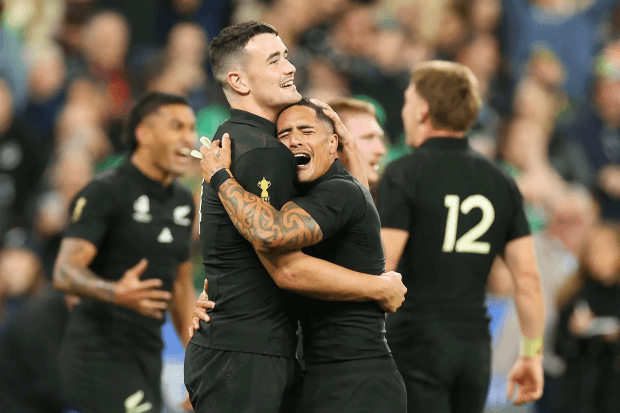 See KARL's G&GR match report here.
New Zealand has demonstrated the best defensive performance in the last decade of the All Blacks to secure a well-earned victory 28-24 over Ireland in a game worthy of being the World Cup final, setting up a showdown with Argentina in the semi-finals. The All Blacks had some discipline issues and played for 20 minutes with 14 men against the No. 1 team in the world, and had to dig deep to defend for 40 phases in the last 3 minutes of the game to hold Ireland out. You really have to wonder if the Ireland curse is real now!
Ardie Savea clearly deserved the Man of the Match award, he was immense in both attack and defence. NZ's ability to get turnovers at vital moments of the game proved crucial. Jordie Barrett was pretty amazing with a crucial tackle holding up the Irish over the line to save a certain try.
An absolutely stunning game to watch. IMHO Wayne Barnes refereed a great game, allowing it to flow so that the two attacking teams could go at it. As a neutral, it was a joy to watch two uber-competitive teams slug it out. Well worth watching the full replay.
Coaching Shenanigans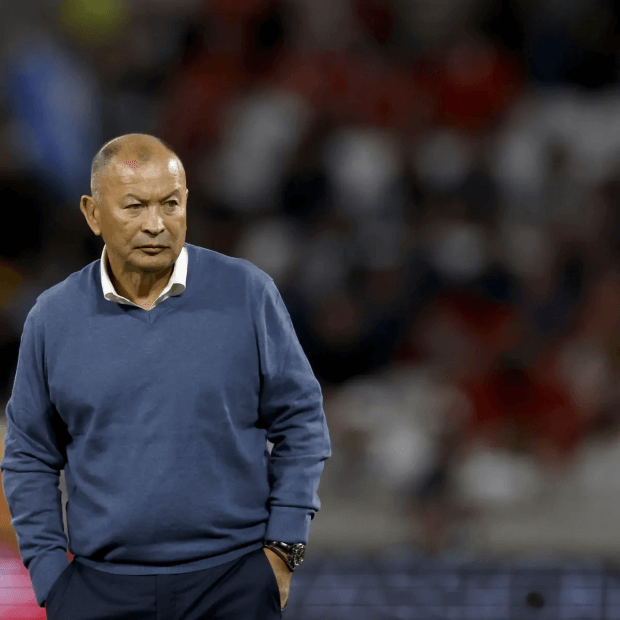 Just when you think the whole Eddie Jones saga can't get any worse, we had further reports on Friday stating that Dr. Evil was definitely interviewing for the Japanese coaching role. See the report here.
Eddie Jones flew back into Australia and was ambushed by journalists, who by the way are not the biggest fans of Eddie due to his ongoing obnoxious behaviour.
Reporting on the issue has stated that Jones is frustrated with the high-performance model in Australia and delays in implementing Rugby Australia's plans to move to a centralised system similar to Irish rugby. It is believed Eddie was promised this by RA and Hamish "The Hammer" McLennan and was allegedly promised to have control over the Super Rugby and state franchises.
The ongoing standoff and complete 'radio silence' out of Moore Park is only inflaming the situation. RA does not have the money to sack Eddie Jones, so are in for a penny, in for a pound! But the more this festers the more all involved look like a Barnum & Bailey three ring circus; it reeks of an amateur culture and organisation that lacks the structures, processes, and ability to handle such matters. As this descends into the total shitfight that it actually is, you can understand why the states don't want to have anything to do with RA handling finance or contractual matters for their franchises.
In addition to this, why would any new coach want to walk into this unmitigated disaster? Who would want to be one of Eddie's assistant coaches moving forward? Who would really want to be a senior Wallaby for the next set of tests? No one is coming out of this scenario looking good, and all it's doing in the meantime is destroying the game in Australia that we all love as fans. We don't want to watch a bad soap opera, we want to watch great rugby! Which is what we got to watch in the quarter final matches, matches we more likely would've participated in if Hamish hadn't launched into this fool's crusade.
So the long and the short of it is that Eddie "I am fully committed to the Wallabies" Jones is holding a press conference sometime on Tuesday to supposedly answer questions. Reports out of RA are that they have 'no idea' what he'll be announcing. But knowing the way Eddie handles the media it's going to turn into a belligerent insult slinging diatribe. So let's wait to see how this one turns out. Brisney's prediction is "Not well"!
Green & Gold Rugby Shop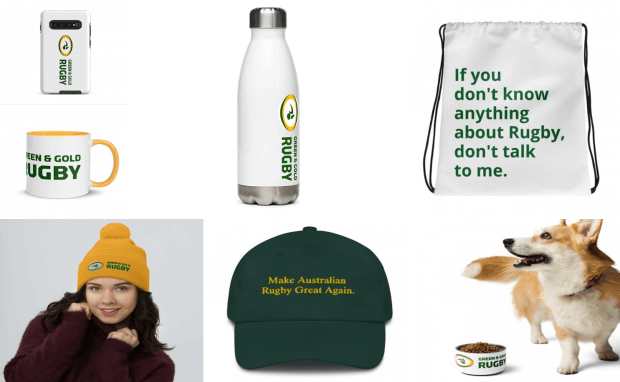 https://greenandgoldrugby.com/shop/
Well the G&GR team has finally opened their merchandise shop. The products range from beanies to water bottles! And from hats to dog bowls! Also included in this, is the fabulous Hoss-inspired MARGA (Make Australian Rugby Great Again) range.
For all orders over $100 if you use the code "GAGR" you'll get a 10% discount! So get out there and grab yourself some merch!
Hope you all have a ripper Monday, and we'll see how the remaining two quarter finals turn out.
Over to you G&GRs, have at it!