Happy Monday G&GRs! Hope you lot are feeling as sleep-deprived as I am. Other than Australia v Fiji, Round 2 has really been a case of David v Goliath. Tier 1 v the minnows. As generally happens in RWCs, the heavyweights of the pools engage with the second tier. However, we are definitely seeing an improvement in all of the tier 2 nations, and to date, no real cricket scores are being racked up. So anyway let us dive into round two and see what has come out of these games.
* Note: this match report was written late Sunday night, and does not cover Australia vs. Fiji, England vs. Japan, and South Africa vs. Romania.
France 27 defeated Uruguay 12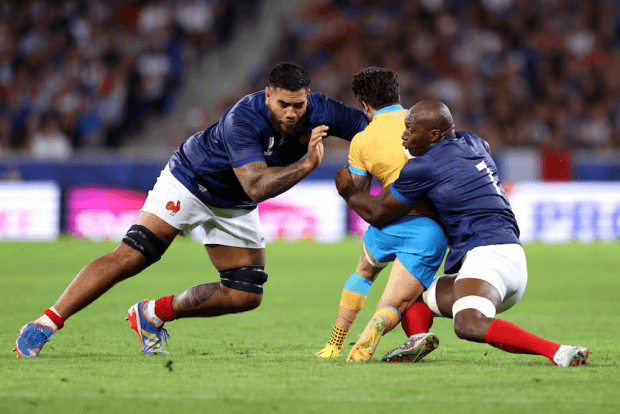 See Eloise's match report here.
This game early Friday morning Australia time was quite the surprising one. The Uruguay team was certainly no easy beat against a French team that was resting a number of key players. The lack of cohesion and familiarity between combinations was on show for all to see. Fabien Galthié will be happy that he got some good game time into his players, especially for Hastoy. The La Rochelle fly half whilst rusty looks like he will be able to step up if anything happens to Jalibert. Having already lost Ntamack.
New Zealand 71 defeated Namibia 3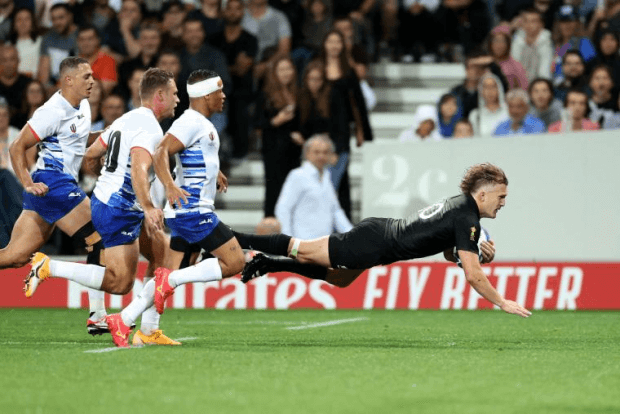 See KARL's match report here.
In what proved to be little more than a training run, the Kiwis certainly made a short shift of this Namibian team. Fozzie Bear took the opportunity to get some game time into broader squad members, which we will see is a bit of a theme in these David vs. Goliath encounters. Damien McKenzie took the 10 spot for Rutchie Mo'unga, and Caleb Clarke took a run on the wing. Whilst not the full-on cricket score one could have been expecting (i.e. 100 plus points), this match went pretty much to plan.
Wales 28 defeated Portugal 8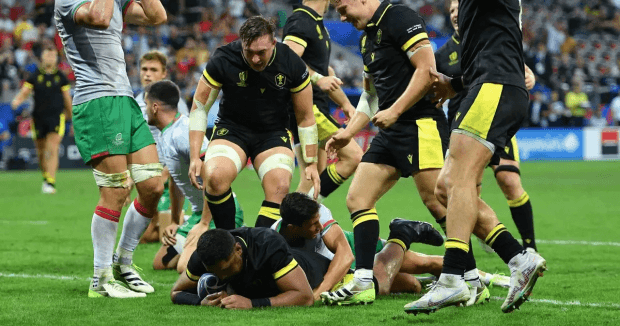 See G&GRs own Welsh reporter, Eloise's unbiased review here.
Wales have made it two from two to start RWC2023 after a 28-8 win over Portugal down the south of France in Nice. With two first-half tries from Louis Rees-Zammit and Dewi Lake and another two tries in the second-half from Jac Morgan and Taulupe Faletau, this was enough to earn a solid victory. But there is little doubt that they made hard work of it, doing it the way only Wales could. Portugal managed to score a solid try of their own in the second half through Nicolas Morta as they set about making life tough for the Northern Hemisphere Sheep Shaggers.
The final result now puts Wales on 10 points in pool C after earning a well-needed bonus point against the Portuguese in the closing minutes of the game. This may prove very important as Pool C shapes up at the pointy end of the tournament.
Ireland 59 defeated Tonga 16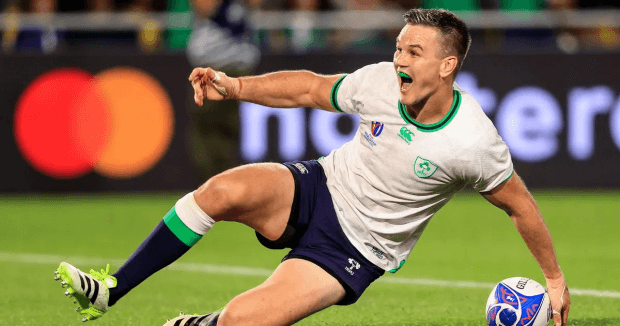 See KARL's match report here.
Ireland certainly sent out a warning shot to the rest of the World Cup challengers as they ran in eight tries against the South Pacific's Tonga on Saturday night. In what can only be described as a stop-start first half, Johnny Sexton opened the scoring with a penalty but the Irish discipline was a problem from the start, and saw themselves level soon after, conceding a scoreable penalty. But if Ireland's discipline was poor, Tonga's was worse and a silly penalty gave Ireland another scoreable chance and this time it was Caelan Doris.
The highlight of the game was definitely when Irish captain Johnny 'Sexpot' Sexton broke the Irish scoring record, surpassing Ronan O'Gara, as he bolted away for a try under the posts. But Ireland didn't have it all their own way with Peter O'Mahony copping some cheddar cheese and Ireland conceding a try right before the half to go in 31-13. Then to start the second half, a Tonga penalty saw the score at 31-16. But after that, Ireland pulled their finger out of their arse and piled on the points to put Tonga to the sword.
Samoa 43 defeated Chile 10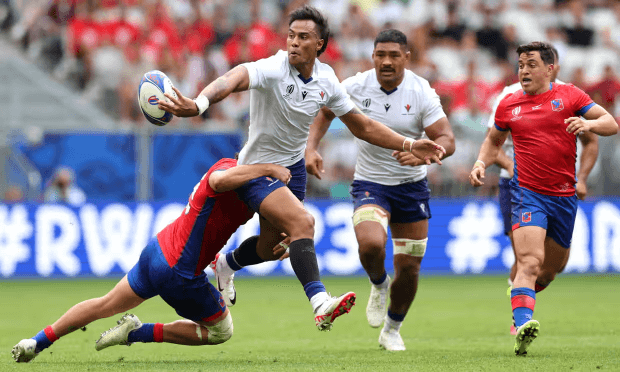 See Red's and Wallabies Fan (RAWF) game report here.
The Samoan team overcame a very early scare to secure a much-needed bonus point victory. In what turned into a bit of a cheddar festival, with three yellow cards being handed, Samoa through the benefit of the revised eligibility rules, made the most of their former All Black and Wallabies players. In a really tight first half, Samoa was able to cross the line just before halftime to go to oranges up 19-10.
Chile went to the bench early changing four players at halftime, but really let themselves down in the second half with plenty of handling errors and giving away needless penalties while in attack. In the end, the Samoans had too much strength and composure, and put the spicy Chileans out of their misery.
So What?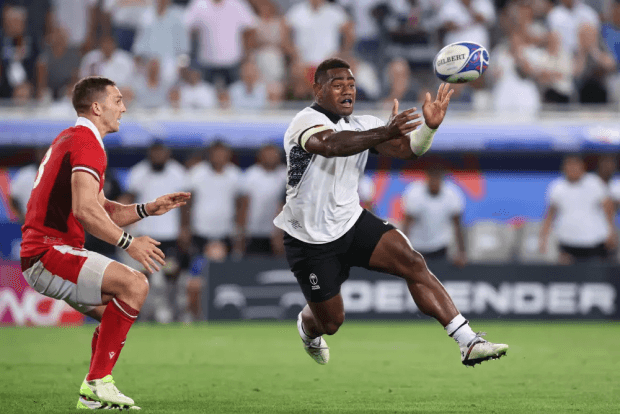 So here we are in Round 2, the David v Goliaths are pretty much done and dusted and what have we learned? As mentioned previously the tier 1 teams have rotated their stock to get game time into the broader squad players and rest up their starters. This tournament runs deep, and to go all the way to the finals you need to ensure all of your players are fit and healthy, and the combinations are still gelling.
What impressed me though was how a number of the minnow teams have really improved since the last World Cup. While there is obviously still a gap, that gap between the top teams and the lower teams is getting closer and closer. It will still be a number of years before we see total parity, but it isn't off the cards. The days of the top 5 teams being the only powerhouses in rugby I think are over. The top 5 will become the top 7 or 8. Especially with the eligibility restrictions changing, we are seeing the Pacific Island nations teams lift. And I for one think that this is great for Rugby.
Injury is proving to be one of the decisive factors in this World Cup. The Wallabies are down Tupou, Skelton, and McDermott. We aren't the only side that has had some serious injuries during the tournament. South Africa is down Malcolm Marx and Eben Etzebeth. Squad depth and redundancy are big issues for all of the squads that want to go deep into the finals. Squad management will be an art form.
Anyway G&GRs, I need to get organised to head into the office and am feeling a little on the tired side. Have at it!