Happy Thursday Comrades. The semi-finals are upon us. Congratulations to the winners and the loser can please themselves.
As always this is a fan run site and any contribution is always welcome feel free to reach out to me at happyman@greenandgoldrugby.com.au be it with an article an idea or an opinion piece. This week we have an excellent contribution from Crescent. His well-reasoned and articulate contribution is what makes this little corner of the internet worth the daily visit.
We also have a submit an article page as the vision is that world domination.
Broken Faith and Moving On – Where to From Here? – By "Crescent"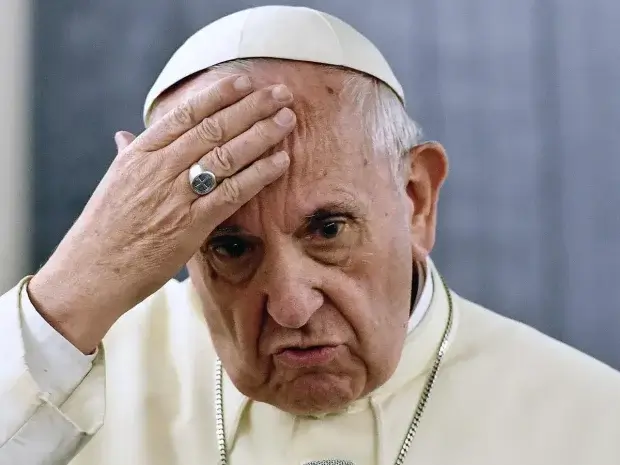 "Did I ask too much? More than a lot
You gave me nothing, now it's all I got
We're one but we're not the same
Well, we hurt each other then we do it again"
One – U2
In the aftermath of a dismal World Cup campaign, and the inevitable turmoil that follows, many words have been written, spoken, recorded and bellowed into the void with where Australian rugby should go next. We are by no means short of passion, but, do we hold faith with any level of the code to deliver a credible professional level any more?
The Social Contract
In any organisation, be it professional, social, volunteer, or otherwise, we hold to a social contract. In employment, if you behave and perform in alignment with the organisation you have a reasonable expectation for reward and ongoing employment. There is a level of faith between parties in trust that the relationship will deliver mutual benefit. When that faith is broken, the relationship breaks down and performance dramatically declines.
There's an argument that RWC2023 could well mark the straw that broke the camel's back in terms of broken faith between all parties in rugby, and the echoes of betrayal resonate through all levels, from national to Super Rugby, to club rugby, subbies, down to junior rugby and finally the rank and file supporter. Is there enough intelligence left at the top levels of the code to realise how many fences are to be mended before any meaningful change can be achieved?
A Potted History of Broken Faith
Australian rugby has been no stranger to turmoil at an administrative level. From state v state fights on the origin of the next or last Wallaby coach or player, or the battle for control over player development, supporters have borne witness to endless shenanigans, and we may finally have reached the end of the road in terms of our tolerance for the outcomes.
If we jettison Eddie who steps into the vacancy? Foreign coaches won't be excited at the opportunity presented by Rugby Australia. Dave Rennie was recruited to build a squad, and he diligently and quietly set about building continuity and depth, looking to blend youth and experience. There were some horrid results and some suggestions of performance to come, and having been cruelled by a horrific run of injuries at times had still advanced the state of the squad. His reward: to be unceremoniously discarded and sent packing. Promises and reassurances worth nothing. Contract worth nothing. Faith that he would have time to see the squad through a campaign he was building up to broken.
At least he isn't lonely.
Rob Penney inherited a depleted Waratahs roster, given no budget to recruit or improve, and was duly run down by the board and shown the door for failing to get results. Such a terrible coach he is succeeding Scott Robinson at those well know losers, the Crusaders. Faith broken.
It's not just foreign coaches. Ewen McKenzie. David Nucifora. Coaches who took pride in developing professionally and delivering results, abandoned at the highest levels and their faith broken.
RA CEOs. Raelene Castle had applied limited resource to developing from the U20s roster – teams that could match it with the best in their tournaments, but was shown the door over a senior player who couldn't help himself on social media. Andy Marinos comes through as a professional sports administrator, ultimately sidelined and replaced for failing to fall in line behind a professional marketer who has promised the world, and barely delivered an atlas. Which competent people would want to fill these roles, knowing full well the promises of support and resource are empty?
When we agreed to scrap a Super Rugby side to maintain a failing conference system, an assessment criteria was proposed, then ignored in order to cut the Western Force. We undid years of investment and player development and set rugby in the West back a decade. Faith broken.
Anaemic attempts to start a third tier competition under the ARC/NRC guise – underfunded, under developed and imposed from the top down without working with clubs to deliver clear benefits. Faith broken.
From 2003, clubs were told funds would flow from the top down, that Australians love winners and a successful Wallaby squad would see increased funding down to Super clubs and club level rugby. Instead, we have juniors and subbies paying levies to the top level to support the organisation that has been hollowing out professional rugby consistently with self-serving decisions and no accountability. Faith broken.
Finally, we land in our current situation. Faith has been broken at all levels of the game, culminating in regular supporters deciding that professional rugby here isn't worth the pain, and for those of us who are rusted on lovers of the code looking to support other teams as we can longer see any benefit in buying into the latest set of promises coming from top of the code. Like listening to politicians at election time, you never really believe any of the puff coming out of the press releases.
Where to From Here?
There's been plenty of talk of the benefits of centralisation, and cautiously qualified support coming from various state bodies.
I would argue that faith needs to be repaired before any of this can actually work. The main way to restore faith is to break down the old structures, and start again with a more equitable and accountable body to lead the code.
A body where voting rights are equitably distributed to all parties. Where the board and national body are accountable to the bodies they are supposed to notionally lead. A body where professional administrators competent in leading professional codes are employed, empowered and retained. Where any strategic plan is measured, reviewed and reported on.
Australian rugby needs deeds, not words if we want to be competitive as a professional code.
Did you know Rugby Australia had a strategic plan for 2016 -2020? Here it is, straight from the source (https://www.rugby.com.au/news/2016/04/11/09/30/new-five-year-strategy-for-australian-rugby) How did we measure up? What has replaced it? Who was accountable for results achieved (or not)?
From 1996, the rugby playing world officially went professional. Australia rode the wave coming from a strong shamateur period, but have petered out as we continue to look at glorifying the past while our contemporaries have evolved, invested and improved to more comprehensive professional requirements. We have fundamentally failed to understand the assignment. We now have an opportunity to reset and rebuild.
Funnily enough, when a project has clear accountabilities, outcomes and a path that involves measurable steps to the promised result, attracting funding for those steps is far easier to achieve than selling equity on the potential of a code that has bungled its way from one mess to another for the last 20 years or so.
To steal BrisneyLand Local's sign off – over to you G&GRs!
RWC – What Did We Learn
The top end of the game is decided on very fine margins.
South Africa want to make you lose rather than they win.
New Zealand are a very well coached team and Ian Foster could be the first coach sacked after winning a RWC.
England are still hanging around.
Argentina seems to be hitting form.
Both Ireland and France can be proud of their campaigns
Fiji ran out of gas.
Wales ran out of players.
The on field refs are very good (Raynal excepted), TMOs are patchy. And the bunker does a pretty good job
Fine Margins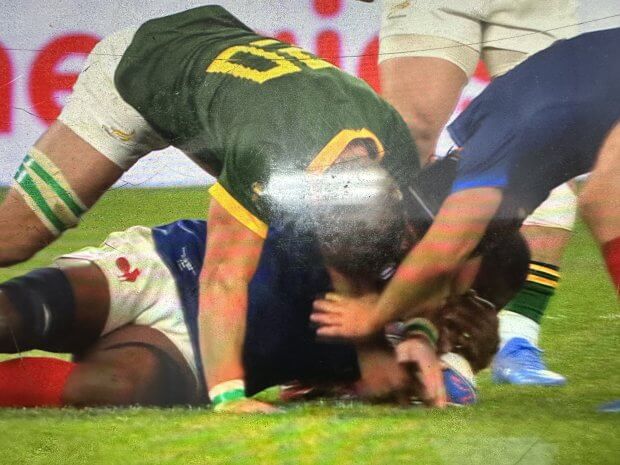 This weekend saw some of the most brutal and well executed games of rugby I have ever seen. The Fijian, Irish, Welsh and French coaches were generally gracious in defeat in a highly emotional environment. It also solidifies why I think rugby is streets ahead of the other mainstream codes in Australia.
Ireland v New Zealand decided by the bounce of the ball. Savea gets one that jumps straight into his arms. Sheehan has one that bounces hard right and high with a clear run to the line.
South Africa v France ultimately decided by a tough breakdown call not supporting his body weight sir. Pictured above
Argentina v Wales decided by an amazing cover tackle and an all or nothing intercept play.
England v Fiji The calm experience of Owen Farrell slotting a drop goal.
Eddie's Press Conference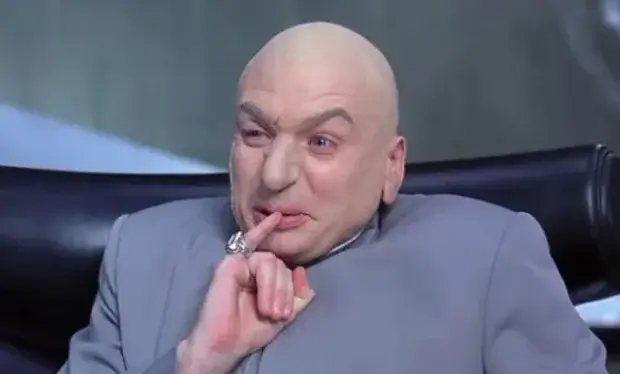 I was listening to the excellent Australia rugby podcast "Pick & Drive" today and heard the quote from the boys that the Eddie Jones conference excluded Zoom calls and was in person only. Assuming this to be the case it's poor form from both RA refer to Crescent's excellent piece above and Eddie to not give his accusers the opportunity to ask questions.
If what Eddie has said is true play on, but, if as suspected, he's gilding the lily then he has no authority to continue in his role and should resign. It could also be the case that in the blood sport that is Australian rugby politics he's being white anted from within.
Full press conference:
Heading away for the weekend so the phone will get a work out. Enjoy Hoss of the long run tomorrow.