Greetings fellow rugby lovers and welcome to another Friday's Rugby News.
Today I invite all Wallabies fans to cast off the yoke of despair for all that ails Australian rugby and instead pay homage to the rugby gods for what we witnessed last week and for this RWC in general. Putting our orange woes to one side, as fans of this great game, we have witnessed sumptuous rugby and titillating sporting theatre thus far.
So for all of that, let's hook into today with 'We'll Take it From Here!'. Dive into semi-final previews with 'My Precious'. Hand out a G&GR gong with 'The Voice'. Look at round one of the WXV1 in 'Golden Girls Go Time!' before 'Friday's Goss with Hoss', your guaranteed weekly rugby news 'Pinada'.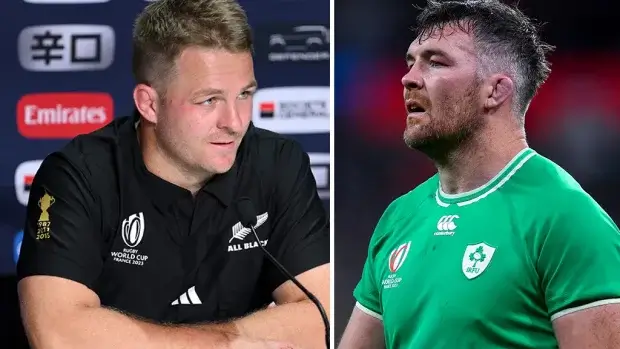 We'll Take it From Here!
The northern hemisphere can't deliver on the rugby field when it matters can they? Harsh? Maybe, but also technically and statistically correct. 6N Champions, Grand Slams, World number #1s, unbeaten runs and this weekend it counts for what exactly?
OK, so the Wallabies didn't exactly set the tournament alight. And by 'alight', I mean they completely dropped their matches in the pool both figuratively and literally. But come Sunday morning our time, at least our glorious southern hemisphere will once again show the world how it should be done when it comes to rugby tournaments, when we have two sides through to yet another final of the RWC. Thus ensuring yet another SH World Champion.
Like many, I loved the romanticism of a possible maiden SF appearance by those in green. Sure I picked The Nearlies to win, but I could've happily lived with the Gaelic Gurus confronting the Galloping Gauls in a Parisian finale. Best teams in the world between World Cups by some distance. But best teams at the World Cup? Maybe, but it counts for what again?
The stark reality in France is that rugby has no time for sentiment and likewise, deserving has nothing to do with it. You must earn what you get and last week the south earned every morsel while the north fell short. They certainly weren't bad, they just needed to be better. Only a fraction better, but better nevertheless. Rugby cares not that you are a retiring national treasure and in a team that for years has been playing sublime rugby. Likewise, so what that you're the host nation of the Battle of Bill, tell your story walking Jacque.
Happy said yesterday that the results of these games are decided by margins so fine that they're barely distinguishable. A bounce here, a whistle there and perhaps we could've had the final we probably all thought we'd get, maybe even hoped we would get. But until that time we need to make sure the north remembers the south dominates rugby and the Webb Ellis Trophy will be 'ours' once again.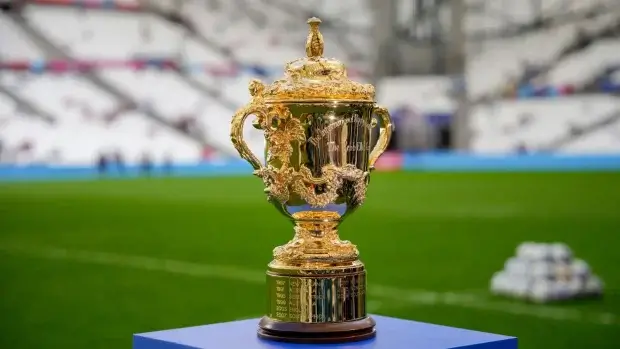 My Precious
All times are AEDST & coverage on STAN
Saturday, 21 October: Argentina v New Zealand, Stade de France, Paris (6:00 AM)
I find myself at the crossroads of a rare moral dilemma. Do I follow the team with our former national coach, hell the former coach of the most successful Australian franchise of the last 9 years, my NSW Waratahs? Or do I stick with geographical neighbours, which as the image above suggests was once part of Australia anyway and quiet possibly part of NSW?
So to the game. Cheik has made a rather large call and cut Tomas Cubelli from his 23 all together while the ABs welcome back the man without a watch, or phone, or the ability to tell the time in any way, Mark Talea. They also welcome back Samisoni Taukei'aho to the pine instead of 'at least my mum loves me' Dane Coles.
What impressed last week about the ABs was their ability to take the intensity up a gazillion levels from anything they've produced this year. I don't reckon even the most rusted on, sheep loving Kiwi dribbler could have predicted a defensive display of over 5 minutes and 35 phases to close out their QF win last week. It was, and will forever be, the stuff of rugby legend.
And while The Throat Slitter was MotM (and probably rightly so) the guy who continues to fly under the radar and is at the heart of so much of what goes well for the Kiwis is Jordie Barrett. Sure he's probably not even the best footballer in his family, let alone the ABs. But how often do you see him make a bad decision or option on the field. An uncomplicated player who keeps things simple and delivers week in, week out. Wish he was born in Australia. Although we'd pick Vunivalu in front of him I guess.
As for Los Pumas, well, they are full of South American piddle and vinegar, or 'passion' if you will. Is it just me or did that scuffle just before halftime seem to increase Latino blood pressures for what unfolded in the second half? They hung tough, stayed in the fight and as the match grew, simply could not be denied. A very Cheika coached, team performance. But, Wales fluffed their lines and left a heap of points out on the field. Something NZ simply will not do.
I was also amazed at just how big the FISMs forwards were too. Wearing white shorts made their hind quarters rather substantial and I quipped to Mrs Hoss there was more crack on the field then in all the streets of Manhattan. But size comes as a trade off with stamina, something those nearly in All Black will look to expose.
Prédiction Intrépide: I love Cheik. Sure my acceptance and patience was diluted towards the end of his Wallaby stint, as it was for many, but I can't help but like him still. However, the ABs won't not be as generous as the Welsh. Indeed the only thing that'll beat the Nearlies this week will be possible emotional come down, or flatness, after last week's incredible Oirish match. So come on Kiwis and yes, I feel slightly dirty saying that and have also started to notice sheep are actually pretty cute as well, but for this one, they're specials. NZ by 19.
Argentina (15-1): Juan Cruz Mallia; Emiliano Boffelli, Lucio Cinti, Santiago Chocobares, Mateo Carreras; Santiago Carreras, Gonzalo Bertranou; Facundo Isa, Marcos Kremer, Juan Martin Gonzalez; Tomas Lavanini, Guido Petti; Francisco Gomez Kodela, Julian Montoya (capt), Thomas Gallo
Replacements: Agustin Creevy, Joel Sclavi, Eduardo Bello, Matias Alemanno, Rodrigo Bruni, Lautaro Bazan Velez, Nicolas Sanchez, Matias Moroni
New Zealand (15-1): Beauden Barrett; Will Jordan, Rieko Ioane, Jordie Barrett, Mark Telea; Richie Mo'unga, Aaron Smith; Ardie Savea, Sam Cane (capt), Shannon Frizell; Scott Barrett, Sam Whitelock; Tyrel Lomax, Codie Taylor, Ethan de Groot
Replacements: Samisoni Taukei'aho, Tamaiti Williams, Fletcher Newell, Brodie Retallick, Dalton Papali'i, Finlay Christie, Damian McKenzie, Anton Lienert-Brown.
Referee: Angus Gardner (Australia) Assistant Referee 1: Nic Berry (Australia) Assistant Referee 2: Karl Dickson (England) TMO: Ben Whitehouse (Wales)
Sunday, 22 October: England v South Africa Stade de France, Paris (6:00 AM)
To HIA, or not HIA, that is the question.
From the outset let me say if it were not against The Soap Dodgers, if it were any other side at all, I would not be cheering for The Catholics. This match is really a game of who I'm cheering for less. Well that and the fact I find Siya Kolisi such a spectacularly decent human being, which kind of offsets my own few, hardly noticeable, shortcomings.
While the ink is dry and history will forever show the French lost, they won the game in every facet bar one, and that one is the scoreboard and that folks is all that matters.
But credit where credit's due. The evolution of the Boks game since 2019 is both extremely intelligent and incredibly hard to beat. They have flair, yes 'flair', across the fairies and unadulterated pace on each wing. Add to that, absolute behemoths in the forward pack, their considerable skill and impetus on the bench, plus 18 HIA 'checks' during a game and they are a very complete rugby side.
What probably didn't get said enough last week was both Jesse Kriel's shooting defence and the same by Tyrion Lannister Faf de Klerk when he came on. The French game players got very little time, space or peace from the relentless Saffa D. Indeed it was a credit to how smart and skilful Les Bleus are that the margin at fulltime was only one. How the Frogs inability to handle relatively simple midfield kicks will haunt the French side for an eternity, something they don't deserve. But there you have it.
Now for Ol' Blighty and the team who are 'The Soap Dodgers'. Occasionally, very occasionally, I feel a pang of guilt for the English as a people. One of the great empires of all time, who now settle in on a Saturday night for a curry and episodes of Neighbours. The nation who gave us cricket, soccer, rugby, Dickens, Shakespeare, The Beatles, Samantha Fox and the Westminster system, now shite at all of it. Without a friend in Europe (or anywhere really) and into a RWC semi-final by default and perhaps the help of Australia's favourite French ref.
I begrudgingly accept there's a degree of skill in drop goals and penalty conversions. Equally, I accept there's a degree of skill in mental patients interpreting Picasso on canvas with faecal matter. Given a choice I know which one I'd rather watch and a clue for you all, it wouldn't involve Owen Farrell.
History will forever show that those from far southern Scotland are in another RWC SF. But even English fans don't like watching England play, so they start fights in the stand to end their misery. On any rugby metric the Poms are poor: they aren't fit enough; they aren't fast enough; nor do they have enough rugby smarts to match, let alone beat, the South Africans. They have no idea who is their best #10. The only threats they have is the Saffas falling into a deep coma through boredom against them.
Steve Borthwick seems a decent rooster. Likeable, slightly dim for sure, but likeable. But in his heart of hearts even he must realise he's pushing sewer up hill with a toothpick. In any rugby metric, in every player v player match up the Poms are hopelessly outgunned, out muscled, out thought, out coached and ultimately will be outplayed. Vastly outplayed.
Prédiction Intrépide: Saffas by 28.
England: Freddie Steward, Jonny May, Joe Marchant, Manu Tuilagi, Elliot Daly, Owen Farrell (c), Alex Mitchell, Ben Earl, Tom Curry, Courtney Lawes, George Martin, Maro Itoje, Dan Cole, Jamie George, Joe Marler
Replacements: Theo Dan, Ellis Genge, Kyle Sinckler, Ollie Chessum, Billy Vunipola, Danny Care, George Ford, Ollie Lawrence
South Africa (15-1): Damian Willemse; Kurt-Lee Arendse, Jesse Kriel, Damian De Allende, Cheslin Kolbe; Manie Libbok, Cobus Reinach; Duane Vermeulen, Pieter-Steph du Toit, Siya Kolisi (capt); Franco Mostert, Eben Etzebeth; Frans Malherbe, Bongi Mbonambi, Steven Kitshoff
Replacements: Deon Fourie, Ox Nche, Vincent Koch, RG Snyman, Kwagga Smith, Faf de Klerk, Handre Pollard, Willie le Roux
Referee: Ben O'Keeffe (New Zealand) Assistant Referee 1: Andrew Brace (Ireland) Assistant Referee 2: Paul Williams (New Zealand) TMO: Brendon Pickerill (New Zealand)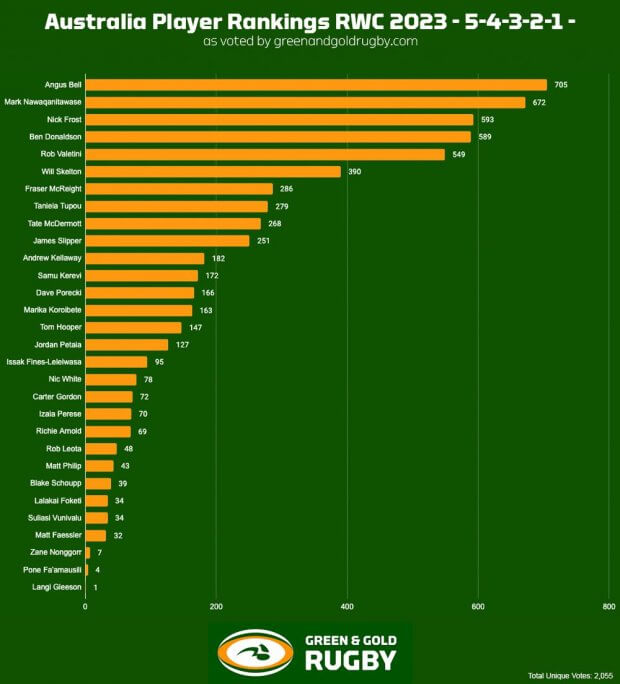 The Voice.
In another example of the shortcomings of a democracy, where even Queenslanders get to vote, the G&GR community has spoken and chosen future Wallaby captain, Angus 'The Bull' Bell, as the inaugural winner of the G&GR Wallaby of the 2023 RWC.
In a tight vote Bell finished on 705 votes, just ahead of The Funky Bunch on 672, Elsa Frost 593 and a stewards' inquiry into 4th place.
The Bull will be recipient of:
An exclusive G&GR Trophy, a treasure money can't buy
A G&GR 'MARGA' hat
$4.50 in prize money
Twin pack of Mars bars
RA lunch boy and paid tourist William Nathanson has promised he'll get the G&GR prize to the young titan and hopefully a photo or two on this esteemed site of the recipient with the much sort after G&GR loot.
I would say when you look at those players towards the point end of the voting, there's some young talent there for the future and not a bad 'nucleus' of a future side.
From all at G&GR, congratulations Gus and here's to your continued success on the rugby field.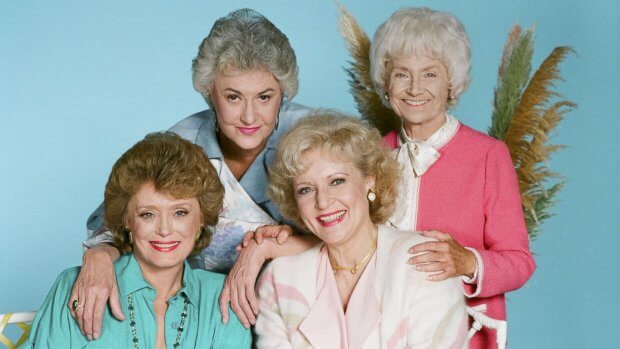 Golden Girls Go Time
One for all rugby lovers today as our Wallaroos take on an actual exciting English rugby side, the Red Roses. The Wallaroos are match #1 of three over Friday and Saturday as part of the WXV1 grouping. Eloise recently wrote an excellent article, for a Welsh person, about the WXV competition, you can catch up here.
The Wallaroos will need to improve vastly from their September outing against the Black Ferns in September. The NZ side feeding our lot their backsides, without sauce, for a 43-3 hiding.
The Wallaroos look likely to hand a jersey to some newcomers in search of greater consistency and physicality at this level. While events in France are currently hogging the limelight, who can forget that epic women's RWC final between NZ and England. It was brilliant rugby and something the Wallaroos must aspire to if they truly want to be considered a tier 1 rugby nation. Why does that all sound so familiar?
Go well Wallaroos.
All times are AEDST & coverage on STAN.
England v Australia. Sky Stadium NZ. Fri, 20 October 4:50pm Kick off 5:00pm
Wallaroos side here at nsw.rugby
Canada v Wales. Sky Stadium NZ. Sat, 21 October 1:50pm Kick off 2:00pm
New Zealand v France. Sky Stadium. Sat, 21 October 4:50pm Kick off 5:00pm
Friday's Goss with Hoss.
Off with his head?
So sayeth Phil Waugh, kind of. In what for me was a real positive insight into Waugh as a person and administrator, he went on record with 2GB saying he would consider it 'disloyal' should Jones have participated in a job interview with the JRFU as alleged. SMH has more.
It's the story that won't go away huh!
Father time.
One interesting tidbit this week with Los Pumas legend, Gus Creevy becoming the oldest player ever to appear in a RWC SF. At 38 years and 219 days, Gus pips the previous ol' fart record set by little known lock Victor Matfield, who was a spritely 38 years and 166 days. A mere toddler in comparison.
Four more years boyos
Warren Gatland has confirmed he can't coach at SR level, hates life in general, and will stay in Wales as coach until the completion of the 2027 RWC. stuff.co.nz has more.
BOK joy?
Not so if you're Antoine Dupont, who was more than a touch miffed by some decisions, or more concisely a lack thereof, from BOK during their epic QF loss to the Dutch Dirt Farmers.
I must admit I thought there were two clangers that went against France, but full credit to Mr O'Keeffe as he seems a quality human when you read his response here again on stuff.co.nz Not sure if will make Les Frogs any happier though. But classy retort nonetheless.
Johnny be good?
I don't mind a bit of banter in rugby or in life generally (did you here the one about Yowie, a rabbi and Raquel Welch at a nudist colony: 'you call that a Kransky'?) but when Oirish media take offence at a sledge to recently retired, and never been in a RWC semi-final, St Johnny Sexton from loveable Kiwi, Rieko Ioane (Polynesian for 'Dane Coles'), you kind of have to laugh and go, 'hang on, who served a ban again for abusing match officials recently?'.
Catholics suck.
Not since the Reformation have the English been so anti-Catholic. So says renowned dwarf tosser and guy married way above his station, Mike Tindall. Tindall was guest on English rugby echo chamber 'The Good, The Bad & The Rugby' and sprouted several key facts about how France were the much better side in almost every department against The 'Pope's Lot last week. Conveniently, the royal rooter overlooked one minor fact, in that South Africa actually played so poorly yet still won.
The team in green will do things to the English this week not seen since William the Conquerer.
planetrugby.com has more
Ruby Tui's day
The Black Ferns welcome back superstar Ruby Tui for their first WXV match this weekend. Tui hasn't played since the World Cup final and is back in time to take on France.
That's me for another week. Wall to wall rugby all weekend. Enjoy.
Hoss – out