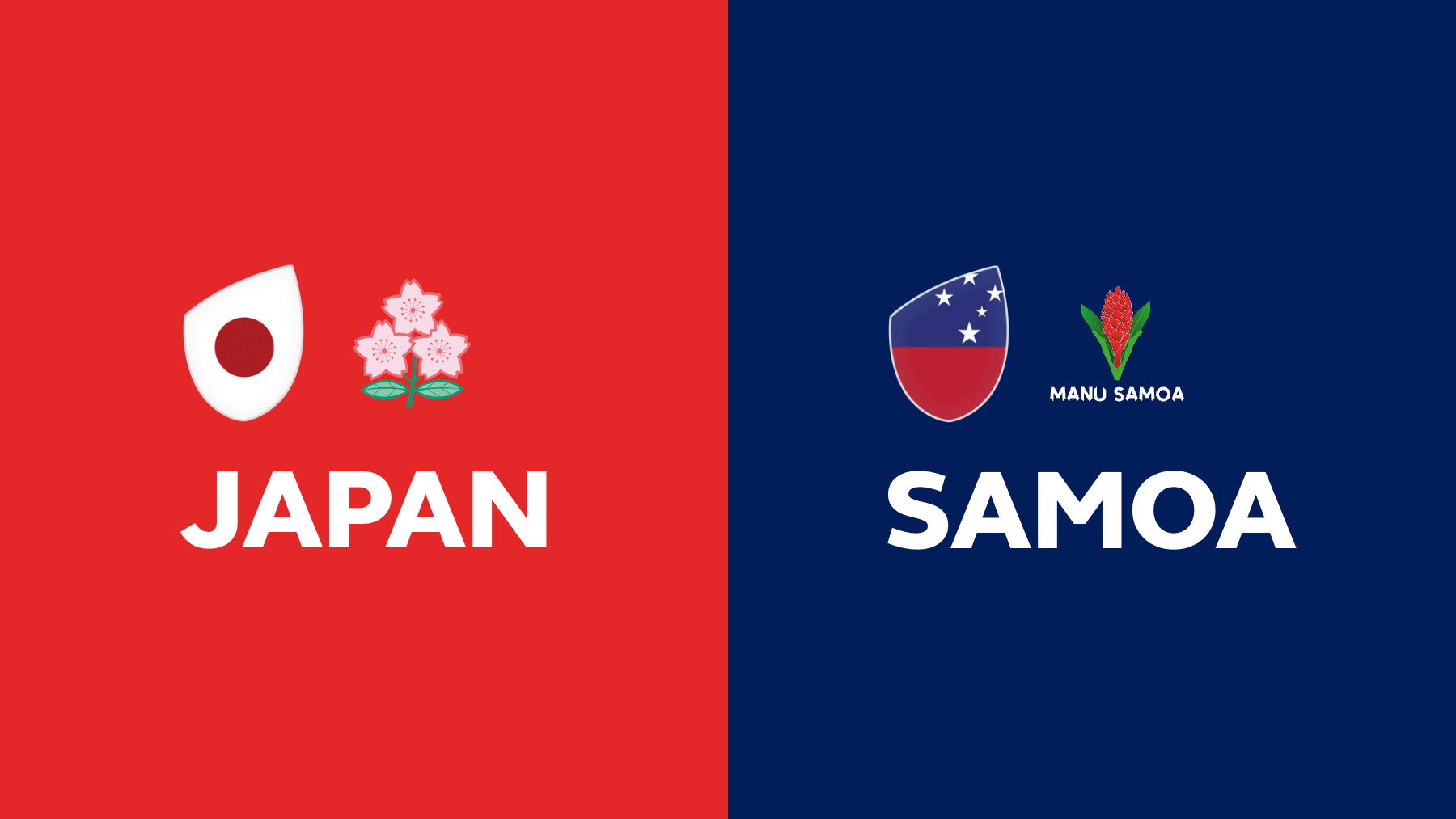 Hey Cobbers!
Konnichiwa and Talofa and all that.
Welcome ye all to this Pool D clash between the Bureibu Burossamuzu (Brave Blossoms) of Nippon and Manu of Samoa. Before the Samoans give their Siva Tau and we rip into the 18th instalment of this Pacific rivalry, some background is always useful for context.
History:
Rugby first came to Samoa in the early 1920s with the Marist Brothers. And from what I can find about the interwebs, apparently their first test match played was against Fiji in Apia on 18 August 1924 with an 8am kick-off to avoid the heat of the day. Skip forward to recent times, and Samoa seemed on the brink of international breakthrough in the early 2000s with wins over Australia, Wales, Scotland and Italy. But since 2014, wins against Tier 1 nations have been as scarce as their financial problems have been prevalent. However, they did claim the 2022 Pacific Nations Cup with three straight wins, including the notable scalp of Australia A. After not making the '87 RWC, their RWC record has them as quarter-finalists in '91, '95 and '99 but pool-exiters since.
Rugby came to Japan as early as 1866 apparently, and became well established in universities with a formal competition commencing in 1899. They played their first recognised test match against Canada in 1932. Their famous wins are generally jagged at World Cups, typified by the seminal 34-32 disposal of South Africa in 2015, a 19-12 win over current world no1 Ireland in the RWC2019. and a 28-21 victory over Scotland in the same tourney, on the way to making their sole appearance to date in a World Cup quarter final.
The tally between these two fierce competitors is currently 11 wins to the Samoans and 6 to the flower farmers. The most recent clash was in late July this year in a Pacific Nations Cup test where Samoa won 24-22 to record their first victory over Japan since 2012. Despite Japan losing well-known talisman Michael Leitch to a red card in the first half, Nippon was leading 22-17 with 20min to go, largely off the boot of Seungsin Lee. However a 63min try to Tumua Manu, duly converted by ex-Wobbly Christian Lealiifano, sealed the deal.
So the recent form guide is with Samoa.
PREVIEW:
Squads:
Jamie Joseph has made two changes to Japan's starting XV from their 12-34 loss against England, with Lomano Lemeki coming in for Semisi Masiresa at full-back and Dylan Riley replacing Tomoki Osada in midfield. Meanwhile Samoa's coach Seilala Mapusua has made four changes to his starting XV from the 10-19 defeat to Argentina, with Taleni Seu into the back-row, Sa Jordan Taufua replacing Steven Luatua at no8, Alai D'Angelo Leuila moving into the centres, and try-scoring machine Ed Fidow taking up a spot on the wing where he has snagged a swag of tries in recent times.
Also among Samoa's squad for this match are 11 players who were in the team that won a 24-22 victory against Japan earlier this year, including eight in the starting XV: Paul Alo-Emile, Taleni Seu, Jonathan Taumateine, Christian Leali'ifano, Tumua Manu, Ed Fidow, Duncan Paia'aua, and Danny Toala.
Japan: 15 Lomano Lemeki; 14 Kotaro Matsushima, 13 Dylan Riley, 12 Ryoto Nakamura, 11 Jone Naikabula; 10 Rikiya Matsuda, 9 Yutaka Nagare; 8 Kazuki Himeno (captain), 7 Pieter Labuschagne, 6 Michael Leitch; 5 Amato Fakatava, 4 Jack Cornelsen; 3 Jiwon Gu, 2 Shota Horie, 1 Keita Inagaki
Replacements: 16 Atsushi Sakate, 17 Craig Millar, 18 Asaeli Ai Valu, 19 Warner Dearns, 20 Kanji Shimokawa, 21 Naoto Saito, 22 Seungsin Lee, 23 Tomoki Osada
Samoa: 15 Duncan Paia'aua; 14 Ed Fidow, 13 Tumua Manu, 12 Alai D'Angelo Leuila, 11 Ben Lam; 10 Christian Leali'ifano, 9 Jonathan Taumateine; 8 Jordan Taufua, 7 Fritz Lee, 6 Taleni Seu, 5 Theo McFarland, 4 Chris Vui (captain); 3 Paul Alo-Emile, 2 Seilala Lam, 1 James Lay
Replacements: 16 Sama Malolo,17 Jordan Lay, 18 Michael Alaalatoa, 19 Steven Luatua, 20 Alamanda Motuga, 21 Melani Matavao, 22 Neria Fomai, 23 Danny Toala
Venue: Stadium de Toulouse
Kick-off: Thursday night 2100hrs French local or Friday 0500hrs Sydney time.
Referee: Jaco Peyper (South Africa) with Ben O'Keeffe (New Zealand) and Craig Evans (Wales) assisting and Marius Jonker (South Africa) in the TX Box-seat.
Nutta's fearless prediction (aka 'kiss of death'): While the Blossoms will indeed be brave, the bookmakers are clearly favouring Samoa at 8/15 favourites as of Thursday morning. But the match will pivot around Samoa's discipline. If Samoa stay in Jaco's good-books, they will win by 12. But if not, Japan no10 & kicker Rikiya Matsuda will apply his 10/10 for 100% accuracy for the tournament to date and steal the show. So I have a sneaky $10 on Nippon as insurance.
Feel free to chime in below in comments and I'll do a write-up after the match.
REVIEW:
Morning Cobbers. It's 0450hrs Sydney time, I have my Nescafe and a bit of vegemite toast. It looks like the sides are unchanged and it's to be a Samoan kickoff in-front of a packed Toulouse house. So let's get this on.
The Match
H1: Everyone knew Samoan discipline would be the key to this match but surprisingly it was Japan who earned the ire of Jaco first with a penalty to Samoa inside the 1st min. Samoan no12 Alai D'Angelo Leuila missed his shot though. The Samoans stayed camped in the Japanese half for the next 5min period, but multiple promising opportunities came to nothing.
Japan was deploying their usual approach of fast play, quick lineouts and recycles and high pass counts, looking to minimise the size advantage of Samoa by pace and multi-man tackles. Samoa was responding by strong set piece, effective mauling and splattering Japanese players with bollocking runs and smashing tackles.
After 5-6min of midfield to and fro, a typically quick Japan mid-field/right scrum saw the ball swing to the left wing fast and Japan scored a nice half-field try at 13min to no7 Pieter Labuschagne, duly converted by Matsuda. 7-0 Japan.
From the restart, typically strong Samoan running and scrumming earns successive attacking scrums and lineouts deep in Japanese territory. But as 20min ticks over, the Samoans can't capitalise. Last passes aren't sticking and are letting Japan off the pressure hook.
Finally at 24min, a turnover penalty saw Samoan D'Angelo Leuila get Samoa on the board with 3pts. 7-3 Japan. But at 27min, an off-feet ruck penalty earns Matsuda a penalty shot in-reply from center field, just inside Samoan half. He doesn't miss and it's 10-3 Japan.
As 30min another Japanese midfield scrum sees Samoa take a double whammy as a sideline to sideline attacking raid produces lightening fast ball and a try to Leitch in the left corner plus a cheese to Samoan no9 Taumateine for behind the play shenanigans. Matsuda slots the conversion as 33min clocks up. Japan 17-3 and Samoa is in all sorts of strife.
Rinse and repeat as more midfield power running sees Samoa push deep into Japanese territory. But without a 9 to coordinate and link, it's clumsy. At 36min, Japanese no2 Shota Horie earns cheese for an upright tackle and head clash. Samoa pushes to yet another attacking lineout on the Japanese 5m line and with a clean throw and a nicely set maul, they bag a Samoan try to no2 Lam at 38min. The wide-out conversion by Samoan no10 Leali'ifano missed. 17-8 Japan at 39min and so it stays until oranges.
H2: Japan kicked off the 2nd half with the news that Horie's cheese stayed a cheese and the opening exchanges were non-descript exchanges of scrums, lineouts and midfield probing. At 43min a fantastic Lelifano 50/22 earned Samoa an attacking lineout to unleash successive Samoan midfield runners. But a brave Japanese jackal released the pressure again. Samoa weren't executing.
In reply, Japan forced a lineout near the Samoan quarter line and typically neat and efficient play saw Japan phasing and recycling until Samoan no11 Lam gave away a high tackle cheese at 46min (later upgraded to red on review). The resulting Japanese penalty/lineout was well mauled, drew another penalty and maul which turned into a pie to no8 Himeno at 49min, sending the score out to 22-8 Japan.
After midfield meanderings from the restart, good Japanese scrum work at 54min saw Matsuda shoot for 3pts again. 25-8 to Japan. And from there Samoa continued to let themselves down as hard, direct running was punching holes into Japanese defence consistently, but poor handling and poor discipline continually let Japan off the hook.
Play see-sawed about for the next 10-15min as 14man Samoa tried to up the pace and power and Japan gamely held them out, spearheaded by great defensive work by no6 Leitch and no4 Jack Cornelsen in-particular. However finally at 65min, after wave after wave of Samoan big men smashing down centre field, Samoan no15 Duncan Paia'aua took receipt of a quick wider ball near the touchline and scored. Leali'ifano's wide-angle conversion shot was bang-on and at 66min it was 25-15 Japan.
Fatigue was telling on the Samoans though, and a 68min huge Japanese midfield scrum effort saw the Brave Blossoms raid deep into Samoa's quarter and earn an attacking penalty lineout & maul. But typically courageous defensive play by Samoan Captain Fritz Lee killed the play and the moment was lost. That said, play stayed camped in the Samoan half and the seemingly inevitable 73rd minute breakdown penalty, directly in front and 30metres, saw Matsuda land another 3ptr. 28-15 Japan.
From the kick-off exchanges, poor Japanese midfield scrum work engineered a Samoan penalty and attacking lineout inside the Japanese quarter at 76min. And the resulting Samoan midfield pounding finally saw Leali'ifano crash over at 77min next to the posts. He sauced his own pie and the score was 28-22 Japan at 78min.
From the kickoff, Samoa swung the ball about seeking the miracle, but Japan doggedly defended everything. And while a late Japanese ruck infringement allowed Samoa to push for a final lineout opportunity into the Japanese half, the dream comeback was not to be. A rare fluffed Samoan lineout allowed Japan to belt the ball into touch and for Jaco to blow the pea the final time.
End score, 28-22 to Japan.
Mata Ato De (またあとで).
The Game Changer
Samoan possession and power running did not turn into enough points as execution and discipline let them down at critical moments. Whereas Japan's two long-range strikes from precision scrum-work in the first half set the buffer that could not be overcome. Ultimately, as expected, it was discipline that turned the day. If I had to pick a moment, the cheesy binning of Samoan no9 Taumateine late in the first half was it, as it meant the Samoans could not exploit their glut of possession and power running to score the tries they otherwise may have. And of course, Lam's cheesy-red at 46min hardly then helped.
The Man of the Match/Standout Player
For me, it went to Japanese no6 Michael Leitch with around 7 carries for 60 metres, a swag of tackles and a pie. But sponsors disagreed and it was officially awarded to Kiwi born Japanese no15 Lomano Lemeki, so congratulations to him.
The Details: Half time: 17-8 Japan, Full time: 28-22 Japan.
Japan
Tries: Labuschagne (13min), Leitch (31min) Hlmeno (49min)
Conversions: Matsuda (13min, 32min missed at 49min)
Penalties: Matsuda (27min, 55min 73min) Cards: Yellow 36min (Horie)
Samoa
Tries: Lam (37min) Paia'aua (65min) Leali'ifano (77min)
Conversions: Leali'ifano (65min, 78min miss 38min)
Penalties: D'Angelo Leuila (25min, miss 1min). Cards: Yellow 32min (Taumateine) Red 46min (Lam)