Happy sleep deprived Monday, G&GRs. As you're reading this I'm jetting my way to Singapore for a work conference. But I managed to watch a number of the games this weekend with some very unexpected scorelines. So, let's dive in and have a look at the games completed, and also look at some of the dross being published about Aus rugby at the moment. Grab a snorkel because we're going down!

*This news article was written prior to the completion of the Japan v Argentina, Tonga v Romania, and Fiji v Portugal.
New Zealand 73 defeated Uruguay 0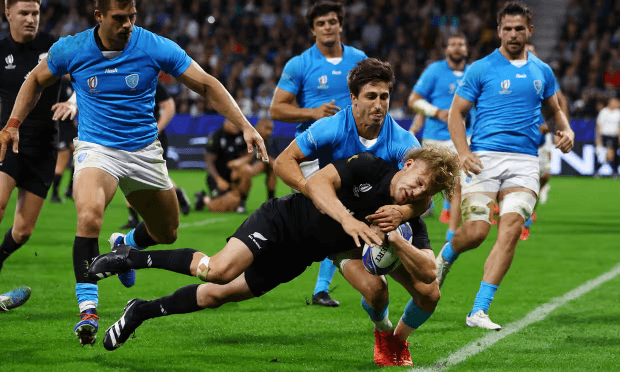 See KARL's G&GR match report here.
The embarrassing defeat by the Springboks prior to the World Cup, and an opening round whooping against the cheese-eating surrender monkies have largely been forgotten, and Fozzie B Bear's side will either meet Ireland, South Africa, or Scotland in the semis. They banged down eleven tries against a Uruguay team who fought valiantly to keep their opponents out for the first quarter of the game. But once the sheep aficiandos' rhythm was found and their passes began to stick, the result was all but a foregone conclusion.
Damien McKenzie injected himself well into the game and was able to steer his team to a well-deserved victory. The ease with which the Kiwis were able to score in the second half is well worth watching. And this author thinks that they're starting to find their form at the right end of the tournament.
France 60 defeated Italy 7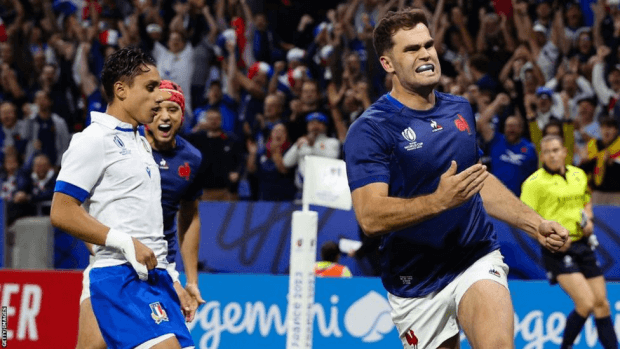 See Eloise's G&GR match report here.
Damian Penaud has extended his phenomenal try-scoring streak to seven consecutive matches as the Bill hosts France decimated Italy 60-7 to reach the quarter-finals in true French flair. France has ended atop Pool A ahead of the All Blacks and is likely to meet the Dutch Dirt farmers in the last quarter-final next weekend.
Italy was absolutely smashed by the Kiwis 96-17 in the last round and girded their loins for their bout against their fellow surrendering nation. However, the Froggies, even without Antoine 'de Man' Dupont, took less than two minutes to score the first of what would be eight tries in a sweet performance.
Like the Kiwis, the Froggies are managing to peak at just the right time, and are appearing to manage their squad well. If 'de Man' returns, I think the Froggies are going to be hard to beat.
Wales 43 defeated Georgia 19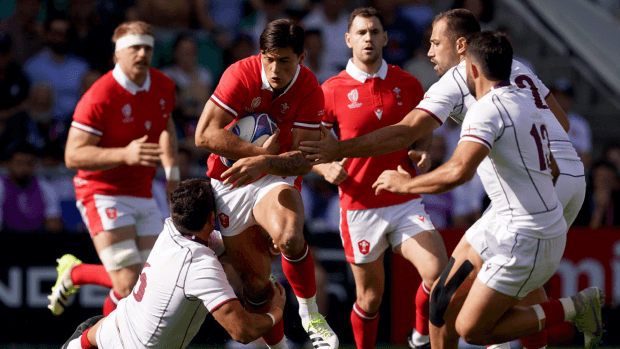 See Eloise's G&GR Match report here.
Wales delivered a substantial performance to beat Georgia by 43-19 to secure the top spot in Pool C and progress to the quarter-finals of the tournament. However, it came at a cost, with in-form Taulupe Faletau's tournament coming to an abrupt end after he suffered a broken arm.
First half 5 pointers from Tomas Francis and Liam Williams as well as a hat-trick from Louis Rees-Zammit coupled with 13 points from the boot of Sam Costelow, were enough to see Wales home in Nantes in western France. Wales's form leading into the RWC was absolutely terrible! Who would've thought that they could've topped this pool? Certainly not me.
England 18 defeated Samoa 17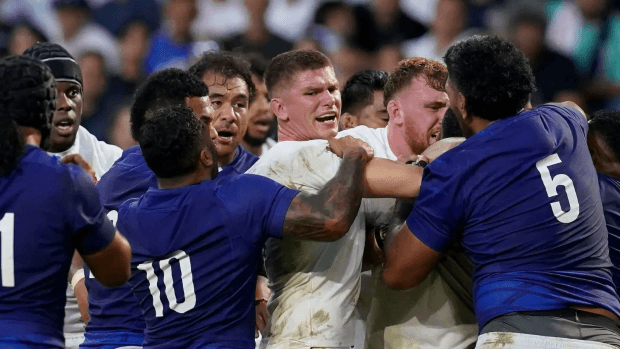 See Goldylock's G&GR match report here.
England somehow managed to snatch victory out of what was definitely looking like defeat in their final Pool D fixture 18-17 with a very scrappy performance in Lille where Samoa looked like the better team in defeat. It was a historic day in France for many reasons as Owen Farrell became England's top points scorer of all time overtaking Jonny Wilkinson's record that had previously stood for 22 years. He also became the first person in the RWC to be penalised for time-wasting, copping a Nard penalty. With the countdown timer on the scoreboard, I'm not sure how he managed to balls this one up, but hey, it is Farrell. Additionally, it was the closest score between these two sides in their nine match history.
It was a completely embarrassing performance for the Soap Dodgers, and there are many who'll come away from this game thinking that the Samoans caught the rough end of the 'refereeing' pineapple. Samoan coach Seilala Mapusua stated that he believed Tier 2 nations suffered from an 'unconscious bias' from referees! This ties in with many comments in the G&GR commentary about Tier 2 nations not being adjudicated the same way as Tier 1 nations. This author is of the view that the Samoans were hard done by in this game and probably should have come away with the choccies.
Ireland 36 defeated Scotland 14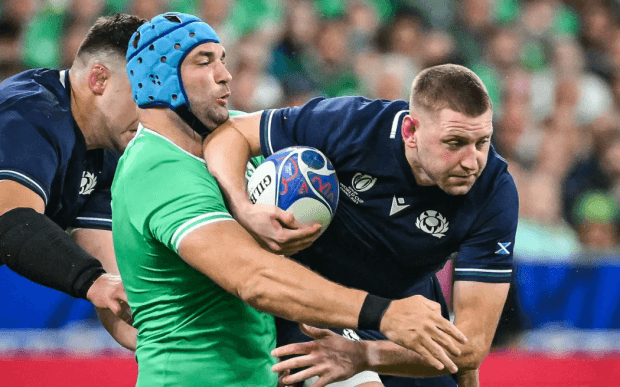 No. 1 ranked Ireland locked themselves in a quarter-final berth after a 'Blitzkrieg' defeat of Scotland by six tries and a comfortable 36-14. Ireland have topped Pool B ahead of the defending champion Saffas, who they beat 13-8 in a battle of the ages a fortnight ago. This game was never a close encounter, as Ireland appeared to be cruising. Scotland managed to sneak in two tries, but only after Ireland was up 36-0, and Johnny 'Rubba Dubba Sexpot' Sexton* was pulled early to save his legs for the finals.
Ireland's short passing game was a marvel to watch with their players able to pass inclose short range tackles just prior to contact with the tackling player. This enabled the Oirish to keep the ball alive and to distribute it at will. They made the Scottish team look downright average (which they aren't)! They are definitely looking in form coming into the business end of the tournament.
"The Injuries are my fault!"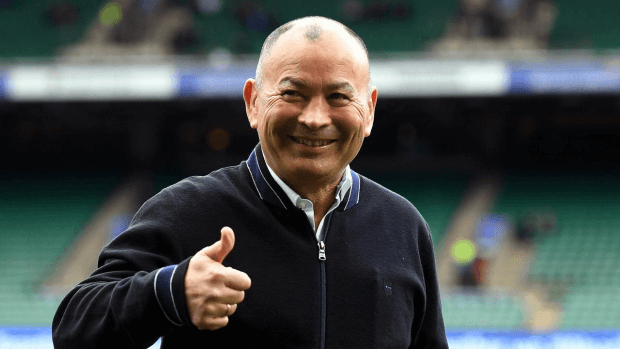 In an interesting article on Rugby.com.au here, Eddie Jones has admitted that the injuries to Tupou and Skelton were his fault. In what is a stunning admission of the bleeding obvious, Jones has taken responsibility for his idiotic training program during the RWC.
"The biggest loss we had in this tournament was losing Taniela and Will in one session and I blame myself for that," Jones told reporters at the team camp outside Saint Etienne on Friday."Just didn't get it right, the session. You never know with injuries, you never really know. But could we have done that a little bit differently? I keep thinking about that. To minimise the risk of damage, there's just an order of training and the way you train. I hold my hands up."
With the Wallabies conducting three training sessions per week, as opposed to all the other teams two, it was inevitable Jones was going to break someone. Jones had complained when he took over the role as Wallabies Head Coach, that the players coming out of the Super Rugby Teams were simply not fit enough.
To add to his poor selections, terrible media management, appalling game plan, utter arrogance, and all-round stupidity, the injury to two of the most crucial players in the Wallabies squad capped off a terrible RWC for Jones. It is this decision-making that clearly demonstrates that Jones should not be part of any future Rugby Australia plans for the re-development of our game.
Hope you G&GRs have a great Monday! Have at it!