Nudgee have won the 2023 QLD GPS Rugby Premiership with a 37 – 7 win over The Southport School at Southport.
A win to TSS would have resulted in a possible 4 way premiership with TSS, Nudgee, Churchie & Toowoomba Grammar sharing the title, however Nudgee College proved too strong, winning their 44th Rugby premiership.
Nudgee started strongly with tries to Prestyn Laine-Setu and Cruz Lemming, before TSS narrowed the lead to 14-7 with a try to Mason King.
The second half was all Nudgee College with tries to Nicholas Conway, Macarius Pereira and James Duggan. The try to winger Nicholas Conway in particular, was a spectacular 50 metre solo effort to score under the posts.
TSS 7 (tries: Mason King; conv: Spencer Alcock) defeated by Nudgee 37 (tries: Prestyn Laine-Setu, Cruz Lemming, Nicholas Conway, Macarius Pereira, James Duggan; conv: Maddox Maclean 3; pen: Maddox Maclean 2)
Other GPS Round 9 Results
🏉 BSHS 17 defeated by BBC 34
🏉 IGS 21 defeated by TGS 40
🏉 Churchie 34 defeated GT 28
Final ladder for 2023 QLD GPS Rugby 1st XV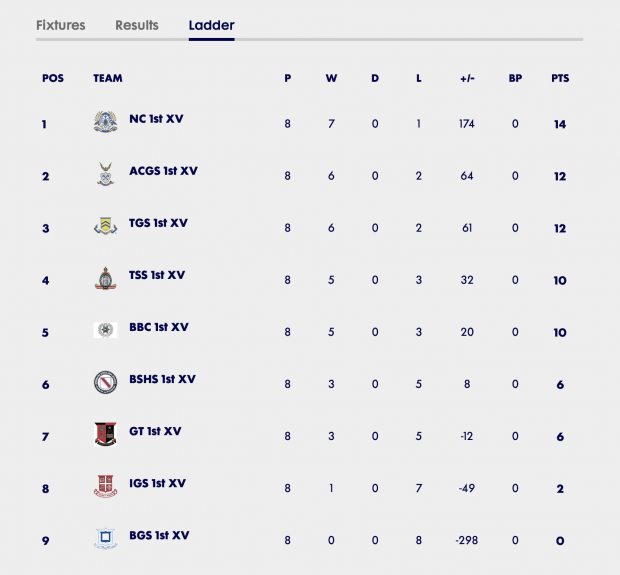 Teams
TSS: Kigsley Uys, Blaze Moana, Dylan Laughlin, Sebastian Smith-Power, Fergus Gillan, Will Carter, Billy Wellard, Amare Milford, Tom Goldie, Spencer Alcock, Charlie Coffey, Billy Tonkin, Mason King, Kilarney Lavender, Charlie Dwyer
Reserves: TBC, Trequaan Stanley, Jonah Raniwai, TBC, TBC, Thomas Houlahan, Dallas Ingram, Cooper Nelson
Nudgee: Cruz Lemming, Oliver Barrett, Macarius Pereira, Ed Kasprowicz, Thomas Hansson, Hugo Hart, Noah Rauluni, Sam Hyne, Samuel Watson, Maddox Maclean, James Duggan, Ryan Heaton, Prestyn Laine-Sietu, Nicholas Conway, Jacob Johnson
Reserves: TBC, TBC, Alex Watkins, Oliver Clarke, John Grenfell, Charlie O'Connell, Finnigan O'Rielley, Princeton Ioane