Welcome to another Friday, Gaggers, and what a week it was! We had great games, terrific skills, incredible fitness, wonderful sportsmanship, controversies, disappointments, injuries & suspensions. Week #2 certainly has a lot to live up to, so let's hook in.
We kick off today with 'Pain in the Grass?'. Preview the Wallaby v The Flying Fijians in 'Depends Who's Driving!'. Dive into all other week #2 matches with 'Deuxième Round'. Ponder an interesting perspective in 'Oh Lord It's Hard To Be Humble'. Hide your lunch boxes for 'Born When Meat Was Cheap'. And wrap up another epic RWC week with 'Friday's Goss With Hoss', so jam packed its like my 4XL shirts, bulging in all the wrong places.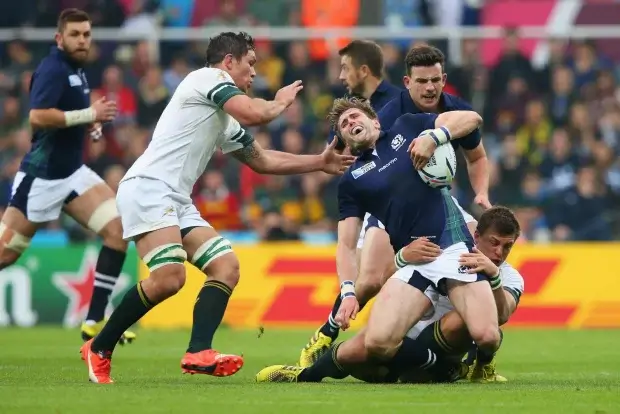 Pain In The Grass?
What gives with the 'grass' surfaces at some of the Frog stadia?
Unlike my golfing game, I can't recall seeing a divot, sod or chunk moved from a scrum or ruck at all during any games? Well, that is until I saw the Fijian side pick up a 1m2 chunk and smooth it back out and re-lay it. It got me thinking, it can't be 'astroturf' as I hadn't seen any of those 'friction burns' athletes get from sliding across it. The players look to be still wearing varying degrees of proper rugby boots and weren't losing grip, just what's the story?
So I went looking and here's what I found from the website of the supplier:
'The system consists of a 100% natural grass surface into which artificial fibres are injected 18cm deep, in a grid of 2x2cm. The ingenuity lies beneath the surface as the grass roots entwine with the fibres, thus anchoring the pitch. This results in a consistent playing surface with tremendous stability. A recent study indicates that 95 out of 100 GrassMaster pitches had the optimum playing stability thanks to a high infiltration rate, with 3 times more drainage capacity than other hybrid systems or regular natural grass.'
Be interested to hear how the players actually feel playing on it and if indeed there is any pain in the grass?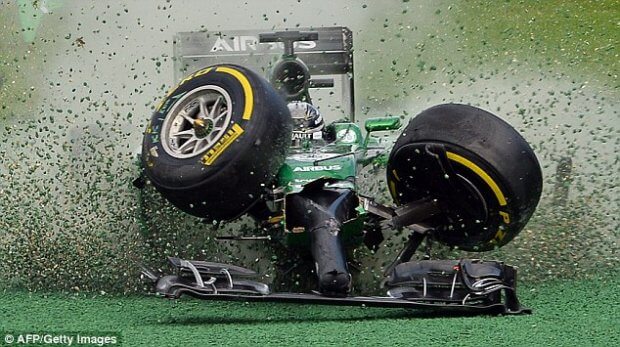 Depends Who's Driving!
Monday, September 18: Australia v Fiji, Stade Geoffroy Guichard, Saint-Étienne (1:45 AM)
As a Wallaby fan of course I'm going to take the win against Georgia and be happy with it. There were good moments, some strong individual performances and when it was all done & dusted, 5 points in the RWC bank and onwards we go.
However, I keep hearing analogies about the Wallabies being an 'F1 car' and game one being 'first gear'. Sure, makes sense, no good peaking at the starting line and missing the final laps. I get that. But what I didn't see in the match against Georgia was a vehicle capable of screaming away from the purring Fijian F1 vehicle this week.
Indeed if our team is an F1, then our replacements are the 'pit crew' and let me tell you, our pit crew slowed the car down last week. I saw a vehicle that was quick and smooth in places, yet also like it had dirty fuel and a blocked injector elsewhere. It coughed, it spluttered and had poor handling in parts, but it was also competitive and largely reliable, well at least until the pit crew got hold of it, then it looked like a Lada Niva running on kerosene and corn syrup as it limped across the Georgian finish line.
Which makes breaking news on Thursday night (unconfirmed at time of publishing) that one half of the Wallabies powerful 'engine block' has now 'seized' with Taniela Tupou not only out for the Fijian clash, but also likely the entire pool stages. Sure we have Jimmy Slips reportedly ready to come out of the garage, but that's akin to leaving the Tundra (Tupou) in the garage to instead take your Dad's Mondeo to the race day. Sure it still drives, but……
I liked a fair few things about the Wallabies last up. I liked Skelton's performance as a player and I was extremely impressed with his leadership. Fraser 'The Kelpie' McReight never stopped running. Angus 'The Bull' Bell was very strong, Tom Hooper continues to impress and Marky Mark was terrific. I know Donaldson gets the gongs, but he simply iced the opportunities his forwards provided and for mine Kellaway simply must start this game at #15 as we need a better defensive player at the back for this match. If indeed BD is goal kicking 'cover', then the choice is easy, drop Flash Gordon.
For this match the Wallabies must limit broken field opportunities, kick it out into row 'H' for lineouts, scrum well, exit well and play a structured, disciplined & technically clever match. And at this point in time, I don't yet believe our Wallabies can deliver on all those fronts.
Prédiction Intrépide: Make no mistake, this will be the toughest pool game Australia will have. I expect an angry Fiji to unleash in this game. I said in a prerecorded Wallaby specific Podcast that I had Fiji winning by 8 in this one. If indeed Tupou is out, then it's Fiji by 15 and Pool C is well & truly alive.
Australia (15-1): Ben Donaldson; Mark Nawaqanitawase, Jordan Petaia, Samu Kerevi, Marika Koroibete; Carter Gordon, Nic White; Rob Valetini, Fraser McReight, Tom Hooper; Will Skelton (capt), Nick Frost; James Slipper, David Porecki, Angus Bell
Replacements: Jordan Uelese, Blake Schoupp, Zane Nonggorr, Richie Arnold, Rob Leota, Issak Fines-Leleiwasa, Lalakai Foketi, Suli Vunivalu
Fiji (15-1): Ilaisa Droasese, Jiuta Wainiqolo, Waisea Nayacalevu, Josua Tuisova, Semi Radradra, Teti Tela, Simione Kuruvoli, Viliame Mata, Levani Botia, Lekima Tagitagivalu, Te Ahiwaru Cirikidaveta, Isoa Nasilasila, Luke Tagi, Sam Matavesi, Eroni Mawi.
Replacements: Tevita Ikanivere, Peni Ravai, Mesaki Doge, Temo Mayanavanua, Albert Tuisue, Frank Lomani, Vilimoni Botitu, Vinaya Habosi.
Match Officials: Referee: Andrew Brace (IRFU) Assistant Referee 1: Jaco Peyper (SARU) Assistant Referee 2: Chris Busby (IRFU) TMO: Brian MacNeice (IRFU)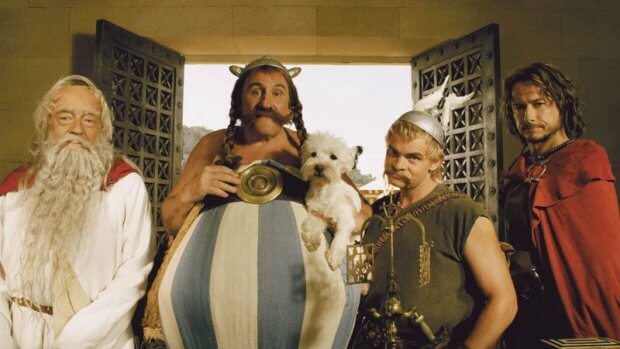 Deuxième Round
The trials and tribulations of week #1 are behind us, so let's turn our attention to all week #2 action, with teams, times & prédiction intrépide & remember, all times are AEST and coverage is on STAN:
All teams rugby.com.au
All match officials worldrugby.com
RWC Pool standings rugbyworldcup.com
Friday, September 15: France v Uruguay, Stade Pierre Mauroy, Lille (5:00 AM)
Prédiction Intrépide: Le Frogs ring the changes for this one, with France's best actor & answer to Meryl Streep, Anthony Jelonch returning from injury and wearing the captain's armband. Uruguay run out for their first game of the Cup, but even with 12 changes & Meryl in charge, it will be France by plenty 25+
Saturday, September 16: New Zealand v Namibia, Stadium de Toulouse, Toulouse (5:00 AM)
Prédiction Intrépide: The battle pf the Pool A battlers with neither side opening their account in the cup. NZ have made 9 changes for this one but will still start massive favourites. Although for a coach with so many 'firsts' to his CV: first home loss to Argentina, first series loss to Ireland in NZ, first Kiwi side to be ranked 4th, first pool loss at a RWC. Could you really be sure another 'first' won't happen against Namibia? It won't. NZ by 45.
Saturday, September 16: Samoa v Chile, Stade de Bordeaux, Bordeaux (11:00 PM)
Prédiction Intrépide: Loved watching the Chileans play and the Escobar brothers were awesome, particularly the hooker (made my Fantasy League side this week). Sadly, it won't be enough though, with Samoa fresh and ready to rip in their first game it could be a long and bruising afternoon for the South Americans. Samoa by 25.
Sunday, September 17: Wales v Portugal, Stade de Nice, Nice (1:45 AM)
Prédiction Intrépide: Failed Chiefs coach Warren Gatland has made 13 changes to his starting side helped by Matt Carley last week, for the match against Portugal. For Portugal it will be their first game of the cup and I expect a spirited first 25 minutes, but Wales should get the 'W' by 25+
Sunday, September 17: Ireland v Tonga, Stade de la Beaujoire, Nantes (5:00 AM)
Prédiction Intrépide: Wallaby legend and current Tongan coach Toutai Kefu is on the record stating 'this is the game we have targeted' for the RWC and half fancies his side's chances. You can't read too much into Ireland's comprehensive 82-8 dismantling of Romania, however, Ireland's short passing, patterns of play and fitness levels all looked that of a real quality side. Toutai may have a dream, but the Emerald boys have the answers. Ireland by 23.
Sunday, September 17: South Africa v Romania, Stade de Bordeaux, Bordeaux (11:00 PM)
Prédiction Intrépide: Four halfbacks and the loss of the world's best hooker? There's a rip snorting joke in there somewhere.
The Boks have 4, yes 4, halfbacks in the side named to play Romania in this game and who can blame them. I loved the fact that the Romanians led against Ireland, but the fact remains they are roadkill for the current world champs. News breaking last night though with Marx out of the World Cup will overshadow this game completely. Boks by 50.
Monday, September 18: England v Japan, Stade de Nice, Nice (5:00 AM)
Prédiction Intrépide: Rounding out week #2 of the cup is an interesting one. An English side (and press) hyping their win against a dreadful Argentina, up against an underdone, but capable Japanese side. With cooler conditions predicted this weekend (15-20 in Paris) I still expect the Japanese to play the high octane, run, run rugby that they do, or 'can do', so well. The ageing Pommy fatties will look to slow it down and play stodge ball, dawdle from set piece to set piece and hope Rob Andrews George Ford can kick them clear.
For all of that I sense the Samurai spirit growing and it's The Brave Blossoms by 11.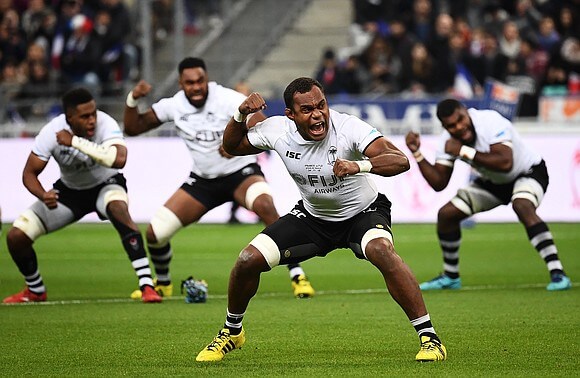 Oh Lord It's Hard To Be Humble.
When the ref's only looking one way………..
What's the old adage about 'nice guys finish last' again? Seems to ring true for the Flying Fijians when they received the rough end of the pineapple, without any lubrication, during their match against the Welsh last week.
Interesting take from former Gold Medal winning Fijian 7s coach Ben Ryan, at the SMH that perhaps the Fijians grace & humility is actually working against them & maybe he has a point. I mean even Dylan Hartley agrees with him.
Be a sad day for all of us who love rugby and the Fijians if it were to ring true. As a reference point, you can watch the last 10 minutes again of the Fiji v Wales match again on Youtube. It's kinda like passing a car accident, you really don't want to look, but you can't look away either.
#fairnessforfiji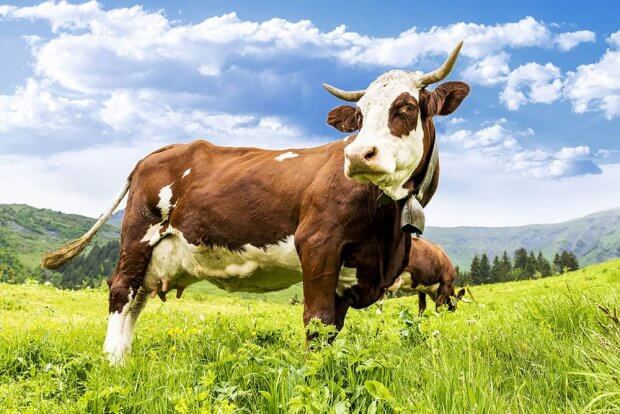 'Born When Meat Was Cheap'!
A famous one liner from esteemed commentator and a man of girth himself, Wallaby #600, Chris 'Buddha' Handy and proof all these years later that 'Big' is indeed still beautiful!
Rugby is a game for all shapes and sizes and as I've said before, 'round' is a shape.
planetrugby.com has a list of the biggest 21 boppers at this year's World Cup with 4 of our Wallabies receiving an honorary mention. The leader of the pack? Ben Tameifuna (Tonga) – 151kg, 333lbs or 23.78st in old money.
I am feeling positively svelte, but with those numbers, could also pack down for the Catholics though.
Friday's RWC Goss with Hoss.
William Nathanson Hates French Children!
RA's own Grinch, Billy Nathanson has confirmed his absolute loathing of French children and their singing. Nathanson spoke on The Dropped Kick Off his palpable detest of the French children's choirs used for the singing of the anthems at RWC fixtures.
A little bit of digging by yours truly, shows that children from French orphanages and those poor little souls who have experienced tragedy, were assembled to form these choirs, bringing a sliver of joy into their otherwise soul wrenching existence. Some of the tadpoles used in the choir have reached out to Friday's Rugby News, with one heartfelt email from 6 year old Jacques Profiterole asking:
'Le Hoss why does le Billy hate us so, I have no mummy or pappa, have I not suffered enough, what have I done to him?'
For what it's worth Jacques, I don't know. It seems behind Billy's poorly worded, error strewn articles on RA, that the darkness truly runs deep in Mr Nathanson. But lil Jacques sing on and sing well, for the rest of us at G&GR share your light: porte-toi bien petite.
Catholics lose faith?
Not since the Reformation have Catholic supporters been so despondent. News last night that Malcom Marx is out of the world cup entirely with a 'long term' knee injury sustained against the British Romanians, aka Scotland. When discussions about 'world best player' are often held, this guy never gets the credit he deserves. For mine, No Marx = No Bill for the Saffas.
The French child-hater has more on rugby.com.au.
'Beleti Koya'
Marika Koroibete (The Exocet) tells how last World Cup when he played Fiji, he could hear the Fijians yelling out to each other 'beleti koya', which in Strine is 'belt him'. In this instance the 'him' just happened to be one Samu Kerevi.
It's 'on' this game folks, it is well & truly 'on'.
148 Times.
Huge shout out to NZ legend Sam Whitelock, who this weekend equals the record of little known Canatabrian 'Richie' something when he runs on for test #148. What makes Whitelock as annoying as Sir Rucchy is he also seems to be a damned good guy. Congrats to Sam on an incredible journey thus far.
'BS & Gossip'
No, not the new name for Wednesday's news on G&GR, but Eddie Jones response to the SMH around rumours reported on Yahoo in Japan this week that EJ would walk after this RWC & take up the then vacant Japanese head coaching gig. Wouldn't that be a story!
'Hi Dave, Hamish from RA. Sorry about the previous misunderstanding, it was that bloody Marinos guy. Dave, you there Dave?'
Show me the, what – how much?
News yesterday from the SMH that the Wallaby players will receive possible 'secret bonus', on top of match payments, totaling $175k each should they win the whole shebang, and a separate $25k each should the make the semi finals.
Friday's Rugby News tried reaching out to a number of current Wallaroos for comment on these potential windfalls, but several hadn't finished their second jobs as yet, three had already used up the credits on their Nokia plans and couldn't reply, one was busking, six were busy with their NRLW sides and several others were recovering in public hospitals after selling organs on the black market to make ends meet.
'Chores' a bore.
Joe Marler has laid a not too subtle slipper into former coach Eddie Jones on planetrugby.com essentially saying Eddie sucked and Steve Borthwick's camps are way funner. Joe also went on to say: 'sure our side is completely crap now and fully resembles 'Dad's army' and we wont make the final like we did with Eddie, but still Steve is heaps better, you know.'
Anthems Suck Part II
After universal agreement that French Kids Choirs blow chunks when it comes to singing of the anthems, Frog Rugby Execs have agreed to 'new versions' being sung by same kids choirs (le WTF?). Perhaps SA Captain Siya Kolisi Tagaryen summed it up best, when he said:
"We barely hear anyway as we sing so loud; our voices are horrible, but that's what we hear. All I am thinking about when I'm signing the anthem is what's the next job, what have I got to do. We got the energy we needed from the anthem."
Social Media unruly? Well I never.
Story on stuff.co.nz about trial by social media for referees. Perhaps if the citing committees & judiciaries would consistently support them, refs wouldn't be left out on their Pat Malones?
For what it's worth, I though Tom Curry's was a 'rugby incident', a free kick only and play on. It was instantaneous and without time to adjust. But Jesse Kriel's tackle on Scotsman 'Aussie Jack' Dempsey was from depth, with time to adjust, was high and without mitigation and a yellow that should have been upgraded to a red. But what do I know?
Live Chat
We will have 'Live Chat' pages open 20 minutes prior to kickoff for those who want to participate:
Wallaby v Fiji
Ireland v Tonga
England v Japan
Fantasy League
Don't forget to update your side for round #2 of the G&GR Fantasy League to be any chance of winning hundreds of thousands of Indonesian rupiah in exclusive G&GR merchandise to the top 3.
That's more than enough from me this week.
Enjoy the Cup. Go the Wallabies, but I wouldn't be overly upset if Fiji won either, as long as we beat Wales that is.
Hoss – out.