I have a data-set of under 19 level rugby that this week counted its 700th game. This resource gives me the privilege of being able to spot an outlier statistic, or to capture when a team starts doing things differently.
Yesterday at Brisbane Boys College I witnessed something very different – and something that made my heart sing with the kind joy mostly reserved for rainbow parades.
Have a look here: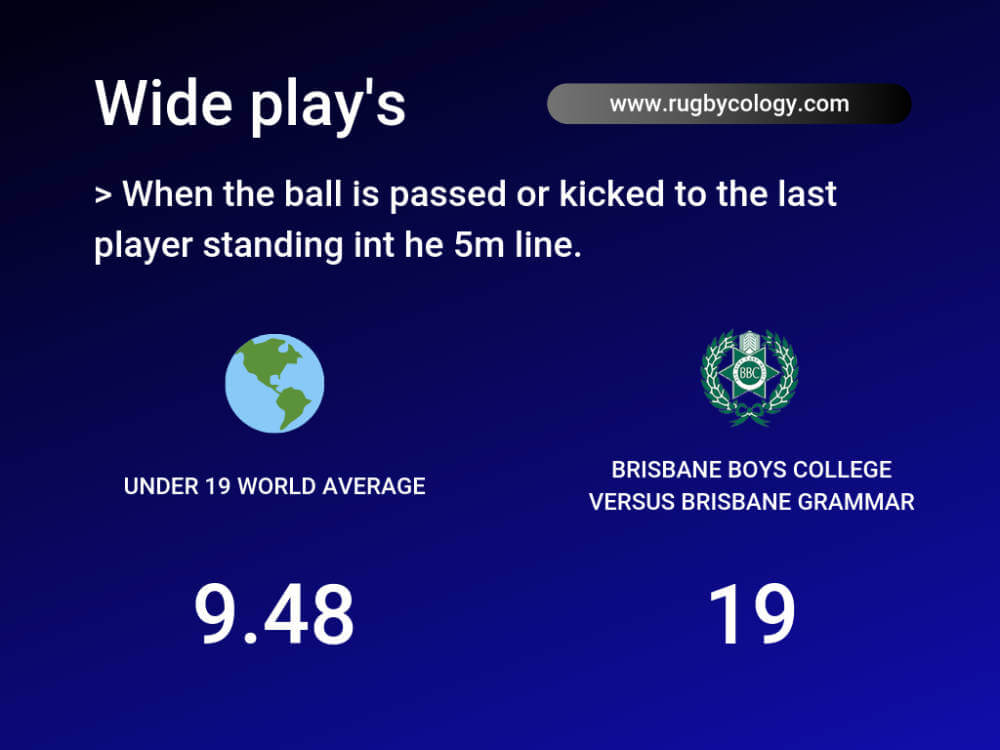 I measure this wide play because the skillset required to pull it off is fairly advanced. Team's who play this way must develop in their players quick hand-speed, as well as the ability to hold their depth. With rush defence now the default, it has become even more difficult to shift the ball wide through 3 or 4 hands at pace.
And yet, in front of my own eyes Brisbane College was making it look easy.
Train how you play.
Prior to the game I watched the warm-up's of both sides, and noticed Boys College run this simplest of pre-match drills:
The idea is that the ball is 'transferred' from left to right or vice versa before the players reach The line. When you transfer the ball, you literally just shift it from where it comes to your target as quickly as possible. You do not first catch the ball before passing it – you 'transfer' it!
I must admit to being very skeptical at this point. Firstly, the drill was trained without any opposition, and secondly, nobody passes that way in rugby union anymore. 2019 rugby union is pretty much an art of crashballery, with many backline players not even able to transfer a ball anymore. So what were these guys on about?
The numbers don't lie
School's rugby is first and foremost about participation, and then about development. Performance (and winning) comes third. So whereas the Wallabies MUST win, the Reds MUST win, the schools have a duty firstly to make kids like the game, and secondly to develop great players. So if the Reds and Wallabies are struggling, you can find the fault low down at under 9 level in clubs and schools.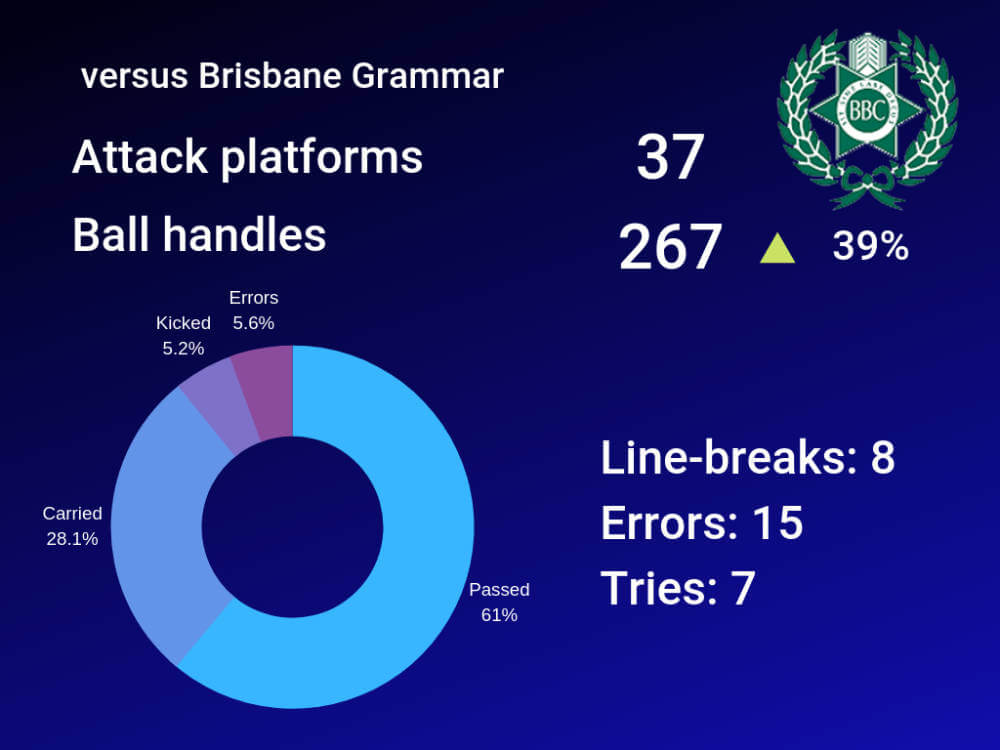 So when you see Boys College handle the ball 39% more than the world average at under 19 level, you should get very excited, because a new generation is being coached to use space, and coached the skills to exploit it.
It's of interest to note that 3 of the tries scored came as a result of a line-break smack-bang up the middle. The space opened up because College kept stretching Grammar out wide. By playing in the tramline, the space between each defender becomes wide enough for a player to slip through, and so it transpired.
It's not all rosy.
I may start sounding like a College fanboy, so in the interest of balance may I inform readers that the under 16A game between the same schools were a total dud. Over-conditioned players kept smashing into the first defender. In comparison, the Brisbane Boys College team handled the ball only 103 times, with an attack variance percentage of 3.7%, compared to the first team who varied their attack by 20.54%.
If in the same school you have two different philosophies where one team is ambitious and the other is not, the development into players with a rounded skillset takes longer and the pool of guys who become 'ballers' at pro level is a bit smaller.
However this game got me excited for the future of Australian rugby, and I salute these brave coaches who have the ambition to play the game in a daring and creative way!