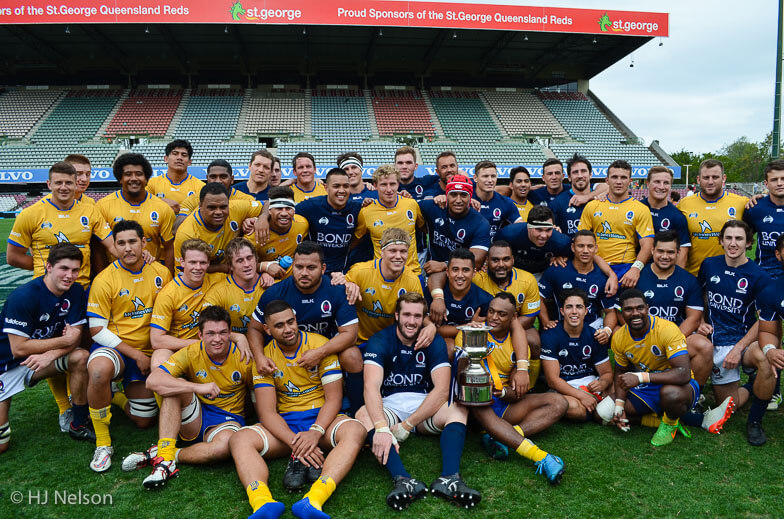 The NRC is back in 2019, and has come with some interesting changes; from earlier games to rule changes and more.
With the draw now out
, the news team cobbled together some key thoughts how things are shaping up for NRC19!
---
What's the law again?
(Words: Nick Wasiliev)
New year, new laws. It was announced back in June of this year that the NRC would again be used as the guinea pig for a whole bunch of new law trials by World Rugby, and a few of those rules did see some eyebrows raised by both fans and coaches alike.
While the controversial 'High Tackle Technique' laws (the laws that saw a whole bunch of cards handed out like candy at the recent U20s World Championships) will be under consideration, that's far from the only changes. The other recommendations include:
Law: 50:22 kick proposal. If the team in possession kicks the ball from inside their own half indirectly into touch inside their opponents' 22 or from inside their own 22 into their opponents' half, they will throw in to the resultant lineout. Recommendation: To approve for closed trials.
Law: Reducing the tackle height to the waist. Recommendation: To approve for closed trials.
Law: Ability to review a yellow card when a player is in the sin-bin for dangerous foul play. To ensure players who are guilty of serious foul play do not escape with a yellow card when they deserved red. Recommendation: To approve for closed trials.
Law: The introduction of an infringement (penalty and free-kick) limit for teams. Once a team has reached the limit, a mandatory yellow card is given to the last offending player as a team sanction. Recommendation: To approve for closed trials at NRC in Australia.
Law: The awarding of a goal line drop-out to the defending team when an attacking player, who brings the ball into in-goal, is held up. Recommendation: To approve for closed trials at NRC in Australia.
It's clear that World Rugby are aiming to promote a free flowing game, however what is interesting is that there will be a few laws that will reward good defence. It will be interesting to see how it affects the traditionally fast-paced nature of NRC games going forward. With the new 50:22 rule, expect there to be a lot more kicking going on!
Writings in the Draw
(Words: Nick Wasiliev) 
With seven matches for each side, the draw that many of the teams get will be crucial in determining how their run will be in their race for the Toast Rack, and this year, three of the strongest teams look set to have a favourable run.
Following on from last year where they received only three home games, two-time Grand finalists the Canberra Vikings, two-time winners Brisbane City and 2016 winners the Western Force will each enjoy four games at home this season, while everyone else will only have three home games.
Traditionally, in the past an unfavourable draw still hasn't stopped the likes of the Force and Vikings making it into the semi-finals. But hey, having a favourable one helps.
If we're going off purely on the draw and their last history, I'd say the Vikings and the Force will be string contenders.
The Vikings have come close many times in pursuit of the best Toast Rack in Aussie rugby, and off the back of the Brumbies success, a win on the domestic front would be a massive boon for Rugby in the capital. The Force will be looking to make a big statement as well, having gone undefeated throughout their entire Global Rapid Rugby campaign. They will take confidence out of the fact that knocked over the Fijian Latui in Fiji, which was comprised of a lot of the Drua squad of 2018.
Despite only having three games, grand finalists QLD Country will enjoy a couple of weeks at home, including two home games back-to-back near the end of the season, and they will still be strong contenders this year. For NSW teams anything goes, but Nick H has a bit more to add on that front (see below). And lastly, Melbourne looks to have the toughest draw, with one game based in Melbourne, one in Adelaide and Ballarat. However, as Nick H points out below, there might be a good reason for that.
It will be a particularly interesting season for the Fijian Drua, who after breaking through and winning last year will have two extra challenges in the way of them going back-to-back: having only three home games and the fact their strongest players will be over in Japan. Regardless, with adversity comes opportunity, and there is no shortage of good players in the island nation. This year will be a real test of their depth.
Sydney Still Changing
(Words: Nick Hartman)
The New South Wales component of the NRC has always been in a mood to change. From four teams in the first edition – North Harbour Rays, Sydney Stars, Western/Greater Sydney Rams, and NSW Country – to the Sydney Rays shortening their name to just "Sydney" this year, the NSWRU just haven't quite figured out what to do.
This year, the Shute Shield and NRC have put their differences aside, and there will be no clash between grand final and opening round of yesteryears. Sydney vs NSW Country will be the headline clash of round 1 out in Dubbo.
This is a genius move, in more ways than one. The lack of NSW success at NRC level has been noteworthy, but it's in no small part due to the constant clash with the end of the Shute Shield, effectively meaning the NRC coaches barely get any time with their full squads. This year, despite there no longer being a clash, the two NSW teams will only have one week with their full squads before the NRC starts, so starting out with a hitout against each other gives both sides some much needed prep time before they take on the rest of the competition, something they previously haven't had compared to the likes of their other national counterparts.
However, the lingering sense of the landed gentry of Australian rugby union still remains, with all three of Sydney's games to be played at Woollahra Oval, home of Eastern Suburbs, and also about 10 minutes drive from Malcolm Turnbull's house.
I'm sure there's many functional reasons to placing all Sydney games at the same home ground. Logistics is easier for one.
But it may point to another strategy – are the NSWRU more concerned about the developmental aspect of the game rather than using the NRC to grow it?
The NRC – what is it?
(Words: Nick Hartman)
The "Melbourne" Rising will take their game against the NSW Country to Adelaide on 7 September, and two weeks later take QLD Country to Ballarat.
Looking at when these fixtures take place, it's easy to see why the Rising want to escape the city.
It's AFL finals time.
With the main codes at their peak, it's hard for the NRC to find itself a niche as a product. Hardcore rugby fans will love it, but otherwise it's a hard ask to get others to watch a mish-mash of guys not good enough for the Wallabies and the best of club rugby to play for 8 weeks.
There is confusion about what the NRC is meant to be. This is an easy line from Rugby Australia – there's not much we can do in September, and advertising is expensive. The NRC is a player development league.
Toeing that, and see what grows naturally, is the best bet for the NRC's future.
Scheduling around the World Cup
(Words: Nathan Williamson)
The efforts by the competition to schedule games around the World Cup is a nice touch for us rugby fans. The ability to have non stop rugby for 7 hours is an exciting prospect, and is one that will definitely get people to want to watch.
The scheduling of the Fiji Drua vs Sydney as the curtain raiser for the Wallabies vs Fiji game is a great initiative and should help build anticipation before the first game.
Also, they've done a brilliant job at avoiding clashes for marquee matches such as New Zealand vs South Africa will prevent fans from having to make the agonising decision.
Hopefully, it will bring more eyes to the competition and raise the profile of the NRC in Australia. Tip of the hat.
---
That's our thoughts! What are you looking forward to for season six of the NRC?