Happy Monday G&GRs. Firstly a big thanks to Reds and Wallabies Fan (RAWF) for stepping up to the plate at short notice and filling in for me last Monday. Kids and bicycles are all I can say.
To start this week off we are going to look at some of the things that the Hammer has said recently in "Who Dares Wins". Then review the results of Hoss's coaching poll in I 'See Your Cheikers and Raise You a Schmidt'. Then revisit Tupou's statement of the bleeding obvious. So settle down with your coffee, pretend you're working hard, and come along for the ride.
As always this is a fan-run site and any contribution is always welcome feel free to reach out to me at bris@greenandgoldrugby.com.au be it with an article an idea or an opinion piece. There's also a 'Submit a Story' option. So feel free to have a crack as the more the merrier.
Who Dares Wins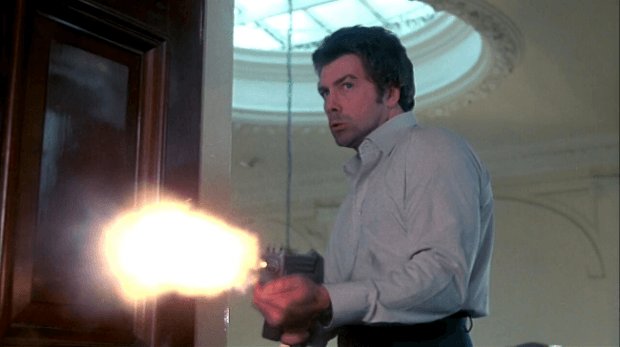 Having read Friday's News with Hoss, and then actually sitting down and watching the Hamish 'The Hammer's' interview, I, and I'm sure that I'm not alone, was blown away by both the stupidity and arrogance of our RA Chairman. Hamish has come in for a lot of criticism in the last few weeks, and to be 100% honest, he had it coming. And I'm surprised that he's surprised that he's copping such a pasting. Let's look at some of his statements:
"I think it's unfair because it was socialised among the board and we were all concerned about how the team was performing [under Dave Rennie in 2022]," McLennan said. "We have had to make a lot of significant calls for rugby over the last three years so I was in a position where I certainly gave a point of view. It is unfair to say it was my call only, but I was certainly an advocate for Eddie and I think given the circumstances I would probably make the same call again."
"In business and in life, you don't have a 100 percent success rate. You don't get every call right. I am really gutted. I felt so bad after we lost to Wales and there were fans in the street who'd spent their money going over to watch the games and the tournament, and all their hopes had been ripped up. But I also want to stick it out and fix it once and for all. I think I am doing it for the right reasons."
As most of the G&GR readers may know, I spent over 30 years in uniform in the Australian Army prior to stepping out into the business world. The Australian and British Army have a unit known as the Special Air Service Regiment (SAS) or the 'Regiment' as it's referred to. The unit's motto is "Who Dares Wins". My children have made a more colloquial version of this which I'm sure has come out of many children's films, and will be familiar to most readers "You have to risk it for the biscuit'. In other words, if you want the reward you have to take the risks. The predication of all of this is you have to win. As Mr. Ricky Bobby once said, "If you ain't first……you're last". And that is exactly where we find the Wallabies.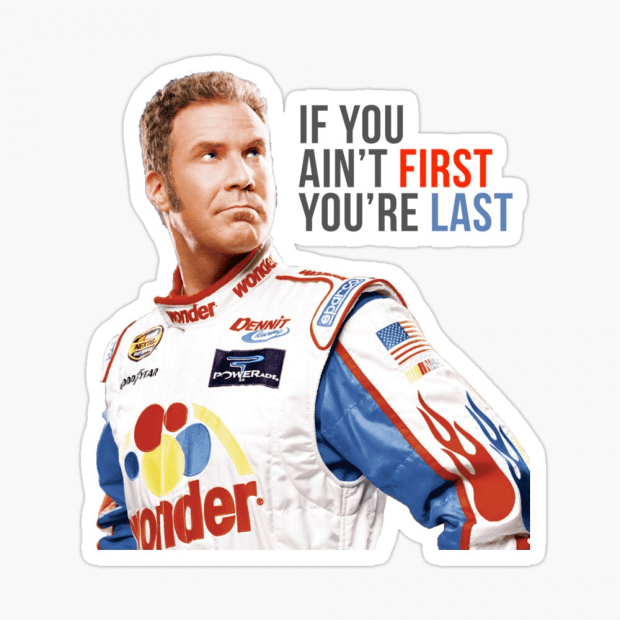 What really got my goat, is that Hamish said "…that given the circumstances he would make the same call again". Like WTF? Really? Having seen the damage he has caused the game, its fans, the players, and our international rugby reputation, he thinks he'd do the same thing again. Wow, this statement just tops off the lack of judgement, arrogance, and lunacy of our current chairman.
Let's look at the corporate world equivalent; let's say the CEO of BHP hangs it all out there, blows away all the current methodology for loading iron ore or coal onto shipping vessels, and invests in a new system that's going to be a game changer. His conventional engineering staff and former dockside crews say that this might not be a good idea, and there's no evidence that this new approach will work. But bugger it, the CEO throws it all on black, invests, sets up, and it fails. Not only does it fail, it fails big; the impact on the business's bottom line is huge. Future investment in the company looks dire. What do we think would happen to this CEO? Having worked in gas, mining, and oil since I got out of the military, I can tell you that the moment that the CEO's new plan failed, he or she would be gone. No standing there making idiotic statements, he/she would have been marched from the organisation so quickly their head would be spinning. If it remained even attached at all.
So why does our current chairman think he's immune to this? Look at Qantas. For many years Alan Joyce did what was deemed an above-average job, made some tough calls, kept the airline afloat during a pandemic, etc, etc. But the moment some of his decisions and the optics around his selling shares and taking bonuses when staff were laid off illegally, let alone that illegal act of laying off staff, and the selling of 'ghost flights', he stepped down and got out of town quickly. He and the board saw the writing on the wall. And now the shareholders are baying for the blood of the chairman too. And now he's announced that he'll step down earlier than planned too, but not soon enough for most shareholders. Poor results and ruined reputations have consequences.
Now that Dr. Evil has departed, Hamish has seen fit to throw some shade that way saying along the lines, and I'm paraphrasing here, '…that Eddie went well over budget' on the RWC2023 campaign, insinuating that this was Eddie's fault. Well, all G&GR readers know that I'm no fan of Dr Evil and that the moment he was appointed I said this wasn't going to end well. But to blame Eddie for budget overruns is the ultimate act of hypocrisy. The board and the CEO set the budget, not the head coach. So this just wreaks of someone trying to shift the blame elsewhere.
To be honest enough has been written on the RA board, and particularly its chair. But the reality is, Hamish is of the view that he can rewrite history, and can keep bullshitting and blustering his way out of this one. It's up to us fans and lovers of rugby to keep pushing for better leadership. One that understands the game appreciates the fans, and not just their mates on the "insular peninsular".
'See Your Cheikers and Raise You a Schmidt' – Hoss's New Coach Survey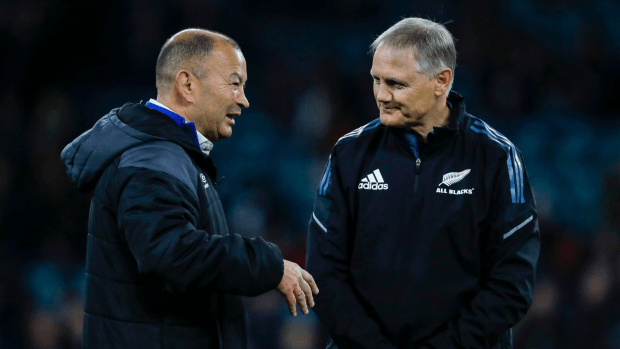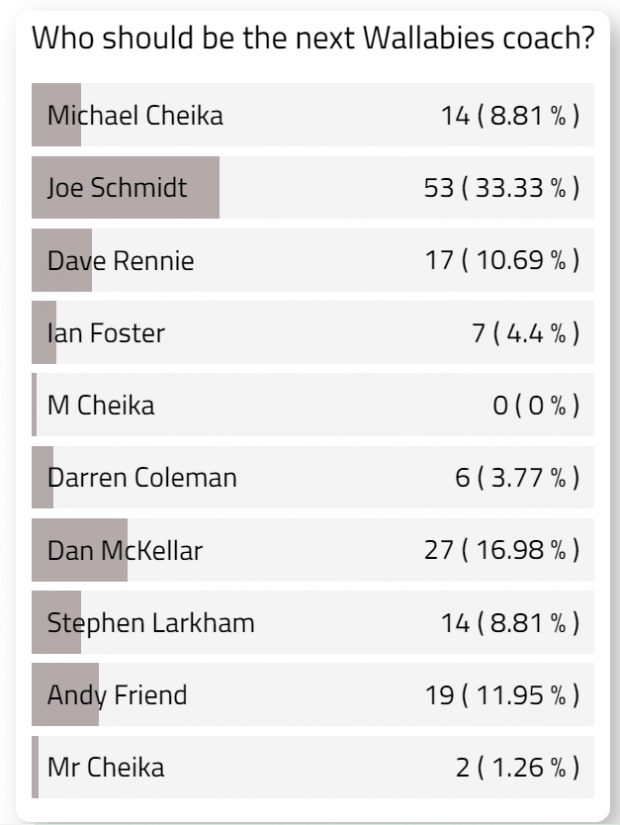 Lo and behold here are the results of the Hoss's Friday News vote. And to quote the Big Man:
"In the true spirit of letting even morons vote (I hate democracy) you get to cast your vote below (#bringbackchek)."
Well, the results are pretty straightforward, despite the Hoss Man trying to run a Queensland-style gerrymander for his beloved Cheikmeister (who with three entries still scored lower than the man RA sacked) . The eventual winner is Joe Schmidt by a country mile.
Schmidt's coaching record – Schmidt coached Ireland to record highs during his tenure in charge of the side between 2013 and 2019. In seven years in the role, he clinched three Six Nations titles – including a Grand Slam in 2018. He also led them to their first-ever wins over New Zealand, the first in Chicago in 2016 and the second in Dublin in 2018. After the World Cup, he took up a role within World Rugby before joining Super Rugby side the Blues, eventually linking up with the All Blacks coaching staff as a selector in late 2021. He was later promoted to an assistant coaching role midway through 2022. Schmidt ruled himself out of the running to replace Ian Foster as the All Blacks boss after the 2023 Rugby World Cup, and it is presently unknown what his future holds.
I would really love Joe Schmidt to be the next Wallabies coach. The two other serious options, Dan McKellar and Stephen Larkham, aren't at the right experience level to enter this job with McKellar recently stating that "Now wasn't the right time". The Cheika experiment failed the first time, and like most sequels, they aren't as good as the original; let's face facts Cheika's first coaching stint with the Wobs was a disaster.
Whether Joe Schmidt is brave enough to take the role, and whether RA has actually seriously approached him, remains to be seen. But by god, I hope they are and they do. After years of flux and experiments, I'd love for a professional (not that Dave Rennie wasn't), to come in be supported by the CEO and the board, and get on with building a team that we can be proud of and a team that performs.
Taniela Tupou's After Action Review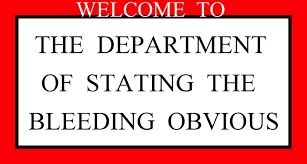 Wallabies and now Melbourne Rebels tighthead prop Taniela Tupou was interviewed recently and bemoaned the lack of an experienced 10 in the squad for the RWC.
"When Eddie named that team [for the World Cup], what I was thinking at the time was that Eddie has been in the World Cup [before]. He knows what he's doing. I'm going to trust him," Tupou stated. "Then I went to the World Cup and it didn't happen. When the pressure was on, you needed guys who could handle pressure. We had guys who couldn't do that."
"I don't want to sit here and moan that it could have been this or that but an experienced 10 would have helped … or anyone who could have sat in the driver's seat. When the team was named and I looked at the squad, it was a lot different to Dave [Rennie's squad]. We knew how to play with each other. People will say we are the worst Wallabies team ever in a World Cup and whether we like it or not, it's something we're going to have to live with. It's up to us to try and change that."
Now G&GRs, I'm not taking a shot at young Taniela here. I'm pretty sure that he, along with all of the other squad members, saw this was the case prior to the RWC. And I'm pretty sure also that none of them were able to raise this with Eddie for fear of their position in the squad. And in time I'm pretty sure we are going to hear a lot more from the squad members about the disaster that was the Wallabies RWC 2023.
But the players knew it, and all of us fans knew it. How in the utter fuck didn't the chairman and the CEO know it? I'm convinced that Phil Waugh has a rugby brain. And I think that in the back of his brain he was probably thinking that this might not be such a good idea. But alongside the Hammer, he was in for a penny, in for a pound.
Hopefully, the review interviews the players, and I also hope that they interview Michael Hooper and Quade Cooper too. They were there for all of the preparation and lead-up. They would have some useful insight from their years of experience on what was going wrong inside the team environment.
Anyway, Happy Monday to you all. Have at it!