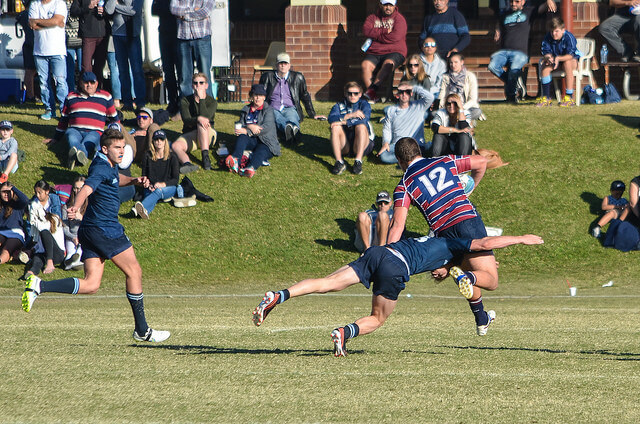 Green & Gold Rugby takes you inside GPS Rugby again in 2015, bringing you the undisputed best coverage of the premier Schoolboy Rugby competition in Australia.
With such a short competition, it is imperative for the stars of tomorrow to achieve absolute perfection for each of their eight matches in 2015. After all, no team has won the GPS by dropping two games for a very long time.
With perennial contenders Nudgee and Southport looking as strong as ever, the rest of the competition have a hard task ahead of them to take down the twin giants of GPS Rugby.
Defending-champions Churchie must deal with the graduations of star players the likes of Izaia Perese, Kalyn Ponga, Angus Scott-Young and Harley Fox if they hope to repeat.
They will be doing  so without the guidance of Jason Gilmore – departed to coach Queensland Country in the National Rugby Championship. Filling his large boots will be Michael Lucas, a former Coaching education manager at Queensland Rugby.
BBC have been building for the 2015 season ever since this year's class of superstars were undefeated 15 A's champions in 2013 – some might even argue BBC have been building for 2015 since their last premiership win in 1954.
With star players like Ben Gunter, Darcy Tai'mua-Swain and Jack Farrell in the forward pack, the competition's most exciting backline should earn plenty of front foot ball to unleash their Australian Sevens talent in the outside backs.
Toowoomba Grammar have quietly but surely built a forward pack worthy of the title of Mountain Men bestowed on them each year. With incumbent Queensland flyhalf Hamish Stewart directing the rodeo, TGS will almost certainly play a part in deciding who will be King of the Hill in 2015.
Ipswich Grammar School and Brisbane State High School are the unknowns in the equation, flying mostly under the radar.
Spring Hill rivals Brisbane Grammar and Gregory Terrace will duke it out for bragging rights in the only competition worth bragging about, outside of debating of course.
Green & Gold Rugby will be your home for GPS Rugby previews, news and reviews in 2015.
We encourage you to join the tipping competition here:  Official Green & Gold Rugby GPS tipping competition
To join, enter the competition number 10448, and password: greenandgoldrugby
To read about Churchie's 27-25 victory over Gregory Terrace, head to page three.
To read about Southport's 36-19 victory over Brisbane Grammar, head to page four.
To read about Nudgee's 25-7 victory over Toowoomba Grammar, head to page five.
To read about BBC's 36-24 victory over Ipswich Grammar, we apologise – It's not coming. As a peace offering, we can offer you the video highlights and a promise to do better next week. Head to page six!