The Rugby World Cup has positions 1 to 4, but it doesn't place the lower teams. I've decided to fill the hole and produce ratings and rankings for all teams based on their performance in the World Cup. We all have a feel for how well various teams did, but putting numbers to it can give a different perspective.
I've used two methods, in part to see how repeatable the results are. The first method is a least squares score centred on 100. This produces numbers, which when you take the differences between them, give most likely margin if the two teams played again. So for example in the chart below, Australia has a rating of 98.9, and if they played Portugal again, who scored 90.8, you'd expect Australia to win by 8 points.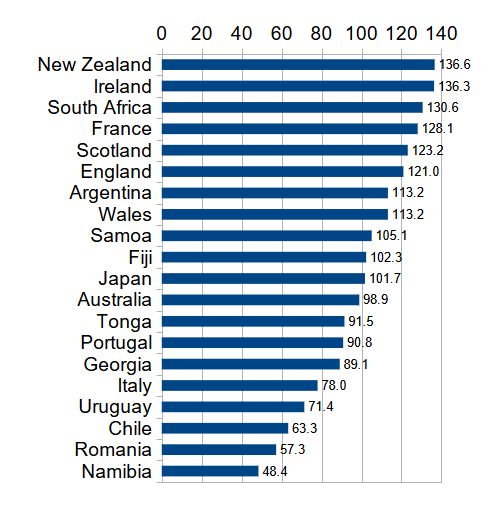 Australia is below Wales and Fiji and above Portugal and Georgia, as you'd expect from the results of the pool they were in (Pool C). These numbers also compare teams between pools, and this puts Australia in 12th place. Pool C was the a fairly weak pool with every other pool having two or even three teams above the highest team of Pool C, Wales. If Australia had played they way they did but was in Pool D, we could easily have finished 4th in that pool, and but for us hosting the next World Cup, we would have needed to play through the qualifying tournaments to reach it.
Looking at the top of the table, there is NZ and Ireland. They both had some unexpectedly big wins over the lower teams, and this causes them be lifted higher by this ratings method than perhaps they should be. There's another ratings method that reduces the weighting for outlier results. It's roughly similar to using a median or a trimmed mean instead of an average, and is often more accurate given small numbers of results, and given that many of the teams played only 4 matches, it's worth looking at. The following table is the result.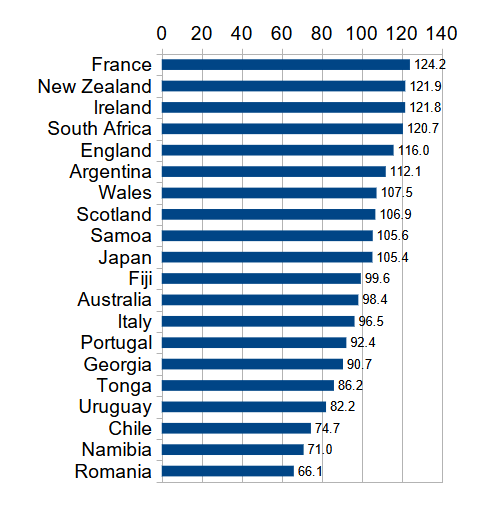 France is on top in this table, and given that France lost only one game by one point to the eventual champions with all their other matches being solid wins, they have a good case for being on top of the World Cup ratings. But the margins at the top are close, and different calculations put the teams in different orders. The top 4 teams however, are still the same. Teams 5-8 are still in the 5-8 bracket, and teams 9-12 are still in the 9-12 bracket, and so on. There's a limit to how accurate calculations can be with most teams playing only 4 matches, and only a few finals giving a chance to rate teams between pools, but any reasonable calculations are going to put the teams roughly in the same order.
Australia is 12th by either method, and again not just third in a pool but third in a weak pool. The current official world rankings have us in 9th, but they take time to adjust, and I would say 12th is a more accurate measure based on the World Cup performances.
We heard a lot of talk about how well Fiji did, and they did do well, but Samoa was unlucky to be in the pool they were, and would be slight favourite against Fiji based on how well they played. They really gave England, Argentina, and Japan a run for their money. Although Japan beat Samoa, Samoa's losses to England and Argentina were much closer than Japan's, and so Samoa was rated just ahead of Japan in the above tables.
Portugal was another team that did unexpectedly well. We all know they did well in Pool C, but even given how poor Pool C was, Portugal's performance was still unexpectedly good in the tournament as a whole probably finishing 6 positions above and 20-30 points better than the last qualifier normally would.
South Africa is not on top in either table. They won each of their finals by one point, and lost to Ireland by 5 points in their pool game. These ratings are based on match scores, and so with the low margins of victory they didn't score quite as highly as the other top teams who had slightly higher margins in their critical games. This shows what we know from their path to the championship – a penalty or drop goal, or a disallowed charge down could easily have seen them fail. The ratings above reflect that in numerical terms . But when you have 4 close teams at the top, whichever team won, they were always going to have had some luck to get there.