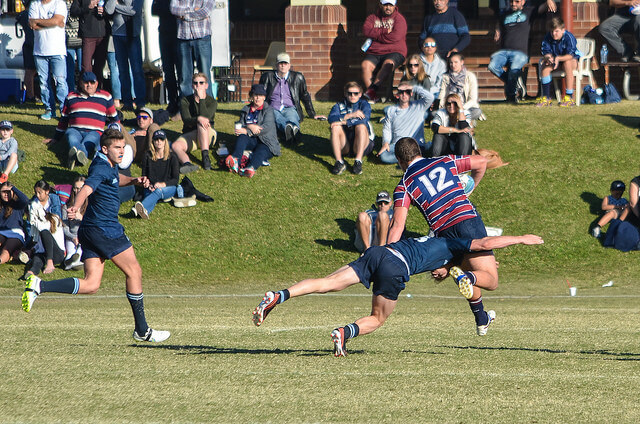 Brisbane Grammar School at The Southport School (19-34)
HJ Nelson
The Southport School have opened their 2015 campaign at home with a resounding 34-19 win over Brisbane Grammar School.
Southport's quartet of Australian Schoolboy representatives all made their impact felt throughout the game, but were shaded by an arguably career-best performance from NSW League representative Jai Whitbread at inside centre.
Brisbane Grammar's four Queensland representatives fought valiantly to keep the scoreline to 15-points, but in the end bowed to their title-contender hosts five tries to two.
Southport lock Angus Blyth opened his school's scoring five-minutes in to the encounter, finishing an attacking raid sparked by star centre duo Whitbread and Riley to lead seven-nil.
A penalty goal to 16-year-old fullback Paddy Hogan added BGS' first points, but Whitbread was back toasting the defensive line immediately.
With hulking number eight Emry Pere trailing on Whitbread's outside, the bullocking centre took on the tackle of the fullback and off-loaded instead to flyhalf Tyler Campbell, swan-diving for the line to raise the score to 14-3.
Sustained pressure on the TSS line after the restart resulted in another penalty to BGS via Hogan, cutting the deficit to eight-points.
Southport's celebrated counter-attack sparked in to action again following the re-start, as Australian Schoolboy halves Lenac and Campbell combined for Campbell's second converted try of the half.
Hogan kicked his third penalty for the Light Dark Blue before titanic winger Josh Davies crossed for the first try of Grammar's season to close the half at 21-14.
Angus Allen, Emry Pere and winger Hayden Sergeant led from the front to open the second half, recording a number of strong runs culminating in an unconverted try to Dylan Riley.
TSS gave every impression of running away with the game when Jordan Lenac kicked a penalty-goal, placing Grammar 14-points in the red.
With the game on the line, the Brisbanites needed someone to step up and score next to keep their chances alive.
Winger/fullback Oli Fison swooped on a loose ball and raced 30 metres to outrace the cover defence to the corner corner to the delight of the BGS boys on the hill in the scoreboard corner.
That would be the last of the visitors cheers for round one.
Southport captain Angus Allen channelled Michael Hooper when he latched on to a reverse flick pass from Jordan Lenac, racing away to score under the posts.
TSS then seemed content to kick for territory in the last 15 minutes to ensure the win, and the final score remained 36-19 in favour of the home team.
TSS 36 (Angus Blyth, Tyler Campbell 2, Dylan Riley, Angus Allen tries, Jordan Lenac 1 pen, 4 cons)
BGS 19 (Josh Davies, Oli Fison tries Paddy Hogan 3 pens)
THE PLAYERS
Jai Whitbread was unstoppable in the 12-channel for Southport.
Grammar No.8 Fraser McReight was his side's best in a brave defeat.