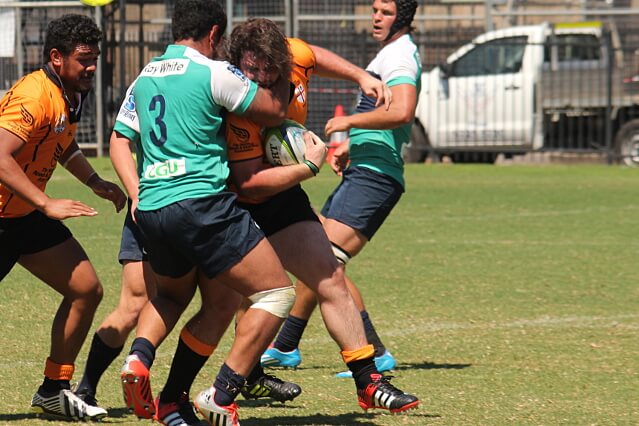 The NSW Country Cockatoo Colts came to the Kippax Field at Moore Park to play the NSW Generation Blue Colts in an Under 20 trial match on Sunday and they gave a cracking account of themselves to a team that had more training and conditioning than they had.
It was to be their only trial match before going to the so-called Southern States U20 Championship in Adelaide from 20-25 February. Teams from Western Australia, South Australia, Victoria, ACT, NSW Country and Qld Country will play three matches apiece in matches  that are selection trials.
The results of the Adelaide matches are ostensibly not as important as giving the selectors a good look at the players to choose a combined team for the national championships in March, but don't tell that to the NSW Country Under 20s—they won't have a bar of it; they want to win games over there.
The young Cockatoos performed well in Sydney despite having a sketchy preparation.
Mat Thomas who is coaching the country juniors for the fourth year in a row said on Sunday that they "met each other for the first time on Friday night as a group and we trained heavily yesterday in the heat. We knew we were going to struggle in the second half."
When we had two training sessions on Saturday instead of a pre-season, and you put them up against the best of NSW Under 20s on Sunday, we knew we'd make some mistakes.

But when you come from the country you don't make excuses, you just get on with it.
And get on with it they did: they gave it to the Sydney-based players scoring three tries to two in the first half.
The NSW Gen Blue Colts started well with tries to fullback Tyson Davis and utiity Ben O'Donnell, playing flyhalf instead of Corey Tulloch or Andrew Deegan (both injured), but Country forced mistakes on them and took advantage.
They scored three tries on the bounce.  One of their tries was from impressive tight head prop Blake Walsh, their skipper, who was hard to stop all day with his bullocking runs. Another was from Adrian Delore who elected to play for Country after being named for Gen Blue.
Tim Rapp, the Gen Blue coach, gave his team a few home truths at half-time. He was a former Cockatoo himself; before playing for the Waratahs, he represented Australian Schools as well as the Australia U19s and U21s, out of Singleton, and knew the advantages his charges had over the country lads.
He must have been disappointed with the ball handling of his players and coming off their line slower than the visitors did, amongst other things.
Whatever he said worked because they were like a different team after the break, and to be fair: the Country lads found it difficult to compete with the superior conditioning of the City lads for the full 80 minutes.
In the second half Gen Blue racked up six tries – to one scored by the impressive no.8 Craig Ticehurst from Nyngan.
Centre Ben Starkey played flyhalf in the second half for the locals and like O'Donnell, made a fair fist of it. Scrummie Rory Davis was a pain for Country with his sniping, and the outside backs took advantage of the tiring visitors from the bush, on the edges.
The only downer for Gen Blue after the break was a leg injury to Ned Yeomans from Australian Schools last year. He could have played for Country himself being from Walgett but like many Country boys, is basing himself in Sydney for rugby purposes.
Mat Thomas would see the sense of that. He said that coming to Sydney to play in the trial was a great experience for his boys:
Its a great opportunity and it's a great way to get Country players visible to the NSW and other franchise selectors. That's part of the deal; that's what we want: country players to be seen, to give the players a shot at that next experience.
Apart from the Country players mentioned above Thomas commended his scrumhalves Ted Pye (Lismore) and Brenton Ackerman (Warnervale, Central Coast) as playing smartly in the team style when play opened up for them. Indeed, they impressed me as they did in their school days playing rep footie in Sydney,
He also praised openside flanker Liam Brice who has already played senior rugby for the Newcastle-Hunter Wanderers club under coach Todd Louden, now with the Melbourne Rebels. Another commendation went to outside centre Riley Byrnes from Hay.
Skipper Walsh said that the boys are looking forward to Adelaide and some of them are will be pushing for selection in the Southern States team for the national championships. He didn't mention himself but I think he is a good chance.
Being from Cessnock he was only 2½ hours from Sydney but others came from much further away – from Nyngan and Lismore, "all over the shop", but he added:.
Nobody cares where anybody is from now—we are just one team.
Good luck to the NSW Country Cockatoo Colts in Adelaide. Whatever happens, they'll just get on with it.
The next trial game for the NSW Gen Blue Colts is part of a big day of rugby at the TG Millner Field in Marsfield (the home ground of the Eastwood club).
Saturday Feb 14
1.30pm – Generation Blue Colts v. ACT U20s
3.15pm – Generation Blue* v. Brumbies A
5.00pm – Eastwood v. University of Queensland (Australian Club Championship).
* The Waratahs A team