This is another piece looking at some statistics about how teams perform. This time it's mostly written by AllyOz, as well as using his graphs. I'm abusing my position of posting the piece to add some comments at the end.
Patrick raised an interesting question in the Lies, Damn Lies and Statistics article by Eloise and myself, talking about France establishing a dynasty based on strong junior development. It prompted me to have a look at the performance of the teams at the Junior/U20 RWC and see how that related to performance at senior level. To some degree, what goes in at the front end of the sausage making machine of international rugby does have an impact on what comes out the other end. I had a quick look and did up a graph of the finishing places of four teams. I did look to include more but it got a bit messy and I think, with these 4 teams – SA, NZ, ENG and FRA, we can tell an interesting story.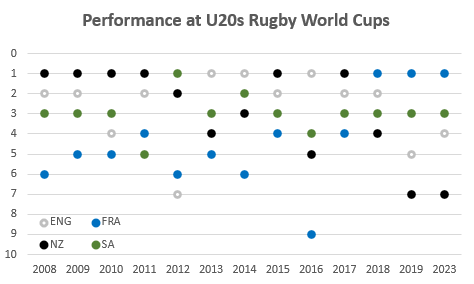 Firstly, looking at NZ, they dominated the Junior World Cup in the early days. They won the first four and, overall have taken 6 from 13 titles contested. But, and it's a big but, they have faded over the last decade and in the last three comps – 2018, 2019 and 2023 they have finished 4th, 7th and 7th (the Wallabies have actually finished higher than NZ in the last two played). I think there are a number of real worries for rugby in NZ. We (Australia) are one of them, because they need high quality opponents and we haven't been supplying that for a while. Secondly, they have a small economic based at the far end of the rugby world and they're starting to see more and more of their players take overseas opportunities. Thirdly, the quality of their junior programmes, at least in terms of the results measured here, have faded. If we consider 30 plus as the cut off for participation in the 2027 RWC then the likes of Dane Coles, Codie Taylor, Nepo Laulala, Ofa Tu'ungafasi, Brodie Retallick, Sam Whitelock, Sam Cane, Aaron Smith and Beauden Barrett have to be replaced. All those players came out of a period when NZ dominated Junior RWCs – now they're going to be replaced by players who played in teams that finished 4th, 7th and 7th. NZ won 2 World Cups in 2011 and 2015 drawing on a period when they had the best young rugby players in the world. But that hasn't been the case now for a while, at least as measured by results at the Junior/U20s World Cup.
South Africa are a contrast. They have never dominated the Junior/U20s World Cup but neither have they ever been far away from the podium. They have never finished lower than 5th and have finished 3rd eight times, 2nd once and they won it back in 2012. That suggests to me that they have a steady stream of quality players coming through to replace those ageing stars as they go on. France, as we are discussing, here have invested in their pathways and their youth development in recent years. They first tasted success in 2018 and have won the next two Junior/U20 Rugby World Cups in 2019 and 2023, it'd seem the COVID break doesn't appear to have slowed them. So we might not be beginning to really see the weight of that high quality sausage meat fully coming into the machine. Prior to the last three years though, they have never finished better than 4th and were as low as 9th in 2016. Perhaps surprisingly, that was the only year Antoine Dupont played for the U20s, so a poor performance doesn't indicate that you aren't going to have some good players coming through. And Dupont, the world's best rugby player now, is proof of that. With France, if quality juniors is the thing, then we better get used to a lot more good sides coming through. The production line seems endless.
England though, seem to be an example of how to take a production line of quality junior players and fritter it away. England are the only side, I think, able to claim more consistency at this competition than SA. They have won it 3 times and finish 2nd 6 times – they've made the final on 9 of 13 occasions. Like NZ, they have drifted in the past couple of outings, 4th in 2019 and 5th in 2023 but that wouldn't necessarily be feeding into the squad yet. And I think that justifies Eloise's point around failed dynasties.
Some people commented about Ireland getting it right. I think Ireland do get a lot right but their performance here has been sporadic. They were runners up in 2016 and 2023 but, in between those years they finished 9th, 11th and 8th. I'm sure that the Irish are very active at Rugby World Cups but, I suspect, a lot of that activity is checking through the team lists of other rugby junior powerhouses like South Africa and New Zealand and running their names through Ancestry.com. I don't mean that offensively, that's clearly part of how they have to approach it. And they may be, based on this year's results, looking more to their own junior development – but one or two good years in 5 doesn't indicate a trend.
So, what about Australia? Well I haven't shown them here on the single chart because it all gets a bit messy, but the results, to me, suggest that we're getting out one end what's going in the front end. At least most of the time. We finished 2nd in 2010 and 2019. That 2019 squad, which finished second by a point to France and beat NZ in the Oceania Cup, are the "winners" that Eddie is drawing on in this world cup campaign. The names I recognise include Angus Bell, Nick Frost, Will Harris, Trevor Hosea, Lachlan Lonergan, Fraser McReight (c), Josh Nasser, Carlo Tizzano, Rhys Van Nek, Harry Wilson, Michael Wood, Ben Donaldson, Will Harrison, Noah Lolesio, Isaac Lucas, Michael McDonald (think he went back to Ireland?), Mark Nawaqanitawase. Those highlighted are in the current squad. Carter Gordon had been involved but was injured in the lead-up.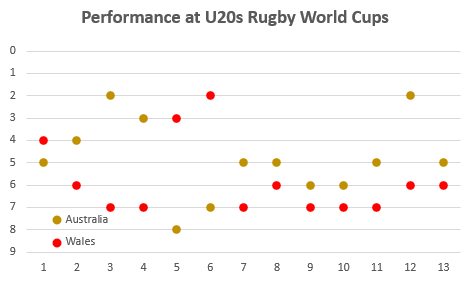 And Wales? Well Wales seems to me to be a side that tastes pretty much like it says on the tin. More often than not, their Junior/U20s performances are roughly in line with what I'd expect their World Ranking to be. They have finished either 6th or 7th across the last 7 Junior RWCs but did have some better results in 2012 (3rd) and 2013 (2nd). They don't seem, at least in my mind, to have fully adopted the approach of Ireland and Scotland, of scouting talent or developing talent of overseas based players in their domestic competitions and qualifying them via residency but I could be reading that wrong. (I only found out that yesterday that Gareth Anscombe was a Baby Black). Someone like Eloise would have much greater insight into the situation there. But in one sense, Wales's results and ours are fairly similar over time.
CONCLUSION
They quality of junior players, in most cases, is going to be a key determinant of performance at a senior level down the track, particularly at a national level where selection is limited, to some degree, by place of birth with some caveats around heritage and residency. Ireland, currently ranked the best in the world, haven't, at least in the recent past, relied on players from winning Junior World Cups to fill their senior ranks, other teams like Australia, New Zealand, England, France and South Africa do tend to base their development on a steady stream of young talent emerging on a regular basis.
The lack of success in recent years for teams like New Zealand must be a cause for concern to some, particularly given their earlier dominance at this level, which fed through to a golden generation of players, many of whom are now gone, or in the latter half of their careers.
While teams like South Africa seem to get it right, using their production line of young talent to keep their senior team at the top of their game, there is less evidence that England, who appear to have as many or more advantages as South Africa, are as able to translate success at a youth level to senior team dominance, but maybe that's just Eddie.
We may only be beginning to see the best of a French team who, have consistently performed at the highest level for the last three Junior World Cups. And their best player came from their worst junior performance on record, throwing into question perhaps the importance of this metric. Still, I consider him an outlier, in many ways.
And for Australia, with full benefit of hindsight, it seems we might have placed a very heavy burden on the still developing shoulders of our latest Golden Generation. In some way, this analysis helps me better understand why Eddie Jones took this punt. This group of players achieved, as young men, something that few of their peers had done for a number of years. But it also seems a huge risk, to expect a team of young men to perform against older, more experienced opposition, with few old heads there to help them. I just hope that the youngsters in this playing group find a way to see this as an opportunity for growth and development and not a traumatising experience that will burden them in the future. I hope they can take it as a prompt to maximise the potential they clearly have.
Eloise's Comments It's certainly tempting to think that the under 20s, and more widely youth success, are an indicator of future senior success. But just how true is that?
Beauden Barrett won the U20 World Cup 12 years ago now. RugbyPass asked if that team were the best ever age group squad here because 16 of the 26 players went on to play international rugby. For comparison, in the previous year, only seven of them did, four All Blacks and three others. Unlike the 2011 group where, apart from Barrett, Retallick, Taylor, Cane, Weber and Perenara all had long careers in black, Anscombe in red. Luatua, Naholo, Saili, Shields and Piatau are among the other names many more casual fans would probably still recognise, mostly with shorter careers in black and then a second career elsewhere, or a career in white. In the 2010 group, the rugby tragics (yes, I mean you) will remember all the names, but most of them played a few seasons of Super Rugby, those that played for the All Blacks earned between one and eight caps. Those who played more than a few seasons went on to ply their trade overseas.
Under 20s stars don't necessarily go on to become even long lasting professional rugby players, let-alone long-lasting test stars. They certainly can, but many don't, so how much of an influence is a strong U20 squad?
Contrarily, and AllyOz has already touched on this, is a strong youth performance the only way? If you look at South Africa and New Zealand, their squads are developed in country. Although the All Blacks certainly have Pacific Islanders playing for them, they're present through their junior ranks, not brought in as adults. Australia does this too. The French squad is largely the same, although I believe Willemse is South African by birth and education. But if we look at the Irish and Scottish squads, making up the current top five remember, you don't have to look too hard before you find players who came from the New Zealand, Australian or South African systems, then moved, served their time and were nurtured in their new country into test stars. Most, not quite all, were not really near being selected for their national team, not even on the fringes of the squad. That's not meant as a criticism of those countries or those players. Rather it's meant to point out that a number of players can be developed from also-rans as junior professionals into stars of the world game a bit later on. How many teams do you think would turn down Dempsey, Gibson-Park, Aki, Tuipulotu, van der Merwe and Hansen these days?
In the current Welsh squad, that only applies to Anscombe, but in years gone by it has applied to several players too. In the English squad, it gets trickier and I don't want to sound like a mad eugenicist. Marcus Smith, for example, was born in the Philippines, started playing rugby there, and moved to England aged 13. He also qualifies to play for England due to an English father. Tuilagi has older brothers who all played for Samoa. The list goes on, and I have no desire to poke it, they're all qualified and some have been raised and identified within the system as youngsters, some have qualified by residency and identified a bit later in life. That rounds out all the teams AllyOz talked about so this is here for completeness.
Making a great test team is hard. Does having a good U20 squad help? Probably. I'd rather have it than not. But nations can both develop talent later and have a really pretty dominant U20 squad that barely makes a ripple at test level, as we can see from the 2010 winning side. It's far from the only important thing.