After a week dealing with some IT gremlins, I'm back. Another week where too much rugby is barely enough. Round 3 Super Rugby and game 4 of the Six Nations.
Let's hook into it
Opinion – Australian Rugby Has Some Good Cattle Coming Through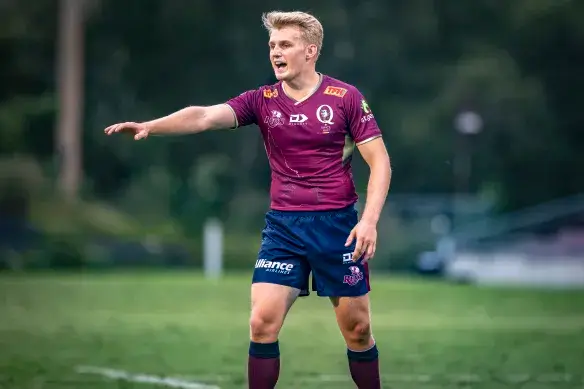 All the Australian teams have a real opportunity to be good for the next few years and our limited funds need to be allocated accordingly. Let's look at the number 10 situations post RWC. After putting up with Bernard (Spanners) Foley for the best part of a decade here are some of the cattle coming through in all of the Super teams post RWC.
Reds
Tom Lynagh
Tahs
Tane Edmed, Ben Donaldson, Will Harrison
Brumbies
Noah Lolesio
Rebels
Carter and Mason Gordon
Force
Reesjan Pasitoa
All are capable players, and that doesn't consider players still coming through the system or an Isaac Lucas who is currently in Japan. I'd strongly submit the funds that some are advocating paying for players from that other code should be allocated to players who are invested in the game already. We need to stop trying to pick individual winners and try to raise all boats. Imagine if of these eight players five became international quality and were fighting it our week in week out for the gold jersey. I hope Eddie reads this.
Opinion – The Role Some Media Play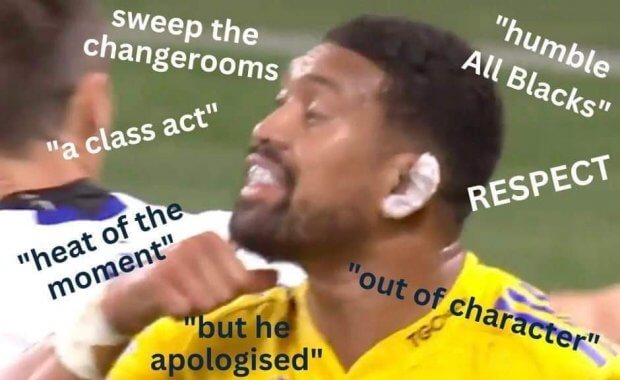 I saw this article on Rugbypass and it got me thinking about how the media in some markets has become little more that a cheer squad for the various codes or teams that they comment on. Here
This was brought in sharp focus after the Ardie Savea throat slitting gesture in the Rebels game. I for one was would have been happy with his post game apology which seemed to be genuine and move on.
I often joke about state media in NZ, the same can be said of the Saffa, NRL and AFL media. In fact the AFL has been known to blackball certain journos for asking tough questions. The NZ commentators had already got in three "out of characters" before halftime was over. The Guy from The Rugby Pod suggested that the Haka throat slit was a gesture to draw breath. Do me a favour
Nick McCardle apparently got some flak online for asking the Canes coach after the game what he thought about it and when he said sorry, I have not seen it said, well, here it is and what do you think.
I think this does little for the game and the product on TV is diminished for it.
Six Nations Round 4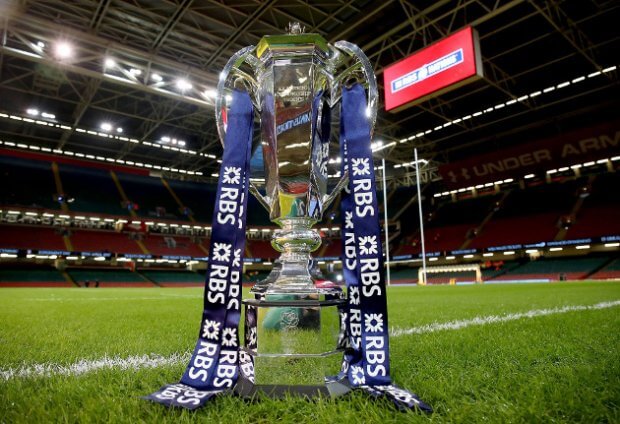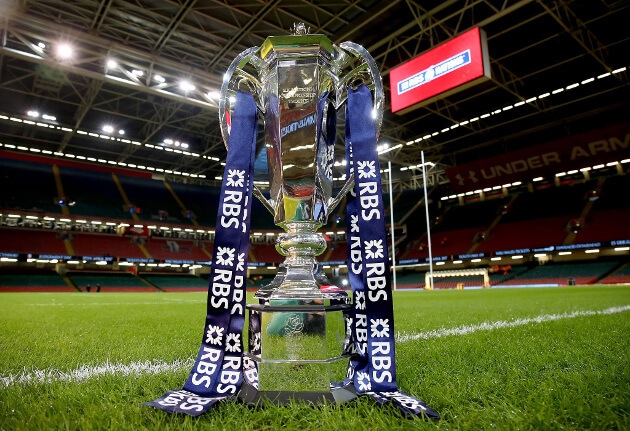 If this tournament is the entre for the rugby year bring it on, what a great set of games this weekend presents.
Italy v Wales
The wounded dragon against the surging Azzurri. Can the Italians carry the weight of favouritism into this fixture in the wooden spoon game? I think they can and am picking them for the win.
Italy by 10
England v France
The French haven't been great this Six Nations but I'm picking them to make some history by beating England at Twickenham for the first time in a long time.
France by 6
Scotland v Ireland
This game is for the triple crown. The fifth ranked Scotland v the number 1 ranked Ireland. Scotland are at home and are always hard to beat at Murrayfield. I'm going to go with my heart here
Scotland by 1 (This is the margin I pick when I expect the Wallabies to lose)
Reds scrum depth to face Brumbies test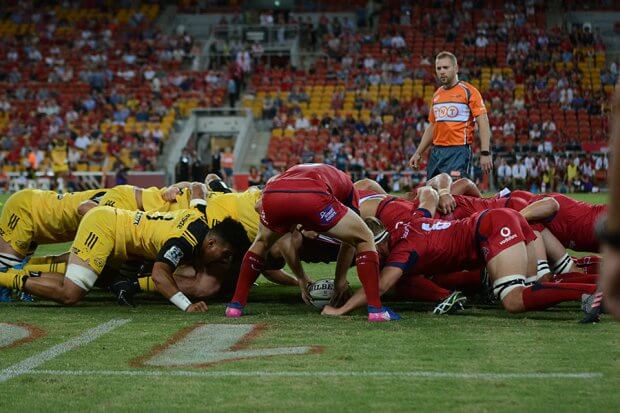 From Pravda
The Reds front row depth will face the ultimate Australian challenge this week going up against the Brumbies.
Zane Nonggorr has leant on ACT Brumbies prop James Slipper for scrum tips in the past but they might dry up if the Queensland Reds upstart can exploit them in Canberra. The tighthead prop admits there's a degree of pressure linked to coming into the Reds front row to replace Taniela Tupou, who's currently injured and will soon depart for the Melbourne Rebels. But he's enjoyed the test in a 1-1 start to the Super Rugby season, with Queensland's historic 10 try mauling of the Western Force on Sunday offsetting a nasty round one loss to the Hurricanes.
Nonggorr knows arguably his biggest test awaits in Canberra on Saturday, however, with the Brumbies' scrum and set piece a clear Australian rugby benchmark powered by Wallabies props Allan Alaalatoa and Slipper. The 21 year old revealed he has used his club rugby contacts to strike up post-game conversations with former Reds captain Slipper in previous tussles.
"They're a world class scrum with two Wallaby props there and it's exciting to play against world class players," Nonggorr said. "You learn from mistakes, celebrate the little wins. I'm really looking forward to it."
Tupou's combination of craft and sheer strength has agitated the Brumbies' set piece in recent seasons, with home ground advantage the only difference between two evenly-matched outfits.
"Yeah, there's a bit of pressure (to replace Tupou)," Nonggorr said. "He's been pretty dominant on the field, is a once-in-a-generation player, and some of the stuff he does is pretty crazy. But us playing together as a team, we can be pretty dominant as well."
Former Brumby Dan Palmer's work as the ACT's scrum coach has been lauded, but the Reds have their own scrum guru in former All Blacks prop and ex-referee Kane Hames. Replacing Wallabies forward Cameron Lillicrap, Hames has been charged with ironing out the Reds' set piece and improving their discipline.
"He's a bit more scientific and technical about how he thinks," Nonggorr said. "But he wants us to get in there in training and have a go at each other."
Hoss of the long run tomorrow