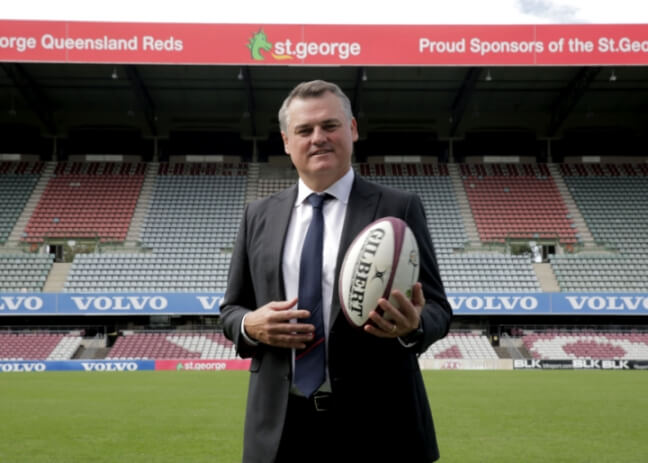 Thursday's Rugby News has a very very happy Nick Stiles, a debut and praise for Matt Toomua, no more trial laws and referees for November.
---
Stiles Excited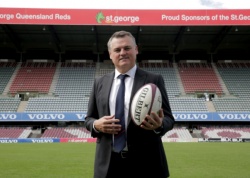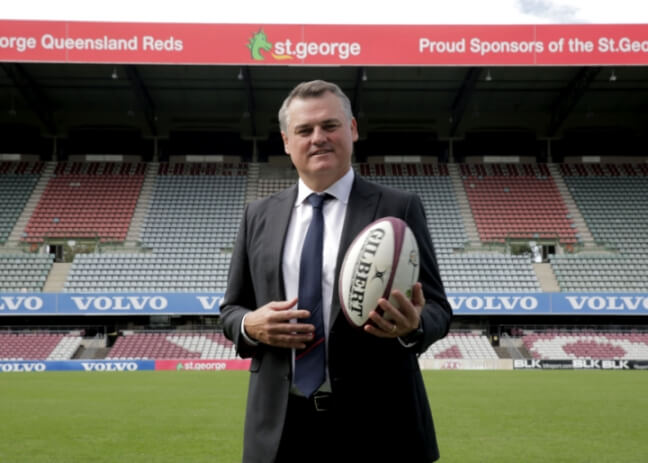 Nick Stiles, the newly installed head coach of the Queensland Reds – who released a massive roster for next season yesterday – is very happy with his squad and determined to make the Reds good again.
"I wouldn't have put my hand up for this job if I wasn't up for the pressure and I wouldn't have put my hand up for the job if I didn't think we had a squad that could win football games," Stiles told The Courier Mail.
"We want to create a culture that is all about winning football games – we are happy with the list that we have got and the hard work has to happen now – how we bring this squad together now will be truly tested next year."
Stiles said that he and list manager Sam Cordingley had a grand approach to player recruitment: "Big talented back rowers, big talented second rowers and big talented backs – we want to play the game physical and abrasive. You look at how Super Rugby is played now with the defensive line speed and how the defence is so good, you need players that can damage a defensive line and offload – that's what we are after."
Talking to the ABC, Stiles also added this interesting tidbit:  "I've looked long and hard at what has happened post that successful period – we lost players like Scott Higginbotham, Digby Ioane and Radike Samo."
"To be honest, those three players were at that time the main generators of go-forward [ball] in the squad," he said. "They had a lot of good, hard workers underneath them but they were the ones that carried the ball and enabled Quade to operate in time and space, and we really never replaced that style of player."
Tiger Toomua Time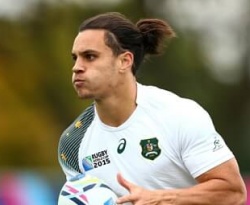 Matt Toomua is set to make his debut for new club Leicester Tigers this weekend, against the Glasgow Warriors in Scotland.
Toomua, 27 caps shy of reaching the 60-cap cutoff for the Wallabies, swapped Canberra for Leicester during the off-season.
Included in the Wallabies squad for the Rugby Championship, the inside-centre's international playing time was cut short after suffering a concussion in the first Bledisloe test. Probably a good thing if he has no memory of that game.
Toomua arrived in Leicester on 28 September, and his new club have been raring to get him out on the paddock. Director of rugby Richard Cockerill told the Daily Mail so.
"There's every chance Matt will start against Glasgow at the weekend," Cockerill said. "There aren't many second chances in Europe and we need to get something out of Friday night, so we need our best players available.
'"Matt will travel up to Glasgow as he is a top-quality player, who makes everything look very easy. There's no substitute for quality," Cockerill continued. "He's only been here a short period of time, but he's a great footballer and he learns quickly. Predominantly, he'll be a 12 for us because we've got two good guys at 10."
Cockerill actually had a lot of praise for Ellyse Perry's husband. "We know he can kick well and do all those things, but we've missed that intelligence at 12 for quite a while and he will be an important player in our European campaign," he said. "He is a top-class player"
New Laws Dumped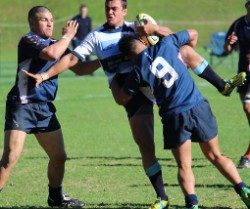 The NZ Herald reports that World Rugby is no longer interested in a couple of laws that were introduced to the Mitre 10 Cup in New Zealand.
The Mitre 10 Cup, as well as the Welsh club competition, was used to trial new breakdown laws as well as a different points system, which gave 6 points for a try and 2 points for a penalty and drop goal (like in the NRC).
The breakdown laws were less popular. As the NZ Herald writes, "The trial laws around the breakdown allowed one to be formed as soon as an attacking player arrived in support of the tackled player. That led to no turnovers from the defending team and had led to a trend of fly kicking at the ball by teams as players could not get their hands on it."
New Zealand Rugby high performance referee manager Rod Hill had a gum flap with the publication in question. He said:
"One of the key things is we've still got to have a contest and we quite haven't got that right. So if we can allow that first arriving player to have a dig for that ball then I think we might have got the happy medium.
"We are trying to have a game for all sizes and we still want that fetcher. The opportunity for them to come in and get the ball but having said that we went the players up off their feet. If you change the laws you can get the players up.
"It is not the tackler who makes the turnover, it is the first arriving player. If we can keep that first arriving player in the game then we might have found that happy medium."
If the trials were successful, there would have been a good chance that the new laws would be implemented in next year's Super Rugby comp. One law will be – all penalty tries won't need a conversion, and will be chalked up as an automatic 7 points.
Refs For November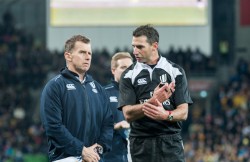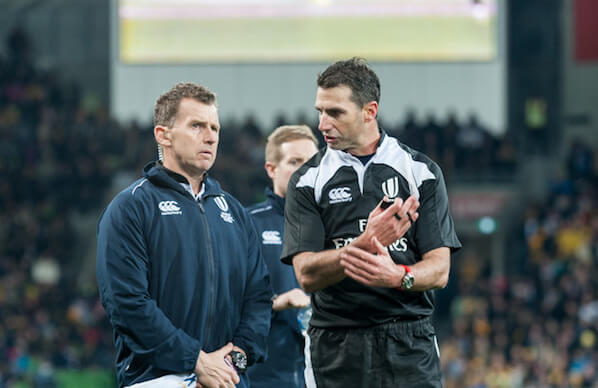 Everyone's favourite sporting organisation, World Rugby, has released info on who's going to be reffing who this coming season of internationals in November.
The Wallabies will play Wales (Craig Joubert), Scotland (John Lacey), France (Glen Jackson), Ireland (Jerome Garces) and England (Jaco Peyper) this year. Nigel Owens will ref the third Bledisloe test next Saturday.
Meanwhile, our boy Angus Gardner will get only one game, being the man in the middle for Wales v Argentina.
World Rugby Match Officials Selection Committee Chairman, Anthony Buchanan said:
"With a year gone since Rugby World Cup 2015, we are very much looking ahead and developing fresh talent towards RWC 2019 in Japan. November provides us with a huge number of very challenging matches for the referees, assistant referees and TMOs.
"This gives us the opportunity to see how some emerging match officials perform under that increased pressure and intensity which international rugby provides.
"The ultimate goal is to arrive in Japan in 2019 with an established group of top-class, in-form officials with the necessary experience to perform at the highest level. Our focus continues to be clear and consistent decision-making and the highest standards of physical conditioning."
"And to make sure Michael Cheika is happy," he unfortunately didn't add.
To check out the full list of referee appointments, check out this PDF.