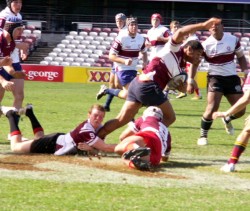 A large contingent from The Southport School and St. Joseph's Nudgee College have been named in the Queensland schoolboy squads announced yesterday at the conclusion of state trials.
Southport (9) and Nudgee (8) together comprise around a third of the 2 squads to compete in the Australian schoolboy championships to be held in early July at St. Ignatius College, Riverview, Sydney.
Ipswich Grammar are next best represented with 6, AIC school St. Peter's have 4 and other GPS schools Toowoomba Grammar and Brisbane Boy's College had 3 players named.
The announcement comes on the final day of the state trials that saw GPS 2 beat GPS 1 in a showcase of the high standard of the GPS competition, AIC 1 scratch out a win in a tough slog against CSS 1 and CSS 2 run away in the second half against AIC 2.
[squads at the bottom]
GPS 1 v GPS 2
GPS 2 bested their counterparts in an exhibition style match which saw a high number of GPS 3 players rotated through both teams in their last chance to impress Queensland schoolboy selectors.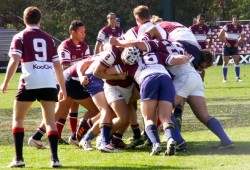 GPS 1 almost drew first blood when fly-half Nathan Russell burst through a hole and fired a pinpoint pass to winger Richard Aitsi, but he was bundled out five metres from the tryline.
They didn't have to wait long after to open the scoring when fullback James Todd launched a counter-attack and sliced through some disjointed defence for lock Izack Rodda to stretch out and score on the next phase.
But  soon after 2's lock Dalton Cox made a break on the blindside and scrum-half Angus Fowler dived over a ruck later to have the scores 5 all at halftime.
2's opened the scoring in the second half when fullback Bowen dashed down the short side and offloaded for centre Campbell Magnay to dive over.
Bowen was involved in the next try, regathering a chip into 1's 22 and off the next ruck flanker Andrew O'Kane darted through some relaxed defence around the breakdown to run 10 metres untouched.
1's replied through flanker Dom Sester who punched through a hole on 2′ tryline to dive over and tighten things up.
But 2's were able to end the match on a high when no. 8 Jamason Fa'anana-Schultz barged over on the back of a powerful maul.
GPS 2 – 22 (tries: Fowler, Magnay, O'Kane, Fa'anana-Schultz, cons: Bowen) GPS 1 – 12 Rodda, Sester, cons: Dorrough)
---
 AIC 1 v CSS 1
AIC prevailed over CSS in a tight match thanks to a costly dropped pass late in the second half and they managed to sustain a determined last ditch attacking effort after the siren.
CSS firmly controlled the first half, with their strong scrum winning feeds against the head and effective counter rucking denying AIC plenty of possession.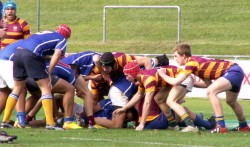 But they were only able to score one try when prop Rawiri Johnson barged over after they stressed AIC's tryline defence for most of the latter stages of the first half, which was converted by fly-half Guy Hamilton to have them leading by 7 at halftime.
AIC busted out in the second half, and when CSS couldn't put a man on the kick-off letting it bounce, AIC regathered and phases later winger Liam Roberts dived over in the corner.
AIC began playing with the abandon of a sevens side and after some expansive attacking no. 8 Jordan Smith barged over from a metre out.
CSS replied to AIC's new found vigour and took back the lead when winger Sioni Mapitoa beat his opposite number on the outside in AIC's 22, crossing in the corner.
CSS looked to be building towards another attacking play just inside their half but a pass went astray and AIC fly-half Mitch Treleavan grubered the loose ball 40 metres into the try area and pounced on it to give AIC the lead with five minutes to go.
Off the kick off they then tried to wind the clock down in CSS's half after winning a penalty, however CSS won it back as the siren went and rumbled it forward into the AIC half.
But a loose carry whilst rumbling it forward undid their hopes resulting in a knock-on and an AIC victory.
AIC 1 – 17 (tries: Roberts, Smith, Teleavan, cons: Treleavan) CSS 14 (tries: Johnson, Mapitoa, cons: Hamilton 2)
---
CSS 2 v AIC 2
Despite being a converted try behind at halftime, CSS 2 ran away with the game in the second half scoring 4 tries to win by a comfortable 12 point margin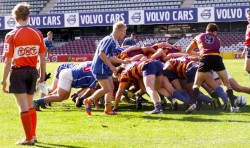 CSS winger Iziah Tittor opened up the scoring, regathering an opportunistic box kick and busting through a tackle to score out-wide, but fullback Will stokes drew the scores level after AIC got into CSS's 22 and stretched the defence.
Centre Todd Dawson then sliced through the CSS line and dummied past the fullback to give AIC the lead going into halftime.
CSS levelled the scores early in the second half  through fly-half Robert Fuz who crossed and converted his own try.
They then took the lead when replacement backrower Harry Bezuidenhout timed a break from the back of the scrum to perfection and ran 30 metres down the blindside to score.
AIC then compounded their woes making an error in their 22, and CSS took the quick tap which resulted in prop Zion Rito crashing over.
And Just as AIC looked to be in a good attacking position CSS centre Jordan Hughes intercepted a floating pass to run 80 metres and score.
AIC managed to pull one back in the last minute through lock Daniel Byrne but the match was long gone.
CSS 2 – 29 (tries: Tittor, Fuz, Bezuidenhout, Rito, Hughes, cons: Fuz 2) AIC 2 – 17 (tries: Stokes, Dawson, Byrnes, cons: Dawson 2)
| | Queensland Schools 1 | | | Queensland Schools 2 | |
| --- | --- | --- | --- | --- | --- |
| 1 | Evander Guttenbeil | The Southport School | 1 | Richie Asiata | Keebra Park State High School |
| 2 | Alex Mafi | St. Joseph's Nudgee College | 2 | Jake Lyon | The Southport School |
| 3 | Sam Clifton | The Southport School | 3 | Matt Gibbon | St. Joseph's Nudgee College |
| 4 | Jake Upfield | The Southport School | 4 | Max Allen | Siena Catholic College |
| 5 | Reece Hewatt | St. Joseph's Nudgee College | 5 | Izack Rodda | Ipswich Grammar School |
| 6 | Junior Fakaosilea | St. Patrick's College, Shorncliffe | 6 | Patrick Morrey | Brisbane Grammar School |
| 7 | Brad Wilkin | Iona College | 7 | Douglas Macmillan | Anglican Church of Grammar School |
| 8 | Maclean Jones | St. Joseph's Nudgee College | 8 | Joel Brown | The Southport School |
| 9 | Isaak Fines-Leleiwasa | The Southport School | 9 | Moses Sorovi | St. Peter's Lutheran College |
| 10 | Mitch Third | The Southport School | 10 | Carlin Anderson | Ipswich Grammar School |
| 11 | Adrian Henley | St. Peter's Lutheran College | 11 | Richard Aitsi | St. Joseph's Nudgee College |
| 12 | Harry Wathen | Toowoomba Grammar School | 12 | Conrad Quick | Brisbane Boys College |
| 13 | Landon Hayes | Ipswich Grammar School | 13 | Liam Jurd | Toowoomba Grammar School |
| 14 | Isaac Nathan | The Southport School | 14 | Campbell Magnay | St. Joseph's Nudgee College |
| 15 | James Todd | Ipswich Grammar School | 15 | Joshua Bowen | Brisbane Boys College |
| 16 | Ikaika Fa'aoso | St. Peter's Lutheran College | 16 | Will Bailey | Anglican Church of Grammar School |
| 17 | Christon Mahanga | Sunnybank State High School | 17 | Shaun Laurie | St. Peter's Lutheran College |
| 18 | James McColl | Toowoomba Grammar School | 18 | Shambeckler Vui | Ipswich Grammar School |
| 19 | Jamason Fa'anana- Schultz | Ipswich Grammar School | 19 | Ryan McCully | St. Edmund's College, Ipswich |
| 20 | Luke Papworth | The Southport School | 20 | Jayden Rodwell | St. Joseph's Nudgee College |
| 21 | James Tuttle | St. Joseph's Nudgee College | 21 | Harry Masters | Sunshine Coast Grammar School |
| 22 | Nathan Russell | Brisbane Boys College | 22 | Henry Devine | Marist College Ashgrove |
| 23 | Pedro Ikitau | St. Francis College | 23 | Antoine Iosefa | Brisbane State High School |