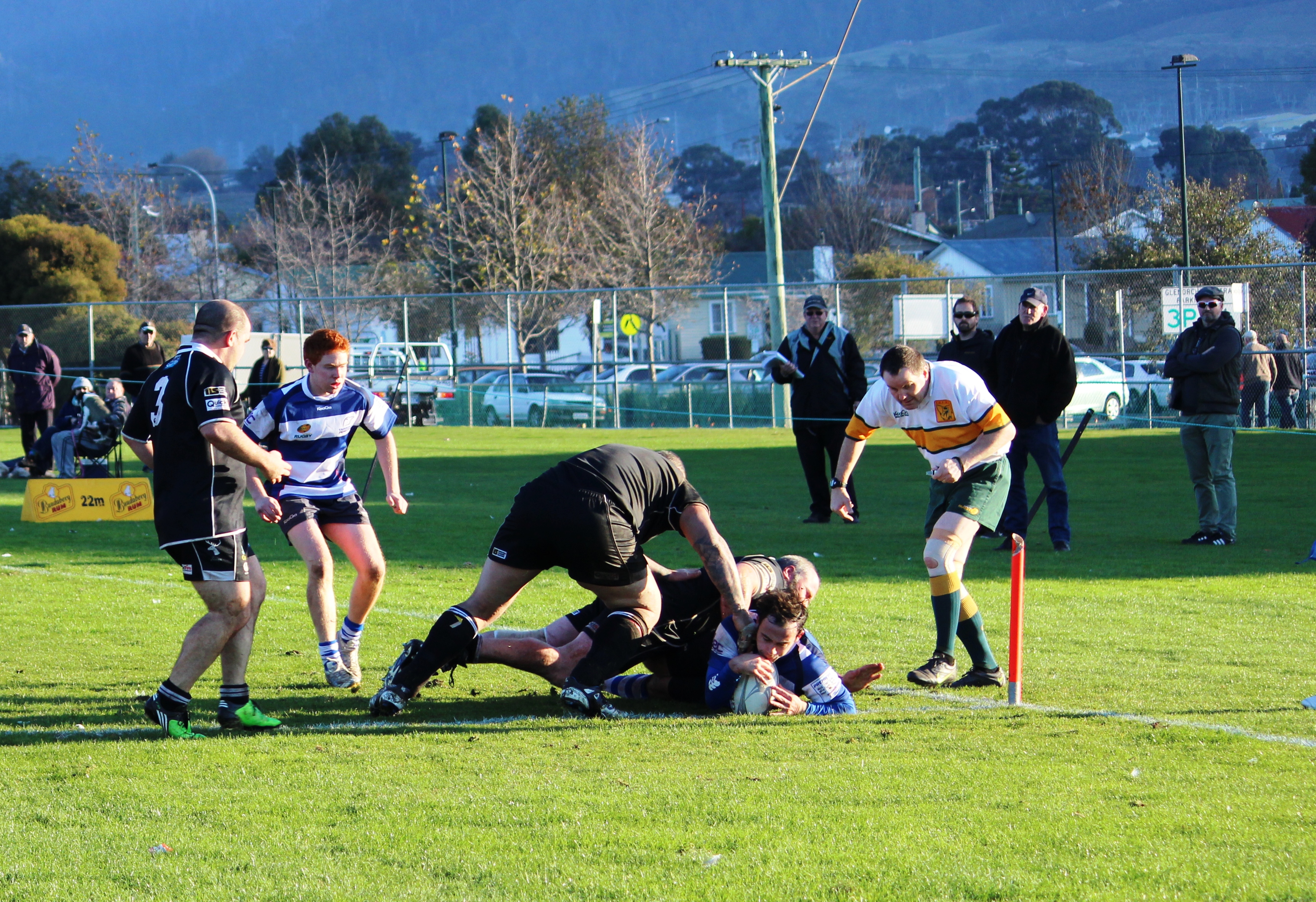 QUINS LATE BLITZ STUNS LIONS
Hobart Harlequins' late run of scoring bowed Hobart Lions 38-15 at Rugby Park in Hobart on Saturday, but not before the Lions had neutralised the leaders' attacking flair with clever mauling play.
'Hobart never lie down, we always struggle against them, and we thought the dominance of our forwards from last week would continue', said Harlequins coach Colin Fielea, happy with the form of his son and triple try-scorer Sid Fielea, Michael Frost and Pat Schramm. Quins fly-half Amosa Tomoariki directed possession to Fielea over the last quarter, the centre responding with two long-range tries through the tiring Lions backs.
The Lions fielded a makeshift backs division, but centre Tristan Lawrence, Ryan Fleming and James Cazaly backed their courageous pack deep into the match. After trailing 19-8 at half time the Lions added a converted try to show for their effort before Quins addressed their options.
Taroona Penguins were relieved to extricate themselves from a tricky surface and the dogged whole team effort of Glenorchy Stags, who led 15-14 with 14 minutes left, with Christo Le Grange slotting a penalty in front to post the final margin 17-15 to Taroona. 'Leaving here with a win is good enough for us. Glenorchy caught us in a classical physical challenge', said Taroona's David Whyte. Taroona's centre pairing of Tom Marlow and Mikey Whyte penetrated throughout, including a fine 40 metre bust for a Whyte try, and none scrambled better than number 8 James Wicks.
The Stags' effort was typified by Glen Mullaney's shrewd linking, defence from Fenton Sweeney and the all-round skills of Dan Aualiitia and a great try up the slope setting up the close finish. 'Our best first half all season, and it didn't end there', was the reaction of Stags' mentor Shannan Banks.
Launceston Bees struggled for dominance over visiting Eastern Suburbs Roosters, limited to 7-5 at the break before winning 27-15. 'We changed to pick and drive and that got us clear early in the second half', said Bees coach Ray Burgesss, whose side conceded far too many penalties. Michael Hafaifonua and Colin Montgomery led the revival and Tevita Pouletoua again provided a calming influence to the backline tactics. Richard Miller and Jono McCarthy shone for Easts, who rued a soft breakdown defence that conceded three tries.
Burnie Emus accounted for AMC Vikings 34-17 at Royal Park in Launceston despite trailing 17-15 at half time in a match marred by several injuries. 'Straight running proved the difference', said Burnie's Brett Bentley, rating Michael Grace and replacement Matt Stuart amongst their best. Fabrice Dolchez, Michael Johnson and Lawrence Duda played well for AMC, missing several through exams.
Devonport Bulls had too much form and strength for depleted visitors University, winning 76-3, Mark Meo securing 6 tries and 9 conversions. Luke Jonson and the Devonport front row demolished Uni up front. Mike Kadjiolka, Augustine D'elplante and Donny Noor plugged way for Uni.
Round 10 scores:
Harlequins 38 def Hobart Lions 15
Taroona 17 def Glenorchy 15
Launceston 27 def Eastern Suburbs 15
Burnie 34 def AMC Vikings 17
Devonport 76 def University 3
Ladder after round 10:
| | |
| --- | --- |
| Harlequins | 45 |
| Taroona | 39 |
| Devonport | 38 |
| Launceston | 31 |
| Glenorchy | 27 |
| Eastern Suburbs | 20 |
| Burnie | 16 |
| Hobart Lions | 14 |
| AMC Vikings | 14 |
| University | 13 |