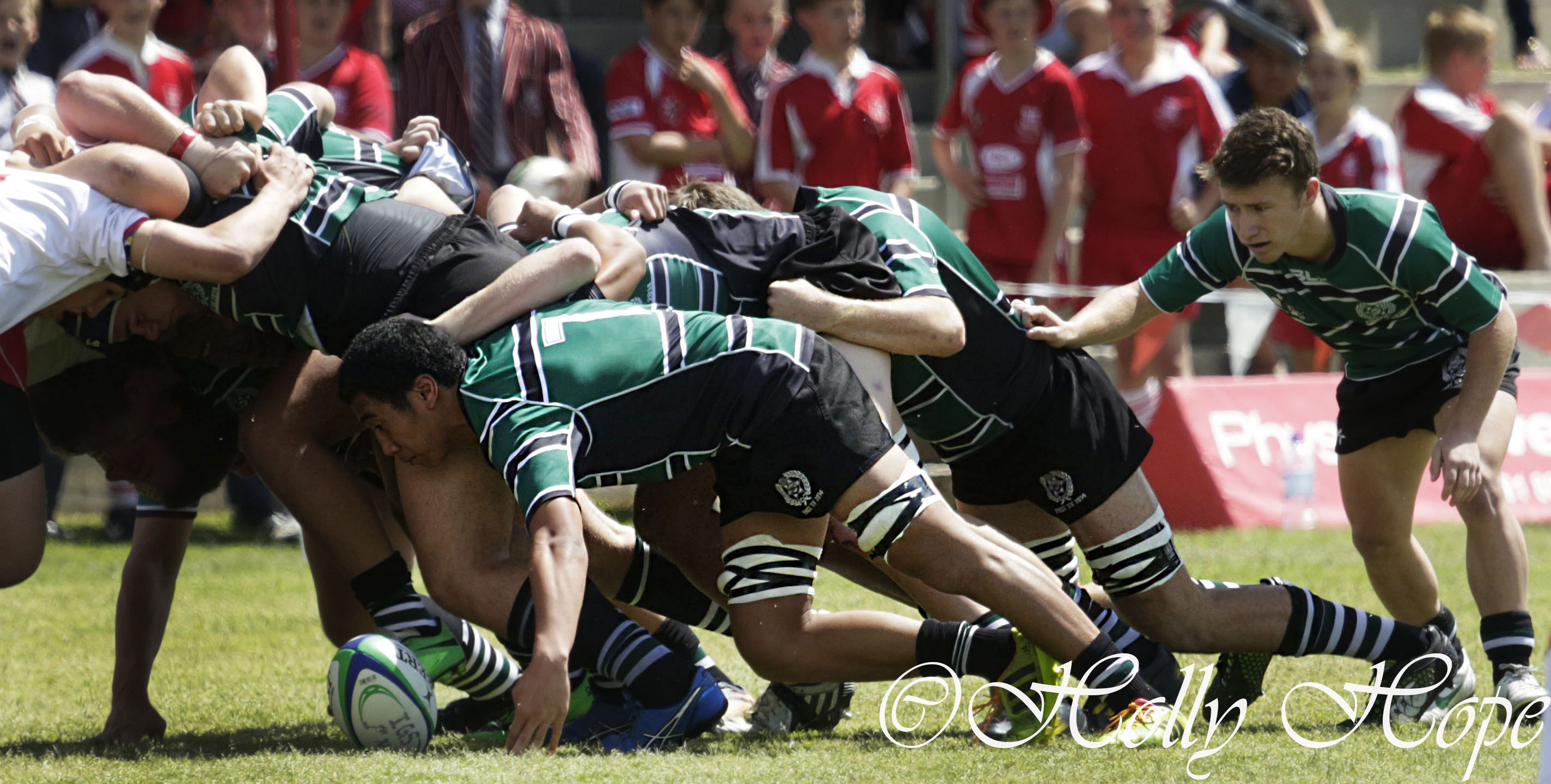 The Southport School at Brisbane Grammar (50-15)
HJ Nelson
Beautiful day at BGS playing fields, with the grounds in pristine condition, although the breeze picked up for the First XV kickoff. Full marks to both schools for fielding teams down to C's in each age-group, even though many kids were absent due to the end of term. 
BGS kicked off to start, and were immediately on attack after TSS spilt the ball. The BGS fullback (Tom Sly) made a half-break and off-load to #14 (Harry Wyer) who was bought down 5 metres out by a fine tackle by #15 (Dorrough). From a resulting penalty and quick tap, BGS scored next to the posts from a pick and drive. Very hard to tell who scored in the mass of bodies, but it looked like it could have been one of the BGS front-row. The conversion was unsuccessful, and BGS led 5 – 0 after 3 minutes.
BGS also had trouble securing the ball from the kickoff, and from the set piece, TSS #13 (Jai Whitbread) was able to beat the defence to score. Dorrough was not troubled by the strengthening breeze, to convert. (5 – 7)

TSS were again unable to secure the kick-off, but successive penalties against BGS, had the visitors attacking again, and open side flanker (PJ van den berg) scored after good lead up work from #1 (Harry Weld). 5 – 14 to TSS.

BGS again won possession from the kick-off, and penalties against TSS, had BGS attacking the goal line for multiple phases before strong defence forced a dropped ball. From a subsequent short lineout #8 (Emry Pere) charged through the mid-field, offloading to #7 (van den Berg) before #12 (Whitbread) scored again. Conversion successful 5 – 21 after 25 minutes.

TSS managed to control the kick-off this time, and a long downfield kick by #13 (Joey Fittock) had BGS back in their own half. An overthrown line out ball from BGS resulted in the TSS #15 (Dorrough) hoping the back-line to score. 5 – 26

From a turn-over shortly after the kick-off, BGS put together some enterprising play resulting in the BGS hooker (Jack Childs) showing all the skills of a winger to tip-toe down the side-line, plus the power of a front-row forward to charge through 3 tackles to score a spectacular try in the corner. Conversion unsuccessful 10 – 26. 
TSS had one last chance to score in the first half, but good defence from BGS #11 (Oli Fison) forced a spilt ball from the TSS winger. Half-time score BGS 10 – TSS 26.

TSS resumed strongly in the second half with #8 (Pere) off-loading to #6 (Tipene Mavoa) who looked like scoring in the corner, before a being forced into touch by BGS #15 and #13. BGS were unable to exit their half effectively, with one clearing kick charged down, and another not finding touch, allowing a good kick from #15 (Dorrough) to keep them pinned in their own 22. BGS #15 (Tom Sly) again made a try-saving tackle on the TSS #10 (Tyler Campbell), before more good defence from #6 (McCreight) and replacement #20 (Nick Ebzery) forced a spilt ball from TSS over the line.

Eventually, TSS were able to capitalise on possession and field position, with #13 (Fittock) using his speed to beat the cover defence to score in the corner. BGS 10 – TSS 31.

BGS struck back quickly though, with the fullback (Tom Sly) joining the backline to create the overlap and try out wide. 15 – 31 to TSS.
TSS worked their way back into position with a good runs from #15 (Dorrough), and #11 (Ethan Lolesio) and looked to have scored an easy try through #8 (Pere) before he had the ball stripped from him, in yet another try-saving tackle from the BGS #15. TSS remained camped in the BGS 22 though, and 5 minutes later #8 Pere strolled over untouched, leaving the BGS defenders appealing to the referee for an infringement, but he was unmoved. Conversion successful, BGS 15 – TSS 38, with 20 minutes remaining.
Jai Whitbread (#12) then made a good break and offloaded to #6 (Mavoa) who again looked like scoring in the corner before being bundled into touch by BGS #2 (Childs) and #15 (Sly). Less than 2 minutes later, it was #11 (Lolesio) held up in goal on the opposite wing by, you guessed it, BGS #15 (Sly) and #2 (Childs).
The pressure was mounting though, and after #13 (Fittock) was pulled down just short of the line by BGS #13 (Max Wenck), TSS scored through #7 (van den Berg).

With only a few minutes left, there was just enough time for another try-saving tackle from the BGS #15 on the TSS replacement winger, following a good run from #13 (Fittock), and #8 (Pere) ended proceedings with another try on full-time. Final score BGS 15 – TSS 50.

Best for TSS were #15 Dorrough who was dangerous whenever he got the ball, and was almost faultless with the boot in difficult conditions. #8 Pere was also dangerous with the ball and scored 2 tries, as did #7 van den Berg, who had a strong all-round game.

Best for BGS was undoubtably the fullback Tom Sly, who saved at least 6 tries with his defence, and was instrumental in one of BGS's tries. Others impressing were #2 Childs, and #6 McCreight.

 Photos (Fantastic* Photos! – TK) at https://www.flickr.com/photos/100900132@N02/sets/72157647768263441/