Yes, well spotted – that is a vegetable joke, and a fairly pertinent one in light of the fact Nigel Owens is Welsh, and leeks are one of their national symbols. I'm not going to lay all the blame at his feet, because the Wallaby bench deserves too much scorn for that. But I am going to point out key moments in the match where his reputation as one the world's best refs took a few kicks straight to the balls in this little diatribe.
Let's concentrate firstly on what was a pretty solid game of rugby. Up until that last 15 minutes, where the Boks ran away with it, it was an absorbing contest and generally a sign that the Wallabies are heading in the right direction in my not-so-humble opinion.
There were periods of the game where the men in gold were showing some real mettle, and sticking it right up a pack of blokes in green shirts who are generally known as hard men.
I've got to stop here and point out the contribution made by this bloke though.
What an absolute gun. Just epitomises everything you want to see in a back rower, particularly a number 8.He wasn't quite the wrecking ball on attack in this game, but those turnovers he executed (I counted 3) showed his versatility and he just never stops.
I'm renaming him Duane "OhShit" Vermuelen though. Don't take it the wrong way Bok fans; its what I seem to say whenever he pops up on screen, because he's usually doing something to an Australian team that could get you arrested in some countries.
Led by OhShit, the Boks came out absolutely firing, and were quite unlucky I thought not to be up by 12-15 points at the 20 minute mark. Their early running under the careful and accurate guidance of Hougaard and Pollard was a sight to behold, but at ruck time the home side's forwards were still warming up, and not making the ball clean enough.
This was probably because on each wide attack, three or four Bok forwards were running into the Wallaby backline as interference, while the ball went out the back. Were I Hooper, I would have instructed Kuridrani to run into one of them in order to get Owens' attention. Couldn't hurt… except Kuridrani hurt just about everything else he ran into!
The notable theme behind the Wallabies' first quarter of the game was the inability to execute the basics with ball in hand at crucial times. Toomua failed to clear to touch. Foley made a poor decision to run into contact instead of spreading it or looking for a runner. Phipps threw a couple of passes that wouldn't look out of place on a basketball court. Our cleanout was very poor at the worst possible moment.
When your playmaking trio are starting a game with that kind of arse-clownery, you know you're in for a tough day at the office. It was compounded further by a short kicking game that either wasn't well thought out by the coaching group, or not well executed by the players.
Following all the pressure they exerted in the first 10 minutes, the Boks launched a maul with such grace and brutality that old tight five players would be handing their Viagra prescription back to the doctor, having instead decided the replay was more effective. Even a few Wallabies fans would be thinking "yeah that was pretty bloody sexy". I know I was.
As the Wallabies continued to squander possession with the boot, and reverting to one-out running, you had to start asking yourself who was going to step up and start belting the hell out of something with callous disregard for the Laws of Physics and their own safety.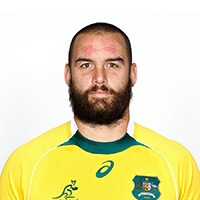 Fortunately, these two chaps decided to excel at giving precisely zero shits about anything BUT laying the smackdown, and it got me almost as aroused as the Boks maul try.
For all the crap Fardy has copped lately, he absolutely stood up tonight and made his presence felt. I was wondering when the real Fardy would stand up, and it looks like he found his concrete nads in the bottom of his other suitcase and took them to Bokkeland with him.
As for TK: the bloke is a machine. One stupid kick when he made a break early in the game, then just pure, unbridled kickass from then on in. Whether he was smashing blokes in the tackle, or laying on line break after line break, it was just straight up awesome.
The lessons from the first quarter seemed to be sinking in though, as the Wallabies increased their line speed on defence, to try and get themselves into the game. Our handling was carbon copy of where we observed it on the Gold Coast i.e. poor to middling, and our option taking was still a bit suspect. Both sides were really guilty of not covering their ruck ball well enough after the third or fourth phase, and several fluent attacks for the Bokke broke down under intense scrutiny from the Wallaby back row.
The Wallabies started to get some continuity as the clock hit 24 minutes, and a promising break from TK broke down under advantage, Foley kicking a penalty for Strauss' indiscretion off the ball.
From the restart, a good take by Simmons, followed by quick hands across the backline, gave Kuridrani the opportunity to open a hole using Pollard's shoulder to lever Habana's head open. A perfectly timed pass from TK, drawing Le Roux and OhShit, and AAC raced to the corner.

WARNING! LEEK ALERT! 
Here is the primary incident with which Mr Owens has given me cause for occasion. I didn't actually understand his justification for NOT awarding the yellow card, simply because AAC had scored the try. Was he indicating that the tackle wasn't severe enough to warrant a yellow card otherwise? Was he indicating the try value was somehow sufficient penalty to pay for an act that constitutes reckless or dangerous Play?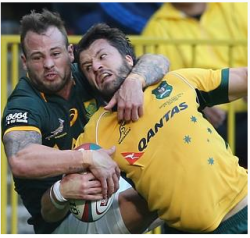 It could not have resulted in a penalty at the restart, because the ball was still in play when the offence occurred. Call me Nige – I'm open to interpretation. But when I see this sort of thing, I'm more confused than a baby in a topless bar.
Back to the fun: that was a beautiful try.
For the rest of the half, the Wallabies threatened, but as with several games this year, could not seal the deal and give themselves a healthy margin going into the break. It was very interesting to see the Boks turn down kicks that Pollard could have knocked over in his sleep
Some lucky escapes in this period for the visitors too, as the Boks dropped the pill at a nicely set maul, and failed to get the bounce when Folau had a lazy kick charged down.
During this time, the efforts of Fardy, Fainga'a, and Hooper need to be applauded in particular, but the whole team seemed to be on the same page defensively: get low, cut the legs, and let the next bloke worry about offloads.
I was musing over the Wallabies' defensive discipline at halftime, thinking how impressed I was that we hadn't given away penalties. But lo and behold, the official stats on SuperSports' broadcast had us as 6 conceded versus 3! Not sure I've read that wrong, but then I thought about a stupid incident where we didn't clean out properly, and then didn't get off the ball quick enough for Owens' liking. Fair enough.
Uh-oh, here comes another

LEEK ALERT!
This one is a little less controversial, as it comes after a supposed try to the Wallabies, but is further complicated by a holding-back incident from Kepu after Hooper charged down Pollard's kick. I know, I know, it probably would have been called back anyway, but I'm just saying the decision he made to award a gold scrum was weird, given Phipps had effectively scored. Looking back at the replay, Phipps was kind of off his feet I suppose… Alright Nige, you win this one… or at least, you didn't do any harm.
The next 25 minutes of the game is a story of the Wallabies looking the duck's nuts, but unable to sustain any pressure through just sheer idiocy. The scrum where Phipps grubbered through instead of going blind. The repeated short kick from Toomua. The penalty against Fainga'a for being in on the side – harsh I thought given its lack of effect on the game. We had all the ball, and were mounting multi-phase attack, but simply couldn't draw enough defenders into the contact zone, or gave the ball away through indecision.
Let me check my notes… ah, here we go – 51 minutes:
FKNG TK WITH THE DOMINANT TACKLE AGAIN! Counter ruck from TK, Slipper, Carter, Tomane.
Its this sort of thing that should give Wallabies fans real hope, even if my use of the Impact Font doesn't. There was some really good stuff in there amongst the dross and the result. Some really physical play that should be given the old rub n tug.
Won't it be nice when we get rid of the useless shite we seem to have accumulated as well?
At one stage around the 55th minute, we had the ball for 22 phases, making ground into the Bok 22, and yet WE were the ones looking stuffed and sucking in the big ones.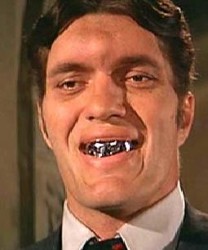 And just after that breaks down, Schalk Burger comes on and starts to make himself known.
Seems like Japan hasn't softened old Jaws one single bit. He didn't do anything particularly dominant or trou-bursting, but he was just bloody everywhere. Taking an offload here, hitting it up over the ad line there. The period of South Africa's ultimate dominance in this game began with his entry, and finished after the hooter with a bonus point try.
Of course, it wasn't just Schalk. The camera panned at one point to the bench, and there is Bismarck, looking pissed off that he was still sitting there. I was pissed off too; livid, in fact, that they had such talent to bring off the bench.
How much would a TPN or Stephen Moore have been worth to us coming on in the last 20? Because sure as shit, the Bok bench beat ours hands down. After the false dawn of the second AB test, where guys like Foley, Higgers, and Phipps really added some spark, now our bench is actually diluting our performance, and something there has to change.
As I sit here, with the clock closing in on 5AM, having been to a concert last night, all I can remember of the last ten minutes is us not seeing the ball unless it was disappearing under a green-shirted ruck.

LEEK ALERT!!!
To my mind, this last ten minutes also coincided with the longest period of unintended bias in the game. The Boks were sealing their ball off with gay abandon the whole time, not allowing any Wallaby player a fair shot at it, even when they landed at his feet. It wouldn't have changed the result, as Lambie's dropgoal was enough I thought.
But to give up a bonus point in the competition is a poor mark to be handed to a side who had won a fair share of turnover ball to that point was completely inconsistent. Particularly after Owens had warned Hooper about tacklers not rolling away, but repeated attacking infringements weren't put on the agenda. Hooper has to cop some stick for this as well, as there were a couple of rucks where we had them cold.
Ultimately, the game came down to who was smarter on the night. The Boks had a better game plan, a better organised bench, and better management of the ref. We failed in all three areas at crucial times, and despite the pulsating nature of the first 65 minutes, the Wallabies only get a pass mark from me.
When I consider my primary justification for this, I point to the fact that there were good things happening, but not in a suitably sustained fashion for a team that wants to win.
Kuridrani would be my Players' Player, with Fardy, Fainga'a, and AAC not far behind. The poor performers are Toomua, Phipps, and pretty much all of the bench. Everyone else had a pretty solid game I thought.
On to Mendoza!