Match of the Round: Toowoomba Grammar at The Southport School (21-29)
HJ Nelson
At the start of the year, I had predicted TSS to come third in the Queensland GPS, as I thought Nudgee and Churchie both had too many big names returning. After a close win over BSHS last week, Toowoomba Grammar School were the next obstacle to a top 3 finish for Southport. Key match ups in the game would be the whether TSS's forwards could match TGS's huge pack, and the battle between the QLD Schools1 and GPS1 teammates Dean Bender (TGS) and Joey Fittock (TSS)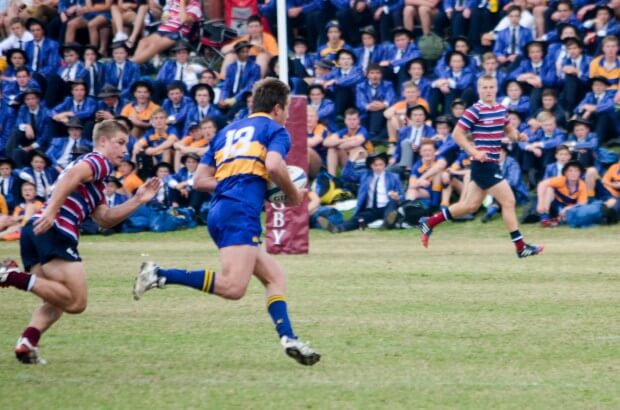 TGS started strongly and scored from a ruck close to the TSS line through #4 (Ben Carmichael). 0 – 7. This was quickly followed by a break down left touch line, which resulted in #11 (Bill Vary) in under posts, 0 – 14 after 7 minutes.

TSS fought back with a half-break and offload from #7 (PJ van den Berg), to #15 (Fred Dorrough), who drew the fullback to put #14 (Dylan Riley) in the corner. Conversion successful 14 – 7.

TGS were attacking in own half again, when a dropped ball in the back line saw Dorrough evade several tackles before drawing a penalty to relieve pressure. However, TGS were soon looking dangerous again down the left wing, with #11 (Vary) taken in to touch just short of the line.

The game then turned when the TGS #12 (Hamish Stewart) was yellow carded for a late tackle on #10 (Tyler Campbell) after a clearing kick. From the subsequent penalty, after a few hit ups from the forwards, the ball was spread wide, and found Riley in space, drawing the 3 cover defenders and slipping a pass to Campbell to score with a big swan dive. Conversion unsuccessful, 14-12.

With time running out in the first half, #13 (Fittock) chose to run from deep in own 22, beat the tackle of his opposite and slipped a backhand pass to #12 (Jai Whitbread), who broke some more tackles before finding #15 (Dorrough) who sprinted downfield before being brought down in a great tackle by #13 (Bender). Dorrough was able to pop a pass from the ground to his support #11 (Ethan Lolesio) who changed direction and was able to wrong-foot the defence to score next to the upright. A spectacular try, and frustrating for TGS with a man still in the bin. 19-14.

There was still time in the first half for TGS to work their way into attacking position, but good defence and the half-time whistle kept them out. Strong runs from #12 (Stewart) and #3 (James McColl) were to no avail. Half T 19-14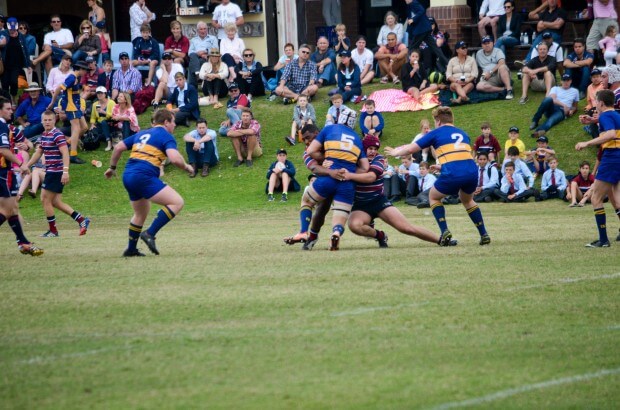 TSS were first to score in second half, after pressuring the TGS line through the forwards, then spreading it wide for #14 (Riley) to score an easy try for a double. Conversion unsuccessful, 24 – 14.

TGS refused to give up and bounced back immediately with a try to replacement winger #24
TGS #3 (McColl) then made a barn-storming run downfield, chased by his opposite number, and was eventually brought down inside the 22 by #15 (Dorrough), #10 (Campbell) and #3 (Calum Ball). The ball was spread wide again and #24 looked like scoring a double, but desperate defence by #11 (Lolesio) and #7 (van den Berg) kept him out.

A penalty to TSS relieved pressure, but #13 (Bender) broke the line and was only brought down by a fine tackle from #15 (Dorrough). TGS continued to apply pressure to TSS, and spent a lot of time camped in the TSS half. The TSS defence held however, and eventually with only a minute left on the clock, TGS forced a pass in their own half, which was intercepted by #6 (Tipene Mavoa), who passed to #11 (Lolesio) to race 35 metres untouched to score his second.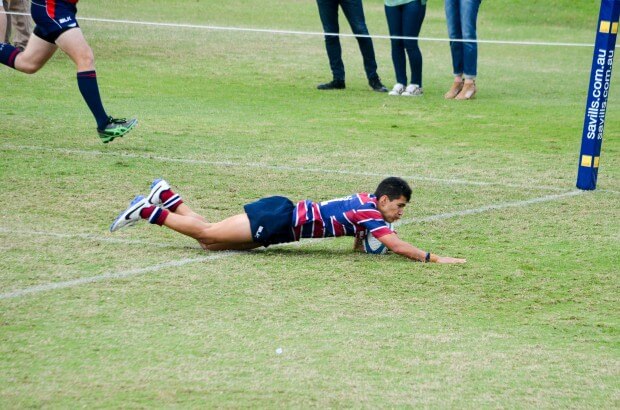 Relief for Southport and heartbreak for Toowoomba, who would be rueing the one that got away.

Best for TSS – Dorrough (#15) and van den Berg (#7) both ran well, and defended strongly in their last home ground appearance for their school. Jai Whitbread (#12) was a handful in the centres.
Best for TGS – Bender (#13) , McColl (#3) and #24 all played well.

Probably a points win to the the Toowoomba forwards in their matchup, with all of TSS's tries being scored by backs. A draw in the matchup between the two #13's, with both players making good breaks.

More photos at https://www.flickr.com/photos/100900132@N02/sets/72157647136284477/