Before we get in to the match reviews for Round 8 of the GPS Competition, let me take you on a walk down memory lane.
On the 13th of June, 2009, Brisbane Grammar School sent their First XV to Carina to take on Brisbane State High in a legendary fixture, now shrouded in infamy. State High's 8 Australian Schoolboys, including today's Super Rugby stars Chris Feaui-Sautia, Curtis Browning, and Paul Alo'Emile, dismantled Brisbane Grammar 103-0 in an 15 try massacre that sparked the arms race now so embedded into GPS Rugby.
Since 2009, the offering of Rugby Scholarships has become a key talking point as its acceptance has widened. Discussions revolving around questions of "Who is on a scholarship?" have transformed into debates of "who isn't?". As of 2013, all nine GPS Schools had bought in to the arms race with the intent of levelling the playing field. The results have been a drastic increase in the quality of competition, albeit artificially, and the shellackings have slowed to a rarity if not stopped completely.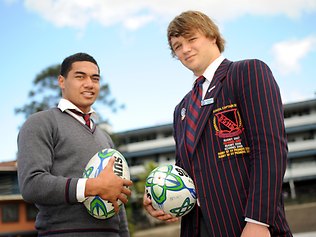 However, at 2:15 pm on Saturday a harsh trip down memory lane began for wooden spooners Brisbane Grammar. The 2014 GPS champion Churchie First XV, stacked with 12 representative players across two codes of Rugby, put on a 93 point smack down that left a sour taste in the mouth of most spectators not dressed in a Churchie school uniform.  I witnessed the carnage first hand, and have attached the match report below.
Returning from a mid-season working holiday, HJ Nelson put his camera to good use at Southport's final home match of the season, and at the latest possible notice (two days AFTER the match) was asked to submit a match report. Toowoomba Grammar made the longest possible road trip of the competition, but the 2 hours + bus trip didn't stop them from being competitive. In the end an intercept try in the final minute of the GAGR Match of the Round secured a much needed win for Southport 29-21. HJ's match report can be below.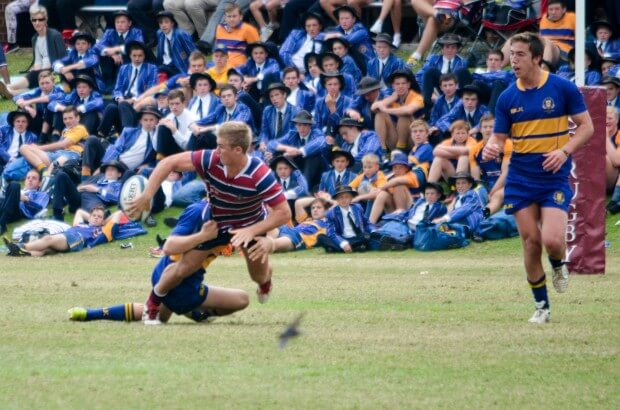 Meanwhile, Will Rafter (RuggasXV) declined my request to attend Ipswich Grammar's visit to Ross Oval, consequently missing out on a strong win from the home lads. Ipswich's greatest hopes to beat a powerful Nudgee XV was to take the game to their forwards, but the butcher stripes showcased their class to build on a 12-5 halftime lead to crush the Ippy lads 41-12 in a dominant fixture.
Will instead chose to head out to Fursden Road to review Brisbane State High's final home game against a Terracian XV fresh off an 8 point loss to powerhouse Nudgee. In the end the match proved to be a thriller, with a single conversion deciding the outcome of the match. Terrace pipped State High 31-29 in a  thoroughly engrossing encounter.
To read the Round 8 Match Reviews from Green And Gold Rugby's Queensland GPS 2014 coverage, just press your right arrow key (or swipe to your right if using a smartphone). Enjoy!