Greetings, G&GRs, and welcome to the Monday news. Like a few other states and territories, Melbourne has a public holiday this fine day. If you have your priorities right you'll be catching up from all the action this weekend and avoiding your better halves/responsibilities.
Today, we have a full round of Super Rugby Pacific, Six Nations and u20 Six Nations to review while plans for the BIL25 are coming together. I'm sure Keith will be coming in off the long run from Tasvegas after 'England look worse without Eddie'. Tally ho!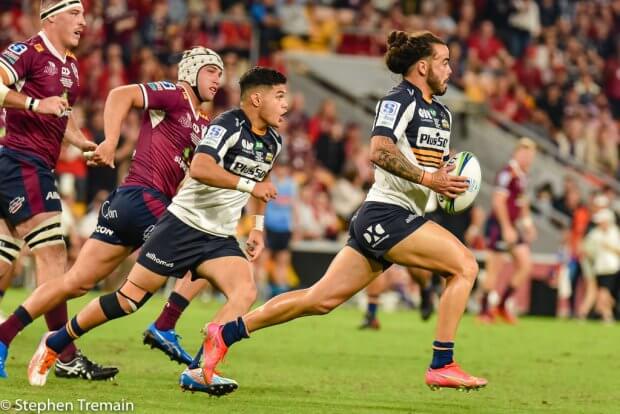 SUPER RUGBY PACIFIC – ROUND THREE
Well, folks, I don't know about youse, but this weekend really fuqed my tips. I expected the Chiefs to give the Landers a right touching up but instead only won by 21; the Rabble demolished the Tarts (probably more embarrassing that the SDs losing), I had hoped the Canes would have found a way to beat the Blues at home except they didn't; if you were a fuqing genius (and a part of the 1% of tipsters) then you'd have tipped the Drua over the Saders, everyone ought to have tipped the Ponies; and only the foolish like me would've tipped the disappointing Moana over the Farce. Bugger. The ladder (below) certainly makes for interesting reading. It'd take a seer to have seen where some of these teams would end up after three rounds, though there's still a lot of time left! I'm sure there's plenty of laughter towards the Crusaders, but, having been burnt before, you never tip against the Crusaders after Round 6 when they have their shit together. Besides, with (a ridiculous) eight out of 12 teams making the finals they'll certainly be there come the business end of the season
Winners: Carter Gordon, Bobby Valetini, Rory Scott, Pete Samu, Nick Frost, JOC 2.0, Force (only because they didn't get totally pantsed again and survived Moana, just), Stacey Ili, Drua side.
Losers: Noah Lolesio (played pretty well, but outshone by JOC 2.0 and Carter Gordon this weekend), Waratahs, especially Michael Hooper who missed at least three tackles, gave away three PKs and responsible for two more advantages (one with a try scored) and Perese/Foketi who looked at sea.
Chiefs def Highlanders – report here
Rebels def Tahs – report here
Drua def Crusaders – report here
Blues def Hurricanes – report here
Brumbies def Reds – report here
Force def Moana Pasifika – report here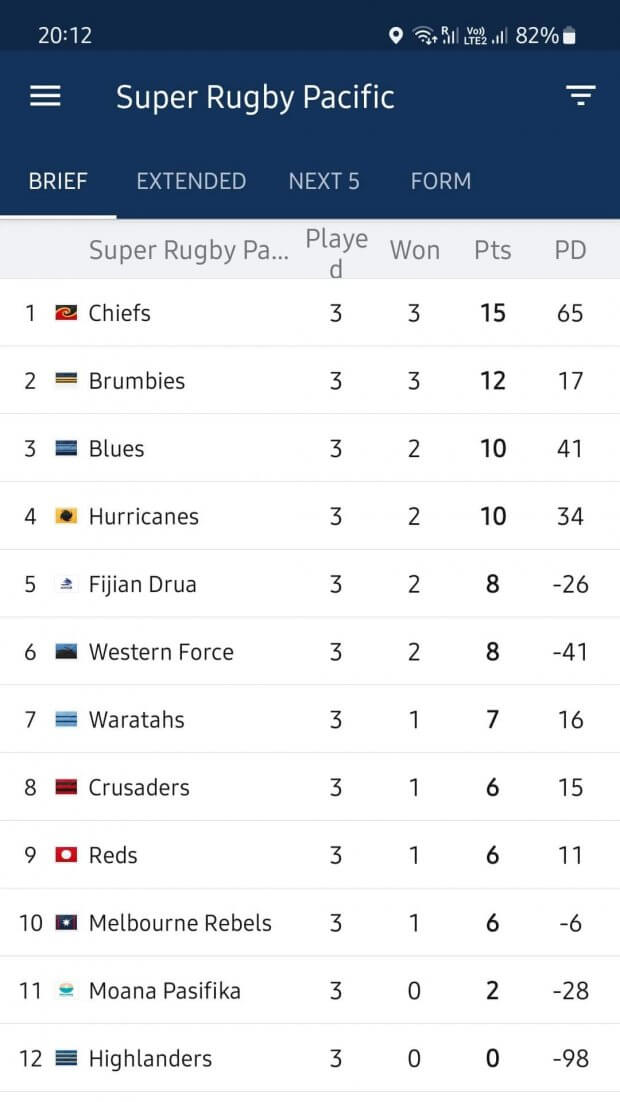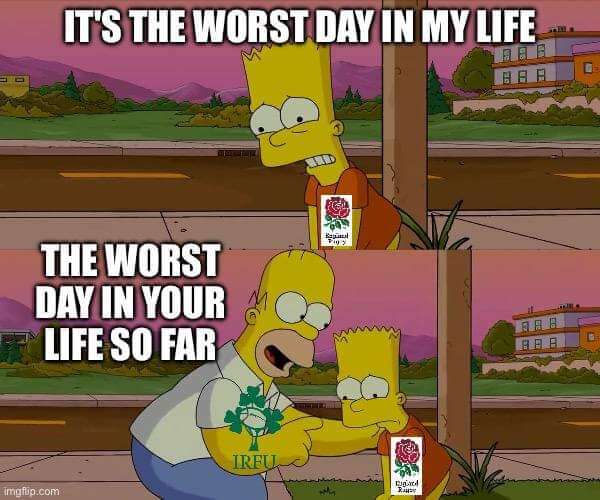 SIX NATIONS
Napoleon's Frogs 53 def torched Keith's Soap Dodgers 10 – report here
Wales 29 def Italy 17 – report here
Ireland 22 def Scotland 7 – report here at some point in the morning…
U20 6N
France 42 def SDs 7 – report here
Ireland 82 (yep, not a typo) def Scotland 7 – report here
Italy 29 – def Wales 25 – report here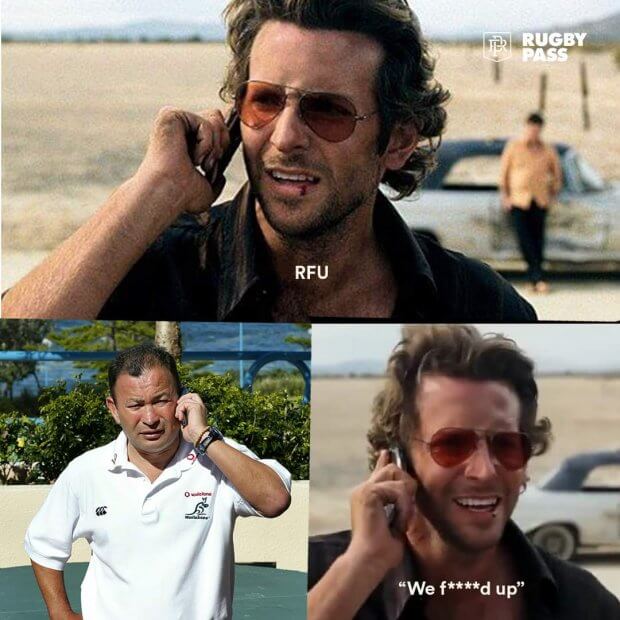 ENGLAND LOOK WORSE WITHOUT EDDIE
It's looking decidedly glum in Soap Dodger land, with the Poms looking well and truly off the pace against, what must be said, was a simply outstanding Froggy side. When 53-10 doesn't do justice to the French then the wheels of the fuqing chariot that's stuck up someone's arse must really be falling off in a hurry.
Quoting from PlanetRugby here: "England learned a lot today – the first thing being that rugby is a sport of structure – one that demands players to earn territory, to make tackles and pin down the basics. Effort or flair were not England's issues on Saturday; their problems were ones of simple structural pragmatics, things that Borthwick prides himself on getting right. Next week is the biggest test of his coaching career as a repeat of this showing in Dublin in the final round would be nothing short of an unmitigated disaster for England." Well, that sums it up pretty bloody well.
The stats certainly don't lie either:
England's third worst defeat in history
England's worst ever defeat at home
Biggest defeat to France
Record French win AND margin against the SDs
First win at Twickenham since 2005
Five French players broke 50m running metres; England had two (including Marcus Smith)
France missed 11 tackles compared to 26 by the SDs (five to Sinckler alone)
SDs had 18 passes that went to ground and 19 unforced errors
Five turnovers conceded by SDs
One of the biggest (unpublished) stats is that the French, at one point in the match, had a 73% success rate of their rucks being sub-one second. That is quick as fuq! For an English team that is playing slower than Hoss can read a picture book, it is impossible to defend/play against.
Talk about copping a hospital pass from the RFU Board. SOS to Eddie, anyone?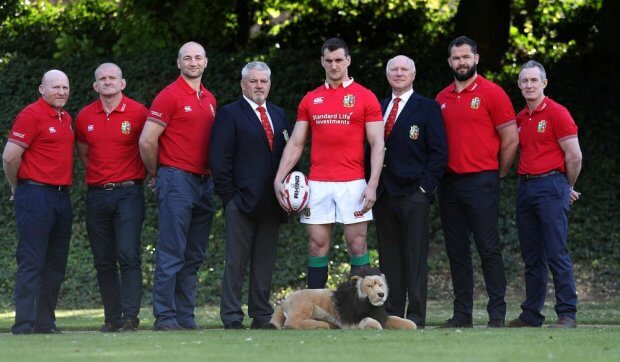 BIL2023 Tour
According to GeeRob at the Shake My Head (I mean, Sydney Morning Herald) the BIL23 tour is all but locked in.
"The best players from Fiji, Tonga, Samoa and Papua New Guinea will play a midweek game against the British and Irish Lions under a plan for the legendary side's 2025 Australia tour. The Lions, who tour Australia every 12 years, will play the combined Pacific islands team as well as an Anzac XV, featuring All Blacks and Wallabies, and one game each against three Australian Super teams: the Waratahs, Reds and Brumbies. The proposal is still being negotiated between the Lions, New Zealand Rugby and Oceania Rugby, but the fixture list needs to be finalised within the next two months so Rugby Australia can start ticket sales. NZR is open to a combined Anzac team playing the Lions as a warm-up, but wants more details. The All Blacks will host world No.2 side France in a three Test series at the same time, so player availability will need to be negotiated. The tour will feature three Tests between the Wallabies and the combined Ireland, Scotland, Wales and England team, plus five or six games that will serve as warm-ups or midweek clashes for the touring side. Ireland coach Andy Farrell is the front runner to coach the group. The 2001 tour pitted the Lions against a combination of Super Rugby sides, an Australia A line-up and other representative teams. On the 2013 tour, the tourists took on the five Super teams. Australian officials are keen to avoid the blowout scores some of those fixtures produced and think the Anzac and Pacific matches could attract big crowds.
RA chairman Hamish McLennan is also considering opening a spot on the Pacific squad list to an NRL player. "If they make the cut," McLennan told the Herald. Meanwhile, Queensland Rugby Union is worried Brisbane will miss out to Adelaide or Perth for the remaining Test match because of aggressive bidding from the South Australia and Western Australia governments. Sydney and Melbourne have locked in Lions Tests under long-term funding agreements with their state governments, but there is a growing acknowledgment that Adelaide Oval or Optus Stadium are the front runners for the other Test. South Australia Premier Peter Malinauskas has gone hard after major sporting events to boost tourism, with LIV Golf and Supercars headed there this year after the Wallabies' Rugby Championship win over South Africa attracted a good crowd of 36,000 in 2022. Sources close to negotiations told the Herald that WA and SA had tabled aggressive bids to win hosting rights to the fixture. However, QRU boss David Hanham said Brisbane was the game's natural home. "You want to go to your markets where you know you're going to get a good turnout, and you're going to get people embracing it," he said. "Rugby in Queensland is strong; we're 140 years old, we've never missed out on a Lions series and we don't want to miss out now. I believe it's important for them to consider all that. The Lions for us is critical. Outside of a Rugby World Cup, it's the biggest rugby sporting event in the world. It brings 40,000 passionate Lions fans to Australia and was evidenced [in 2001] when they played here and filled the Gabba in red, and shocked the Wallabies. My conversations with the Queensland government is they don't want to be out of the race, they want to win this event. They know how important it is for the economy, for tourism and for rugby."
A Queensland government spokesperson said Suncorp Stadium's outstanding record of Wallabies wins should be a key consideration for rugby's, 'Sydney-based decision makers'. "Queensland is a true, genuine rugby state, and we're not in the habit of broadcasting to our competitors the content we intend to secure for the nation's leading visitor economy," the spokesperson said. RA has indicated it will take games to non-traditional markets when state governments are willing to pay top dollar. Sydney is in danger of missing out to Melbourne for the 2027 World Cup final. Stadium and tourism sources indicated Rugby Australia and the NSW government were close to signing an agreement that would result in Sydney hosting a Bledisloe Cup Test in 2024 and every second year after that. But Accor Stadium, the site of the 2003 World Cup final, 2014 Super Rugby final and Australia's last Bledisloe Cup win, faces an uphill battle to secure the 2027 tournament decider. World Rugby and RA will run a bid process to lock in fixtures before announcing all venues at the end of this year's World Cup in France. Perth, Sydney and Melbourne are the only cities with stadiums big enough to host a final, with Victoria's backers determined to stage the event. Sources close to the negotiations told the Herald that Victorian officials had promised to beat whatever financial offer a rival state might make and deliver a record crowd for a World Cup fixture. The record is 89,267 for a pool match between Ireland and Romania at Wembley Stadium during the 2015 tournament. Only the MCG (100,000 capacity), Australia's largest stadium, is capable of beating that benchmark. An attendance high was also part of Australia's pitch to win hosting rights in 2021, guaranteeing the MCG will be used for prominent fixtures and knockout rounds. Sydney's backers fear a sold-out MCG for this year's Bledisloe Cup Test would be the writing on the wall for the 2027 final.
So, there's a lot to unpack here. My thoughts:
RA can fuq off inviting the bloody Kiwis for OUR BIL Tour. To think that the Kiwis would even entertain the idea of an ANZAC Test is so ridiculously naive, even for Hammer, that it's laughable. Why the fascination for giving away opportunities for our players in a once-in-a-lifetime opportunity is simply beyond me. Kinda like the NRL baiting happening now. Dumb, dumb, dumb.
Good idea re: Pacific side. But don't take it out on the Aussie sides. And where is this going to be played? Lautoka was pumping this weekend gone.
I doubt the WA and Vic Super Sides will be impressed at getting punted from the tour. Talk about RA shooting itself in the foot, again.
Bring on the Bill2027 in Melbourne. 100+ thousand for a final – yes please! It's all about dollarydoos in the bank – 20,000k extra seats at, say, $150 a pop ($3 mill) is dosh RA can't afford to walk away from. Then again, is that worth the soul of the game?
Should've made Ballymore a 80k seat stadium (I don't care about silly things like logistics and planning and, "it can't be done", and all that) to solve the issue of the pesky WA and SA premiers.