Hi ya cobbers,
I've got a bit of double action going on today: a Club Corner and a Nutta's Selection. So with a bit of ground to cover, without further ado, let's just get it on!

Club Corner: Renegades Rugby (Hills District – Sydney)
Beyond the imposing shadows of grey concrete stadiums with their over-priced tickets and cold pies, past the lines of debussing, coiffured hair, rugby professionals in matching tracksuits and hyper expensive headphones and somewhere yonder the ramblings of talking heads on TV, we all know that the real heartbeat of rugby lies local. It's our clubs that drive this game. So welcome to another instalment of Club Corner.
Today we have a peak at Renegades Rugby ( http://renegades.net.au/ ) of the Hills District in Sydney.
The Renegades formed in the Hills District in late 2006 with three goals: have fun, play rugby, help others. Filling a need in the apocalyptic, dystopian outback of western Sydney for rugby union (remembering that as far as NSW Rugby is concerned, anything west of ANZAC Parade is a Mad Max wasteland for which they have 'Big Plans' apparently), the Renegades boasted two grades in their inaugural year, and one of the best pubs in Sydney as a watering hole, The Ettamogah Hotel in picturesque Kellyville.
Early success in Sydney Suburban (Subbies) fifth division saw the club riding high with a few premierships, several club championships, and a few Club of the Year awards. And thus the club now sits in 4th division, maintaining two grades, and always aiming to provide a space for the competitive and social player.
In The Hills Council, space for sport is a hotly contested item. Thus the Renegades moved grounds several times in their history. And it wasn't until 2019 that they found something more permanent at Kellyville Park (aka The Field of Dreams). Managed to perfection by Parramatta Eels (what the?), the surface is well maintained year round, and has superb drainage to allow play in all weather. With more upgrades on the way, the Renegades are also doing their bit, acquiring portable stands for members and visitors to enjoy the day in comfort.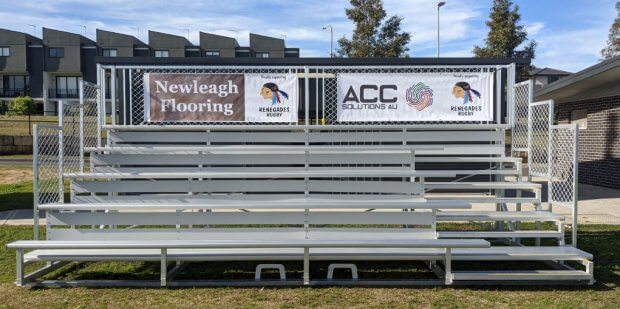 Having hosted a range of events including charity days, Sydney Women's Rugby Union 7s, and even an NRL Representative Day (now just hang on), the back office is well experienced with running a club. And the canteen features the legendary Renegades Roll (steady-on Yowie, it's a food item) which is always a hit with the lower grades. As soon as the smell of that smoked brisket hits the crowd, they sell out fast. Sorry, first grade!
The club has charitable goals as well, with 10% of all profits from fundraising donated to Children's Hospital Westmead, whose logo we wear on our playing jersey. And increasing support of other charities, like Neuroblastoma Australia, has seen the club raise over $180,000 for charity.
Working hard to forge links with local junior clubs and schools, the Renegades are looking to re-establish their women's program, stand up a colts team for the Radford Cup, and continue to grow rugby in northwest Sydney. We'd love to have new people on the journey so get in touch via info@renegades.net.au and together, let's be part of something bigger!
Club Corner – Remember that G&GR is a site by fans and for fans. So I'm inviting TELLING you to send me YOUR club's promotional clip. Send it to me and I'll put it on HERE. It doesn't have to be George Lucas-esque. Someone's kid with semi decent TikTok skills can do it. Or maybe YOU go make one for your club. Or send this article to your club's President and Committee so they can pin it to the right person.
But whatever way you choose, get a blurb and send a YouTube link to NuttaRugby@hotmail.com and (provided it passes the most basic of public decency assessment) we will give it play and spread the love.
Nutta's Super Selection:
For the duration of the Super series, I think I'll nominate an Australian Super XV each week and the selection rules will be kept nice and simple:
Selection is for one week only and based on last game only. There are no cumulative results. Reputation means nothing. Each week is a clean slate.
If you played for an Aussie Super team last week, then you can be selected. You can be Wobbly eligible or not, as that isn't really relevant.
Also, this is not who I think EJ would pick. This isn't the Wobblies. This is from 'The world according to Nutta from the weekend gone'. But as ever, I'm open to healthy discourse on who made the cut. Righto…
Nutta's Aussie Super XXIII for Round 3 2023:
Matt Gibbon – His skills were only matched by the mouth wound. Wear a bloody mouthguard kids.
Nos Lonegran – In a country crying out for a No2, Nitro stood up to be counted.
Rhys Van Nek – The Neck did the job. Underrated and understated, I rate this guy.
Nick 'Jack' Frost – The workrate of this guy belies his size.
Trevor Hosea – Imposed himself well. Really physical stuff.
Pete 'Pistol' Samu – Simply fantastic skills.
Richard 'CornStar' Hardwick – Namibia's gain arguably kept Hooper on the plane to France.
Rob Valetini – Bobby Smash was not to be ignored.
Ryan Lonegran – Got a rare chance and did not waste it. Was energetic and accurate.
Carter Gordon – Nudged out Lolly Lolesio for mine with smart, reliable and astute play.
Corey 'Oh' Toole – Seriously, blink and you will miss him. He's Sonic the Hedgehog fast.
Stacey Ili – Staceske made a real impact for the Scum particularly in clean-up situations.
Len Ikitau – Sticky Icky continues to develop into a class act.
Suliasi Vunivalu – Has all the attributes but I want to see more.
Reece Hodge – Petaia had a great 2nd half and Tom Wright did run +100m. But Hodge again showed his utility, reliability and still has 'that boot'.
Alex Mafi – Tough, uncompromising and gutsy wee nugget who got the basics right.
Jimmy Slipper – Simply dependable.
Peni Ravai – the winger>centre>flanker>hooker>prop was all energy. A footballer's footballer.
Jed 'The Christian' Holloway – His utility gets him the jersey as his resurrection continues.
Harry 'Dirty' Wilson – Good, direct hard play. But I want to see more.
Langi 'Hammers' Gleeson – Whatever he's sniffing before he comes on, I want some of it.
Nic 'Red Wine' White – Best of the other 9s. A genuinely smart player who gets better with age.
James O'Conner 2.0 – Threw a beautiful pass to the touchie, but is looking relaxed and slick on return.
Player of the Round: Player of the weekend was (for me) Cian Healy. Best known as a bit of a fractious loosehead for Ireland for some years now, he has also played occasionally at tighthead. But he has now joined the ranks of the mighty few by shifting into hooker for a spell against the Scots on the weekend. Ok, he didn't play Super in an Aussie franchise jersey on the weekend, but sod off because this is my selection. And the man from Clontarf (of northside Dublin, not Middle Harbour Sydney) deserves a Bunnings sausage and beers aplenty joining the ranks of true nobility after playing 1, 2 & 3 for his country. I salute thee.
Am I right? Am I wrong? Are the Crusaders a mere shell of their former selves? Are the Renegades the real deal? Is Cian Healy the modern incarnation of the Renaissance Man? Did Kyle Sinckler really miss seven tackles all on his own against the Cheese Eating Surrender Monkeys? Set me straight in the comments below.