Whale, oil, beef, hooked (quickly now). Dia duit agus fáilte romhat chuig an Aoine & the holiest drinking day in an otherwise pretty full Oirish drinking calendar, St Patrick's Day. Today, let's all kiss the Blarney Stone, embrace our inner leprechaun and jump into a greenish tinged Friday's Rugby News.
Abruptly awoken from my sky blue hallucinations last week, let's look at the weight of great expectations in 'Back Off – Not Cool People!'. I take no pleasure at all in revisiting le massacre de Twonham in 'Swung Low'. Preview round 'ceathair' of SRP in 'Sláinte'. And drop the Jägermeister into the Guinness this week with Friday's Goss with Hoss, officially 1/116th Oirish, courtesy convict & rebellion leader 'General Joseph Holt, forever at rest Dún Laoghaire.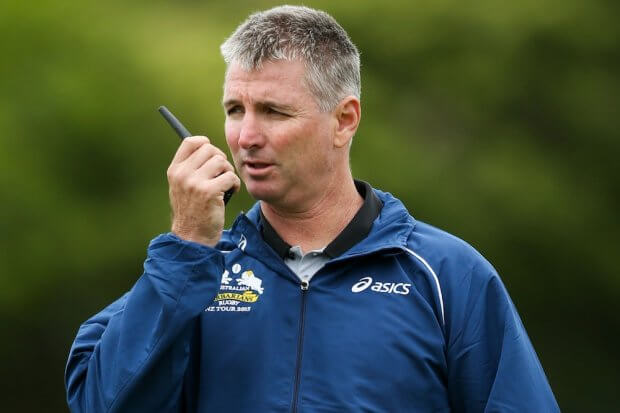 BACK OFF – NOT COOL PEOPLE!
"It'll be good to get back to being the underdogs. Whether it's been our doing, the press's doing, or people's doing, we've been talked up a bit and it hasn't really suited us," Coleman said in the SMH
For a start, let's all completely overlook the fact that it may or may not have been (OK, it completely was) Tahs coach Gary Coleman who came out just prior to Season 4 of 'The Crusaders always win this thing and it's getting really tedious' Super Rugby Pasifika and said stuff with a vibe of 'we need to be top 4, semi finals or bust', or something like that anyway and nearly all of you on here agreed. But a paltry one from three, sees the Tahs mid-table and this week, just for shuts & goggles, facing a refreshed Jack the Ripper and his minions at The Canes and all this in UnZed!
As someone with a middling interest in the fortunes of the side from NSW, I was appalled at the offering of the team against The Scum. Now that's not to say said Rebel forces were not terrific, they were and then some. Namibian adult entertainer, Dicky Hardwick was immense, simply immense (special shout out to former Wallaby coach Daryl Rensby for telling Hardwick two years back he 'wasn't wanted', yet we welcomed back Spanners Foley?). Carter 'Billy Ray' Gordon continues to grow in stature & confidence and has been really impressive now he is out of the shadow of Matty Two-Cows. Their pigs dug in, the bench were fantastic and despite the bile rising around my uvula, they deserved the win (the 'truth will set you free' my arse!).
But, you say, 'Hoss' how can this be so? Isn't the pedigree, skill, coaching and plain ol' 'natural selection' enough for the Tahs alone, to win? Good question Gaggers, good question. For mine the most galling thing, apart from losing to Melbourne and having to put up with Charlie gloating, was the entire lack of leadership from supposed 'leaders' within the Tahs! Where were they? What did they contribute apart from several penalties, 'advantages' that directly lead to tries, missed tackles galore and falling for a dummy from a prop, a bloody-mouthed, leg weary, dim-witted, slow moving troglodyte, a prop!
Anyhoo, Gazza, a word if I may. I get stating one's goals, nailing the colours to the cross, leading the team over the trenches and all that shite should be ambitious, but I've been to my fill of corporate talk-fests that tells me 'goals' should also be 'SMART':
Specific
Measureable
Achievable
Relevant
Tah Time bound
Like that Irish guy who became POTUS in the 60s and died from a severe bout of lead poisoning, his stated 'moon goals' were the very definition of 'SMART'.
It would appear Gazza, that some of the 'senior leaders' in the team may not all be on the same page as you. Last week they went missing when it mattered most, they were ineffective, they were absent and to be frank, they don't deserve their jumpers this week.
Not SMART at all really.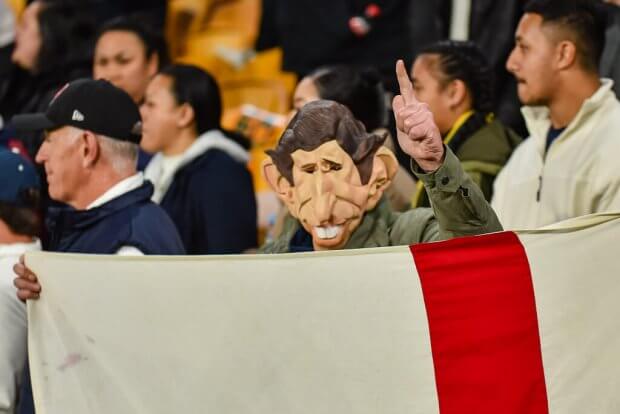 Swung Low.
A better person than I wouldn't take such unadulterated glee in the complete and utter pantsing of a team vaguely resembling the English national rugby side, the Soap Dodgers, at Twickers last week from the hands of a simply majestic Frog team.
The French were ruthlessly physical, yet at the same time so beautifully skilled. Completely structured, but with the daring and panache to play unstructured 'off the cuff' rugby that left you smiling and aching for more. Whatever, the buffoons in white offered, the artists in blue not only anticipated, but had a plan ready to execute. Indeed in watching the French loose forwards go about their work with such 'connectivity' and clarity of role was the most profound, complete & ruthless exhibition of a 'loosies' trio that I can ever recall, regardless of the colour of the jersey. The French have taken what the Kiwis used to do and taken it to an even higher plain.
Sure, those in white looked like fat (and I do mean 'fat'), tired, old, slow and bereft of any one singular piece of rugby intelligentsia among them (coaches included), but the Frogs would have beaten any side in the world last week, any side.
The great irony and beauty of our game this week will be French fans cheering on an English victory this weekend!
Ain't rugby grand!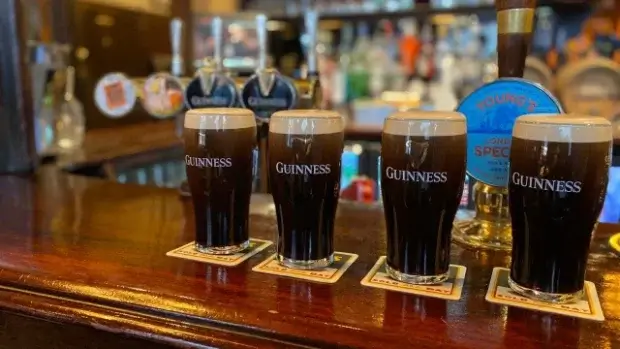 Sláinte
It's time for another round, or as they say in Oirland, 'That be an attractive goat you have there Paddy'.
Who plays, when & who wins. Teams, times & coverage courtesy of 'Planet Nathan' rugby.com.au
Friday 17 March 5:05 pm AEDT – Hurricanes v Waratahs at Sky Stadium, on Stan Sport
Fearless Prediction: In last week's Tahs carnage, one rough diamond really emerged. Young Tom Lambert looks a real find at loose head; watch this space. The Tahs are without their twin workhorses of Holloway (expecting bub #2) and Hugh Sinclair (injured) this week, but do welcome back Ned 'Flanders' Hanigan for his first start of 2023. Having said that, the Canes welcome back the throat slitter and skipper, role model, contrite humanitarian and misunderstood 'spirit of rugby' activist, 'Jack the Ripper' Savea and are at home. Apart from looking forward to seeing mad Max Jorgensen start at 15, there is absolutely no reason to like the Tahs for this one. Which is exactly why they will win it. Tahs by 4.
Saturday 18 March 2:35 pm AEDT – Chiefs v Melbourne Rebels at FMG Stadium, on Stan Sport
Fearless Prediction: The friend of my enemy is, no wait. The enemy of my friend is, nope that ain't it either. The enemy of my enemy are the Rebels, so they're my 'friend' right? Besides Victorians are nearly still Australians after all. Rebs by 8.
Saturday 18 March 5:05 pm AEDT – Blues v Crusaders at Eden Park, on Stan Sport
Fearless Prediction: Watch a pattern emerge this year of a team, the week after playing the Drua, be strangely flat & subdued. Add to the physical beatings they receive, the heat and drain of playing in Fiji and you might well see what I have coined 'Druaitis' play out this year and shape the competition significantly. Blues by 12.
Saturday 18 March 7:35 pm AEDT – ACT Brumbies v Moana Pasifika at GIO Stadium, on Stan Sport
Fearless Prediction: The MPs have not been without moments of magic this year, but like Wednesdays on G&GR, it's their inability to produce consistent quality that ails them. As stated before the Brumbies are already humming and playing final footy style rugby. A bit of man love around for Noah 'Phil Collins' Lolesio after his outing last week. I would remind all though, that one swallow doth not a summer make, but it's a heck of a first date. Ponies by 21.
Sunday 19 March 1:35 pm AEDT – Highlanders v Western Force at Rugby Park, on Stan Sport
Fearless prediction: Really this is a game of least-worst on the night gets the chocolates! Look, the Highlanders are Kiwi poo, but there was a time when Kiwi poo was still too good for reasonable Oz sides, but no more though! However, I'm struggling to get a form read on the Farce? If someone with electricity and half decent 2G (fibre to the cave) internet over West can help me get a form line I'd really appreciate it. They beat the Rebels who are clearly an awesome side as they rolled the Tahs. They concede 70 to the Reds who are ho-hum at best and then squeak home after nearly soiling their bed sheets against MP? I mean it's easier to launder money with the Perth Mint than to get a read on your lot! Bugger it, it's probably their last year in the comp anyway. Farce by 11.
Sunday 19 March 5:00 pm AEDT – Queensland Reds v Fijian Drua at Suncorp Stadium, on Stan Sport
A rare Sunday afternoon game for the Reds as they host the Fijian Bruise Brothers, the Drua.
Who on here can't help but love Fiji? Their skill, humility, brutality, grace and joy that they continue to exhibit in season 23 is the best part of Super Rugby this year, and it should not be lost on anyone that they also happen to be a bloody good footy side to boot.
As much as I can't get a read on the Force, something seems also quiet amiss with the Communists up in Banjo country. Sure they have injuries, but which teams don't. Sure they have development players in their starting XV, again, who doesn't? But something more ails this side and I can't quiet place a finger on it. I would say in years gone by they had awesome cattle who didn't quiet deliver on promise. I know this is heretical, but with the benefit of history, the one- season of SRA should now be viewed through the magnifying glass of WGAF. It was a shallow pool and three of the five fish were carp crap anyway.
A coach who has stayed too long? A message that no longer resonates? A jaded playing group maybe a year past their best as a collective unit? Who knows, but what I do know is it's The Drua by 13.
FRIDAY'S GOSS WITH HOSS.
The sky is falling, oh, wait.
OMG Gaggers! The SMH reports uncapped Waratah Mosese Tuipulotu, might be going oversees to Scotland on a whopping $225k pa (I wouldn't write Monday's Rugby News tripe for that chump-change); surely this is the demise of Rugby in Oz! 'Another player' going, more hand wringing, more clenching of fists and gnashing of teeth. Another 'Wallaby XXIII' of Oz born players plying their trade oversees being published somewhere of players who wouldn't make the Wallabies if they stayed anyway. Give me a break. Ours is a global game where draconian forces like 'supply & demand' will always be at play. It's 'rugby equilibrium' we seek.
Brew-hahah.
SBW is in the news (again) after going viral with last week's G&GR interview. This time, according to stuff.co.nz, for retweeting something from an 'influencer', Andrew Tate, who is suspected of being part of an organised crime group who are into human trafficking, rape & violence against women. Two things jump out: one, why is it 'influencers' always make me literally swear I will never buy anything they promote (and I actually couldn't tell you a product an 'influencer' influences) and two, will SBW be on STAN anytime soon? Be an interesting dynamic to watch with many on STAN's commentary team noticeably short of a 'Y' chromosome. Now that's some compelling pre-game discussion coming up.
Brew.
Courtship in NZ. A cautionary Flanders guide.
Frequent NZ visitor Ned Flanders Hanigan has warned young team mates against another potential Kiwi 'trap'. rugby.com.au has Flanders telling them 'not to poke the bear' this weekend. A tip for young punters if I may, when in NZ, no matter how attractive the bear, always look for the prevalence of 'lipstick', it could save rather a lot of embarrassment later on. According to Yowie anyway.
6Ns Finale.
It's finally here, week 16 of the 5 round Tourny of the North and I must admit this year's 6N has been thoroughly absorbing and the quality of rugby has been breathlessly brilliant, well except for The Northern Kiwis and The Soap Adverse of ol' Blighty that is. Cruelly Italy will get the wooden spoon again, their game seems better then their results would suggest, but they also beat us so………. Scotland were good, very good, but Les Bleus & the Oirish are a cut above and luckily for us down here, they have predictably peaked between RWCs yet again and as night follows day, quarter final exits surely await.
Get your final 6N fill on STAN:
Scotland v Italy – BT Murrayfield Sat, 18 Mar 11:20pm Kick off 11:20pm. Scotland by 18
France v Wales – Stade de France Sun, 19 Mar 1:35am Kick off 1:35am. France by 27
Ireland v England – Aviva Stadium Sun, 19 Mar 3:50am Kick off 3:50am. Ireland by 18 and all 'Brian's' fault. At least Sir Clive can cut & paste another article again and again and again…….
St Pat's day
To all our Oirish friends, those who have English people reading these pages to them, those who proudly claim 'green' in their lineage or those who just simply enjoy being drunk most of the time, happy St Pat's day. Australia wouldn't be Australia without those of the Emerald Isle who came before, shaped our humour, our antipathy to authority and our love of a punt & a pint, I say: go raib maith agat agus Dia duit
Go dti an tseachtian seo chugainn.
Hoss – amach.