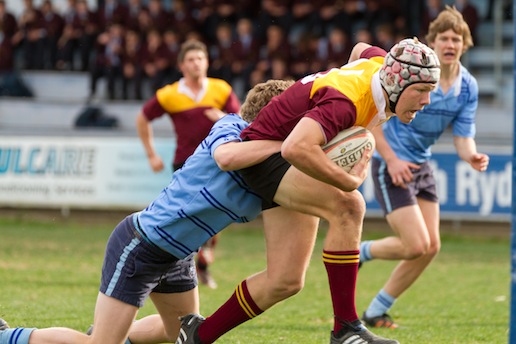 ISA heavyweights St. Augustine's College and Oakhill College set up a no-love-lost return-bout final when they won their Waratah Shield semi-finals at the T.G. Millner Field today. St. Augustine's (Brookvale) accounted for St. Stanislaus College (Bathurst) and Oakhill (Castle Hill) defeated Marist College (ACT).
St. Augustine's 53 – St. Stanislaus 17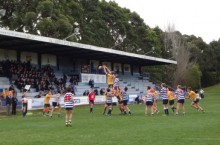 A young Auggies team with nearly half its players from Years 10 and 11 (according to one of the masters) was too strong for Stannies. The Bathurst lads had periods of strong play and at one stage in the first half were behind just 10-19, but their forwards did not have the staying power and technique of the Auggies' pack.
Stannies also had trouble with their opponents' expansive play, and though they scored their first try when Auggies were too adventurous near their own line, they got sucked into playing into a loose game that didn't suit them.
When the forwards were going well St. Stanislaus 10. Grant was a good organiser of the ball he got and rangy 15. Green was often a danger, and backed up for an opportunist try. He hoofed the ball many times out of trouble too.
The Auggies forwards provided a harvest of good ball for their backs. NSW Ones THP O'Connor had a storming game at LHPand scored 2 tries, whilst locks Phillip (Oz Schools) and Lloyd did the grunt work that knocked around the Stannies boys so much. Winger Blake, was a constant danger to defenders and scored two tries, and tricky flyhalf Taefotu got better and better as the minutes ticked by.
It was 24-10 at oranges and although Auggies became scrappy when their reserves came on in the 2nd half, they scored 29-7 in that time. From the bench Year 10 reserve 22. Afu showed good leg drive, driving defenders back when he had the ball.
Auggies old boy Phil Blake was a proud dad watching his son play, but the Auggies coaches were not pleased to see him attend because he is not always a good luck charm for the team.
St. Augustines College – 53– Tries: H. Blake (2), R. O'Connor (2), J.Walker, J. Kaplan, M. Cook, J. Ibbotson, M. Phillip. Conversions: Blake (3), Kaplan.
St. Stanislaus College –17 – Tries: J. Ferguson, M. Green. Conversion: Green (2). Penalty: Green.
Referee: Mr A. Richards.
Oakhill 41 – Marist 7
Marist were expected to make a strong showing in this game. They had beaten arch-rivals St Edmund's twice this season and scored an emphatic win against Hills SHS in the quarter-final of the Waratah Shield. They looked intent but the bigger Oakhill forwards bullied them for most of the game. This was made easier when an ACT rep lock got a red card in the first half.
It was a mirror of the first game of the double header. One side got front foot ball to draw in defenders; then just when they put out that fire the ball would sing along the attacking line to the outside backs — or a centre would sneak in between the firemen. The red card did not help nor did the match ending injuries to other ACT reps 9. Powell and 10. Bodman, two of the best Marist players, but the remaining lads looked jaded from their long bus trip from Canberra.
They made too many errors, especially in handling the ball (which can happen when a winger has to move to play scrum-half), missing tackles, or tackling, but not dominantly so — and sometimes they lacked starch up front. But their worst feature was the lineout, and it was bad for all the reasons it can be. Yet when they got awarded penalties they kept kicking for touch.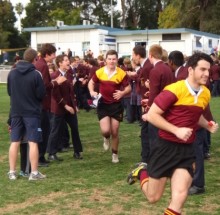 They never gave up though, and it pleased everybody but a few Oakhill lads that after attacking for a few minutes 13. McLauchlan was able to score a try for Marist after the bell.
It gives no pleasure to write so negatively, but I trust this game will build their character. They know they can play better than that, but the loss and the manner of it will not be the important thing for them: it will be how they learn to move on from it that will be the good life experience.
Oakhill had good players across the board: 2. Blacklock, 4. Linaker, 8. Goddard and skipper 7.Tuckwell were all tough and skilful and 10. Hoolahan was a good quarterback — but 9. Gonzalez had an elusive game, and ran through half of a bemused Marist team to score a top individual try.
Oakhill College – 41 Tries: B. Cotton, L. Casey, M. Gonzales, A. Blacklock, C. Daniels, D. Woodward. Conversions: Woodward (4). Penalty: Woodward.
Marist College – 7 – Try: D. McLauchlan. Conversion: R. Mcarthy
Referee: Mr J. Scholtens.
It's going to be a cracking final in two weeks time at Forshaw. Oakhill beat Auggies in their big ISA game and are virtually assured of the title; so the Brookvale lads will itching to get revenge. Oakhill looked the better of these two teams today but the return from injury of the likes of Natoli and Cochrane of Auggies should make it an even contest.
THIS OLD BLOG IS BEING USED FOR WORDPRESS EXERCISES
Historic win in weekend test matches.
All the Rugby Championship teams were in action yesterday and the ones that didn't wear gold jerseys were expected to beat their visitors.
It made sense: Wales had never beaten the All Blacks in NZ in eight attempts, nor even at home since 1953. Ireland had lost all seven games they had played in South Africa and Italy were so bad in Six Nations this year that there was talk of kicking them out of the competition—whereas Argentina were semi-finalists in the Rugby World Cup.
---
New Zealand
v Wales
by Lee Grant
Despite the favouritism of the All Blacks their fans were nervous of a slow start to the season as new players replaced legends.
First half
They got more edgy after Ben Smith dropped a routine high ball and Wales pounced for 8 Faletau to score in the corner.
But winger Savea dotted down after a high kick from Cruden, who had kicked an earlier penalty: New Zealand 8-5 after 16 minutes.
Smith made amends with a signature run through parking lot traffic and passed to 14 Naholo to score. Both wingers had defended poorly earlier; so they were both happy to get a try.
Biggar kicked two twitchy penalties for Wales and NZ led 15-11 after 25 minutes, but after a clearing kick Wales' fullback Ian Williams ran from near his 22 through poor tackling before passing to scrummie Webb to touch down.
NZ had all the territory stats but they turned over the ball like millionaires and dropped it often. Their best effort apart from their two tries was defending their line before the break.
Half time score: Wales 18 – NZ 15


Second half
There was no more scoring except a penalty apiece, until near the hour mark. Aaron Smith took a tap penalty kick five metres out and Naholo charged over flyhalf Biggar to score. NZ led now: 25-21.
The Kiwis were finishing the stronger with a better bench and no.8 Read ran through a 15-metre gap for a try with 13 minutes remaining.
It looked liked they had more points soon after when reserve TJ Perenara finished an ensemble move near the posts, but referee Barnes called the last pass to him, forward.
Wales, with the weaker bench, were hanging on, but NZ played on after the siren and reserve Harris went over.
Final score: New Zealand 39 – Wales 21

Game Changer: At 67 minutes, Wales were just four points behind, but there were too many red defenders around a ruck in their 22 and and Read scored a softy wider out.
Man of the match: For Wales fullback Liam Williams had a brilliant first half, winger North was hard to contain and scrummie Webb was smart and dangerous.
For New Zealand hooker Coles was a boofhead sometimes but otherwise excellent, fullback Ben Smith took all the right options after bad start, and Cruden was steady.
But the GAGR man-of-the-match award goes to skipper Kieran Reid for a superb Swiss-army-knife game.
---
South Africa
v Ireland

by Mark Rooney
Fourteen-man Ireland produced a performance for the ages to write their name in the history books as they recorded their first victory against the Springboks in South Africa.
First half
Ireland opened the scoring after eleven minutes when Payne collected Marshall's dinked kick behind the posts to dot down for the visitors 7-0. It was a double blow for South Africa because de Jager was yellow carded.
Lambie and Jackson traded penalties for a scoreline of 10-3 at the end of the first quarter.
After 22 minutes, fired-up CJ Stander was red-carded for a high challenge on Lambie, who was unable to continue. Shortly after a Jantjies' penalty brought the Boks to within four points: 6-10.
Jantjies' inside pass put Mvovo through as Henshaw shot out of the defensive line. The conversion put the Springboks ahead for the first and only time in the game, 13-10.
But Ireland rebounded from the restart as Jackson popped over a scrappy drop goal to tie the game.
At the break Ireland had held on with 13 men after Henshaw saw yellow for a high tackle in the build-up to the Mvovo try.
Half-time score: 13-13
 Lwazi Mvovo going in to score
Second half
Only two minutes after the restart Payne and Trimble combined on the right wing to put Murray over. Jackson converted and Ireland led 20-13.
Ireland kicked intelligently turning the Springboks and chasing to keep the play in their half. The knock-on by the normally excellent Etzebeth under no pressure, was symptomatic of a nervy Bok team.
Jackson scored two penalties in the final ten minutes but he also threw a pass for an intercept try to du Toit which gave South Africa a lifeline. They couldn't take it as the Irish scramble defence bundled Pietersen out to secure a hard-fought and well-deserved victory after playing an hour a man short.
 Jared Payne and Robbie Henshaw get JP Pietersen into touch to end the game

Key Moment – I was sure as soon as it happened it was going to be a red card to Stander but the game turned on Ireland defence as they held South Africa out at the end of the first half with Louw putting a foot in touch. Had South Africa gone in ahead at half time they may have gone on to win.
Man of the Match – He's taken some heavy criticism in recent season but Jamie Heaslip really put in a shift. He was immense in defence and was a willing carrier.
Get more match information from Scoresway.
---
Argentina
v Italy

by Marcelo Cordoza
At Brigadier Lopez stadium a good crowd (about 25k) watched the first test match of Los Pumas since their successful World Cup.
Argentina beat Italy 30-24 in the first of three test matches before of the Rugby Championship. These games are important for the Argies to remain at the top of the world rankings for the next World Cup draw.
First half
It was a typical test match: Argentina took the first few minutes to settle in, trying to make progress in set pieces against tough Italian defence.
After penalties to Sanchez (Argentina) and Canna (Italy) the scores were level 3-3 at 14 minutes but another Sanchez goal and a try by winger Montero, following an exquisite kick through by JM Hernandez, pushed the score out to 11-3 ten minutes later .
An easy Argentina win looked likely but a yellow card to their lock Guido Petti, and the penalty goal for it, revived the Europeans at 28 minutes. Argentina 11-6. Despite being a man down, the Pumas got back into Italy territory for Sanchez to kick this third goal: 14-6.
But Italy made their best break of the game through 7 Favaro and 9 Gori, and when the ball went wide 13 Campagnaro handled for 14 Sarto to score. Penalties to either side followed
Half-time score Argentina 17- Italy 16.
Simone Favaro (2014) – one of best for Italy
Second half
Argentina started badly: Italy winger Odieto broke through them from the kick-off and Canna kicked his fourth penalty for Italy to lead, but Sanchez replied.
However the Pumas improved helped by the intelligence of Hernandez, and Montero finding gaps. Sanchez had his best moment with a long break from 45 metres out before passing to Hernandez who waved the ball onto twinkle-toed 13 Morosi to score.
After another Sanchez goal Argentina led 30-19 and looked in control but there were 15 minutes left and Favaro scored from an Italy lineout drive.
Argentina were content to play in the Italy half now and although the Azzurri threatened, Los Pumas held on.
Italy played well and gave battle despite having a new coach.
Final score: Argentina 30 – Italy 26.
 Nicolas Sanchez (2012) – man of he match
Game changer — Moroni's try at 58 minutes was at the balance point and was important to get control of the game back.
Man of the match — There were a few candidates but Nicolas Sanchez, with his kicking, and run to set up the critical try, helped secure victory in a tight game.
Get more match information from Scoresway.