Tuesday's Rugby News doesn't have a lot of fun stories, with Folau saga likely to continue in court, Crusaders players accused of homophobic attacks, Jordan Petaia still hopeful of World Cup call up and Steve Hansen backs SBW.
---
[one_half last="no"] 
FOLAU DECLINES TO CHALLANGE TRIBUNAL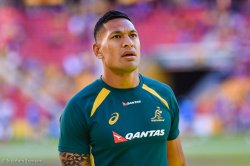 Given RA/ARU's history with the phrase 72 hours, it is impressive that this wasn't dragged out longer.
The 72 hour window has closed on Israel Folau's chance to appeal the tribunal ruling after Folau declined to appeal the decision.
RA confirmed it had not received an appeal request on Monday.
"The 72-hour window for Israel Folau to appeal his high-level Code of Conduct breach and sanction has expired," a RA statement said.
"As Folau has not notified the panel of his intention to appeal, the Code of Conduct process has now formally concluded.
"With the Code of Conduct matter complete, Folau's employment contract will be terminated."
With that the saga is finally over and we can all move on. 
Folau also released a statement on Monday.
"The last few weeks and, in particular, the last 72 hours have given me considerable opportunity to reflect and think about my future," Folau said.
"I will not be exercising my right to appeal Rugby Australia's decision to terminate my employment contract."
"My decision not to commence Rugby Australia's appeal process is in no way an acceptance of the judicial panel's findings," he said.
"I simply do not have confidence in Rugby Australia's ability to treat me fairly or lawfully throughout this process."
"The messages of support from fans, players, former rugby administrators and the public have been humbling," Folau said.
"I believe I still have a lot of rugby left in me and the potential impact of Rugby Australia's decision on my reputation and my career is substantial.
"Ultimately, I need to do what is best for my family, my teammates and the fans, so I am considering all potential avenues open to me."
Ok so given that statement maybe the saga won't be over anytime soon, given Folau has a right to challenge this decision in the Supreme Court. The Daily Telegraph are reporting that Folau and his legal team are gearing up for a fight in the courts.
After his first incident with a homophobic post on integral last year, Folau wrote that if his religion got in the way of Rugby he would walk away.
"After we'd all talked, I told Raelene if she felt the situation had become untenable — that I was hurting Rugby Australia, its sponsors and the Australian rugby community to such a degree that things couldn't be worked through — I would walk away from my contract, immediately," Folau wrote.
The Daily Telegraph also claim that the ATO is monitoring the donations to Folau's legal team, to ensure no one funnels donations through The Truth Of Jesus Christ Church in order to get a tax deduction. 
Sorry for getting your hopes up folks, looks like this is going to run longer and disappoint more people than Game of Thrones.
[/one_half]
[one_half last="yes"]
CRUSADERS 'STRONGLY REFUTE' ALLEGATIONS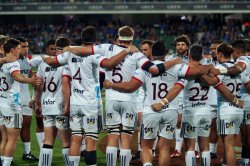 The Crusaders have come out against allegations that their players were involved in an altercation at a McDonalds in Cape Town following their 19 all draw with the Stormers.
Accusations have been made via Instagram user @alxethelion posted a series of videos and Twitter user @adamlennox posted a note on his account about the incident claiming they are met with homophobic slurs and physical intimidation.
Alexandros Paterimos aka @alxethelion has continued to share videos, screenshots and photos to his instagram story detailing the incident and the response from the Crusaders.
"We were attacked by members of the New Zealand rugby team in the McDonald's on Long/Kloof St last night," @adamlennoxx wrote on Twitter.
"As we entered, we were met with jeering and sniggers from them.
"They then proceeded to record us as a joke (also, upon looking on his phone screen, it was a recording for either Insta/Snapchat). When catching them in the act, they told us they did it because we looked funny to them.
"They then said they can record us in a public space if they want to. Upon telling them that this is wrong, they then began physically intimidating us (coming up to our faces, telling us we better stop arguing or they will 'f**k us up if we don't watch it').
"Then, after arguing that straight white men are losing power – we were met with homophobic slurs, limp wrists and high-pitched voices, which were clearly in gest [sic]."
Pasterimos has shared images of the players accused of the incident, two of which are All Blacks.
The Crusaders released this statement on Monday.
"The BNZ Crusaders have been made aware  of allegations of an incident in Cape Town involving some of our players," the statement read.
"Allegations have been made via social media that there was a verbal altercation between members of the public and some Crusaders players who were out getting food after the match against the Stormers in Cape Town. The original post claimed players exhibited homophobic behaviour.
"The three players, team management and the South African-base security advisor with them strongly refute the socialised account of what happened. They are devastated  by the allegation and the implication of the homophobic behaviour."
Crusaders CEO Colin Mainsbridgeis confident that the team's version of events was accurate.
"This is an organisation that is committed to inclusivity and is proud to have earned the Rainbow Tick certification. That is what makes these allegations particularly distressing," he said.
"Given the serious nature of these allegations I will be meeting with team management and players on their return to Christchurch, however I am confident in the account that we have received from the team and the security advisor who was present."
This incident couldn't have come at a worse time for Rugby given all that has occurred in Australia with the Israel Folau Saga.
All Black coach Steve Hansen said he was unaware of the incident but had addressed the playing group regarding the use of social media.
"Obviously you've got to be aware of what you're doing on social media," Hansen said.
"It's a pretty big platform and you've got to be sensible about it.
"People can have their own beliefs — there's nothing wrong with that as long it's not damaging the team or the organisation you work for."
This won't be going away anytime soon.
[/one_half]
[one_half last="no"]
PETAIA STILL HAS HOPE FOR WORLD CUP CALL UP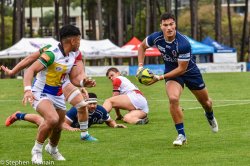 Finally ditching his moon boot after two months, and Queensland Reds young gun Jordan Petaia is still hopefully he can make it back for the World Cup.
The 19 year old had to have surgery on his foot to repair the lisfranc ligament, after an injury in the second round of Super Rugby ruled him out for the season.
It was a massive blow to Petaia and the Reds after he starred in the season opener against the Highlanders, and was set to put his hand up for the Wallaby 13 jersey.
"I was pretty devastated, not just for myself but for the team also," Petaia said.
"Playing with Samu in the centres that game was pretty fun and then having to go out that early in the season was pretty frustrating.
"It took me a while to get over it."
This marks the second time injury has broken the heart of young Petaia, succumbing to a hamstring injury after he was named to debut for the Wallabies against Italy last year.
"Every game I'm watching it just sucks, I wish I was out there," he said.
"It's frustrating."
Petaia was present at the Wallabies camp in Brisbane over the weekend and though hell miss the Super Rugby season, is hopeful he can make it back and join the Wallabies squad.
"(I got out of the boot) maybe two weeks ago, so it's going well," Petaia said.
"I was on crutches for about four or five weeks, then I was probably in a moon boot for about eight weeks."
"It's just a frustrating injury really because it's a lot of weight-bearing on it , so it's a bit of a hassle to get around," Petaia said.
"You've got to tick all the boxes first and make sure everything's travelling all right before you get on."
It will be a tough long road for Petaia to try and make the squad, with Cheika and the selectors likely wanting to see Jordan in action for his club before he gets a gold jersey and a World Cup call up.
But Petaia is refusing to give up.
"I'll just see how my injury's tracking, I'll just focus on rehab and returning to play club footy and see where I go from there," he said when asked about the possibility of being ready by the Rugby Championship opener in July.
"I haven't (given up on the World Cup).
"I'll just get back and see what happens and then see how the season goes."
 [/one_half]
[one_half last="yes"]
 SBW STILL A WORLD CUP CHANCE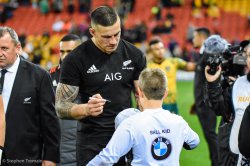 Sonny Bill Williams has enough good will with Steve Hansen that all he needs to do is show his fitness to be selected for the World Cup according to the All Blacks coach.
A member of the 2011 and 2015 World Cup winning sides, 33 year old Williams has been sidelined since March with a knee injury that required an arthroscope. This is another in a long line of injuries suffered by Williams since the 2015 World Cup.
Questions have begun to be asked about Williams potential selection for the World Cup.
"I understand why people would say he's running out of time. But is he really?" Hansen told reporters in Auckland on Monday.
"He's already proved himself. He's played 51 tests. That's a lot of Test matches, that's a lot of proving.
"What we need to see is him getting back on the track. Then we've got to ask ourselves is his fitness good enough for him to be selected in the team?
"We play five Test matches before we have to name the World Cup team, so does he deserve the opportunity to show us whether he's still good enough?
"Of course he does because he's played 50 Test matches."
Williams is back running and is expected to be eligible for selection for the Blues in two weeks.
Hansen will likely take four centres to the World Cup and will be spoilt for choice with Williams, Ryan Crotty, Jack Goodhue, Anton Leinert-Brown and Ngani Laumape. Ma'a Nonu who hasn't played for the All Blacks since 2015 is a dark horse to get the call up as well.
Hansen added that other senior players like Ben Smith (hamstring), Owen Franks (shoulder), Dane Coles (calf) and Brodie Retallick (wrist) were progressing well in their recovery from injuries.
[/one_half]