Gee Tuesday rolls around quickly, doesn't it? This week in the Top 5 we look at the good, bad and ugly from the world of Super Rugby (trying to steer clear of the obvious bad and ugly that everyone is talking about at the moment), give the teams some arbitrary grades based on my opinion of their performances, look at what's going on with our Wallaby players, duck over to Europe and show you our picks of some of the best/most interesting/od plays of the week.
The Good, The Bad and The Ugly
Good – The derby between NSW and the Reds had the potential to be a dull, error ridden match. Afterall, in the recent past that is what Aussie derbies have mostly been. But this one proved to be a tight, entertaining match. Yes, there were errors, but they weren't the focus of the match. It made a nice change.
Bad – For me, the inability of the Rebels to capitalise on the backline full of Wallabies they have is a concern. Genia, Maddocks, Hodge, DHP and now Toomua and probably Cooper – that's a hefty list of National players. But they are not tearing through the opposition the way fans expected them to. Is it that Wessels doesn't know what to do with them? We have seen before that the Rebels didn't have much of a Plan B when things weren't going their way.
Ugly – Following on from my rant last week about the refereeing over in South Africa, I would like to bring up the idea of consistency. It's a novel notion, I know, but this week we again saw some controversy surrounding the matches played in South Africa, with the South African team coincidentally coming out on top in both of them.
Let's start with the Lions v Highlanders. Now I'm not going to go into the penalty count for the Highlanders, they gave away 12 penalties which isn't unusually high. The Lions, however, have become the most disciplined rugby team on the planet. They gave away 3 penalties in the match. Yep, just 3. But that is more than they gave away last week against the Waratahs (2) and it's three times as many as they gave away against the Rebels (1). 6 penalties in three matches (and 43 to the visiting teams). Amazing discipline! But then again, when they played the Brumbies, Chiefs and Crusaders away from South Africa they gave away 7, 11 and 11 penalties. So maybe they leave their discipline in at home when they travel (none of those penalty counts are really that high, but 6 penalties in 3 matches at home compared to 29 away?)
Then I the other match we had our friend Marius Jonker call the on-field ref to have a try disallowed for a forward pass. A try that would have had the Crusaders winning the match. Again, I'm not going to go into whether the pass really was forward or not, you can judge that for yourselves. Opinions on this one are definitely divided.
Was this a forward pass??? Rubbish call. #Rugby #WorldRugby #RugbyUnion #SSRugby #AllBlacks #NewZealand #NZLRugby #NZRugby #NZL #NZ #SuperRugby #superrugbyxespn #Hurricanes #Crusaders #RugbyChampionship pic.twitter.com/fVdsQ2NYYZ

— jared (@cropdog85) May 19, 2019
My issue with it is the TMO over-ruling the referee because he deemed it forward, after the referee had already awarded the try. Compare that to this pass during the Lions v Waratahs match which was not looked at by the TMO or on-field ref. Even the SA commentators commented that they thought it was forward.
The question I have is why did the TMO interfere in one of these but not the other. It was a different TMO, but I would have thought they all at least had the same protocols to follow.
Report Card
Reds C-: The Reds didn't really play that badly. There were some defensive lapses and a few poor options in kicking at times, but they nearly did enough to win. I won't say they could have if not for the missed kicks, because they could also have won if their defence had been stronger or if they had not given away kickable penalties. On paper this looked to be a game the Waratahs should have won in a canter, but the young Reds team is really looking dangerous.
Rebels D: The Rebels were close at times, but after half time they never really looked like they would win. A give away for me is when Genia gets desperate and starts running himself or taking quick taps from penalties. It almost feels as though he thinks he needs to take control himself. In the past that has worked, but teams are wise to it now and are all over him. Once again the Rebels had the majority of possession (62%) and territory (64%) but yet again failed to take advantage of it.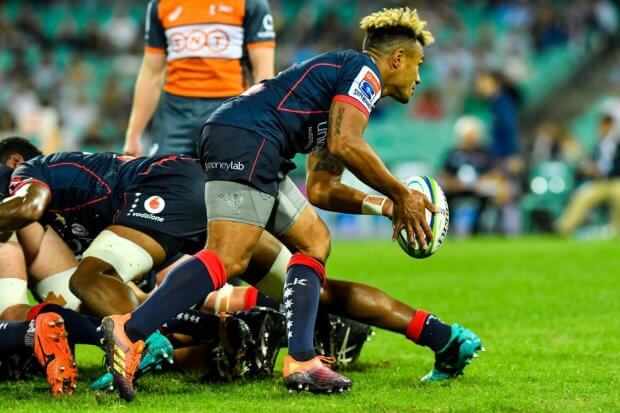 Waratahs B-: It was far from a complete performance from the Waratahs, but they did enough to win. I have said before that their backs look best when they are in open play, lots of runners and offloading. Once the defence tightened up, they struggled slightly. I don't think the gap between the Waratahs and Reds was that great, which is why I haven't marked them higher.
Wallaby RDO's
Well now, it's getting to the pointy end of the season and it looks as though our Wallabies are definitely putting in the minutes. It is going to be very interesting to see not only who is required to have a rest week in the coming weeks, but when the teams chose to take them.
Who still needs to have a week off? Kerevi is the obvious one. He has played all bar 15 minutes of the season. The problem is, he is such a crucial player for the Reds, and with every game basically being a must win from here on in (and all of their matches are quite winnable for them), when does Thorne rest him? Banks and Powell for the Brumbies haven't had a week off, and because the guidelines around who needs to be rested are as clear as mud, does anyone know if they are required to be?  Perhaps now that Folau is seemingly out of the picture, Banks has a bigger shot at making it than he did at the start of the season, but assuming teams plan out when rest weeks will be well in advance, should RA tell the Brumbies more than half way through the season that they need to rest him? As for Powell, is he high enough up in the pecking order? I doubt it.
Simmons and Kepu are both still required to have a week off, but like the Reds dilemma, when will that be? Gordon is in the same situation as Powell, not rested but unlikely to be required to.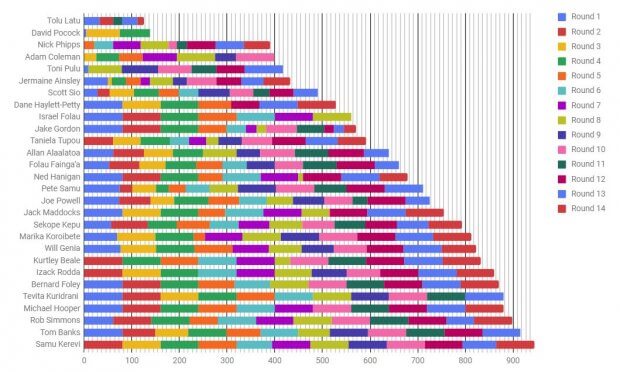 As you can see by the combined minutes graph, there are a lot of players playing near full matches each week. The maximum minutes possible to play so far this season is 960. For those who have sat out a game it is 880. Kerevi (no rest) is currently sitting on 945, Banks on 916 and Simmons on 898. Then there are Hooper and Kuridrani who have played the maximum minutes possible given they have sat a week out, 880. Foley is close behind on 870 and Rodda on 861. The interesting thing to me is that there are three forwards listed there. Considering Hooper is pretty much assured to be starting all Wallabies matches, that is still going to be a heck of a lot of minutes he is racking up, especially given how much he throws himself into the game.
Who stood out: It really pains me to say this, but I'm putting Nick Phipps in this category. He didn't have the perfect game, but he played a lot better than I have seen from him this year. Rodda and Kerevi both had strong games again, which is becoming the norm really!
Raised questions: I have to ask about Hodge. He had 6 carries for 0 metres and turned the ball over twice. To be honest, I'm not exactly sure what position he actually plays. But this game showed that it probably shouldn't be 13. The problem is, with no set position, while other players are starting to shine in theirs where does that leave him for the Wallabies? A utility back for the bench with a big boot? I'm starting to think that's about the best he will be.
Blotted his copy book: I don't know that I'd go so far as to say he blotted his copy book, but DHP didn't have the best of nights. On paper his stats read well, but with Beale and Banks now pushing for the fullback position he needs to show more than he did in this match. 
General observations: In the race for the number 10 position, Cooper fell back a smidge this week. Not because I thought Foley was outstanding, he had a solid enough game, but Cooper had a low tackle rate (made 3, missed three), turned the ball over 4 times and didn't have the impact he was having in the first half of the season. Remember a few weeks ago he said how tiring Super Rugby was after being away from it? I wonder if it is beginning to take a toll, or if this was simply a blip and he will bounce back next week.
Over in Europe
This coming weekend sees the PRO14 draw to a finish with Glasgow hosting Leinster in the final. These two teams finished top of their conferences, Glasgow thumped Ulster 50-20 in their semi, while Leinster beat Munster 24-9.
Across to the Premiership Rugby, and they are about to go into the finals after the final round of the regular season on the weekend. The semi finals will see Saracens take on Gloucester and Exeter play Northampton. Exeter and Saracens are the favourites to make the final, having been two of the top teams all season.
Should Saracens win I can't wait to see Alex Goode's celebration given his recent form after they won the Champions cup. If you haven't followed the story, the 31-year-old went on a three-day celebration after the final, celebrating in full kit. Boots included. He even still had his mouth guard tucked into his sock. I think the best way to follow the story is by reading the timeline here 
Our Picks
It's Yours!! – Phipps threw a perfectly reasonable pass, but no one really wanted to catch it.
Unexpected play of the week – Phipps conversion charge down
Forwards being backs – Mafi from the Reds on the receiving end of a good cross-field kick goes in to score the try.
Offload of the year – Yep, that's a big call given some of the amazing offloads we have seen, but in my opinion this one tops them all. From Nemani Nadolo over in France. 
Ah Nadolo that is filthy! #montpellier pic.twitter.com/cnMhEpy3He — martin heavey (@martyheavey) May 19, 2019