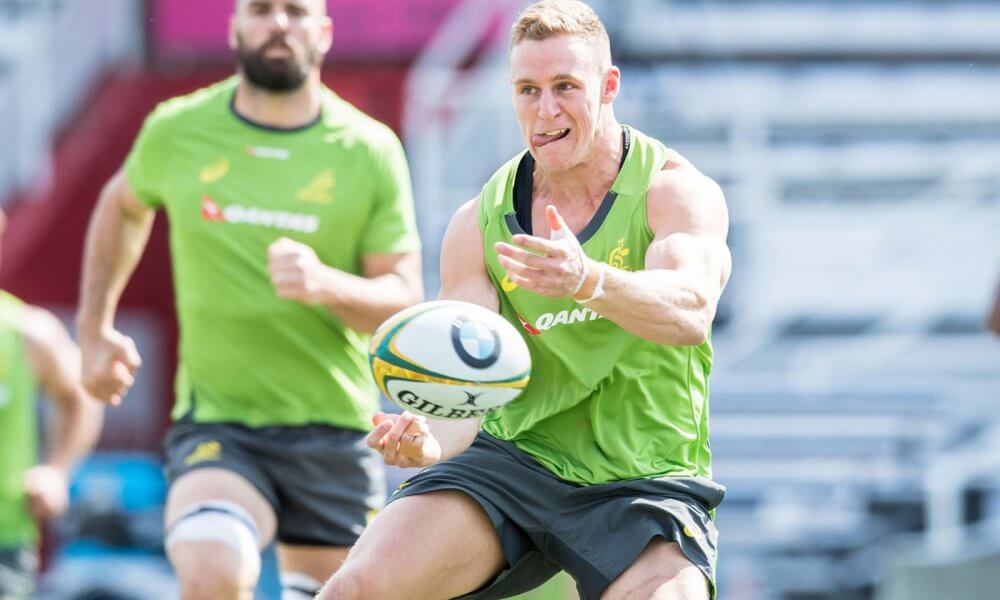 Thursdays Rugby News sees Hodge Banned, World Rugby Apologies, HJH Re-Signed, and Pocock Reflects
---
HODGE BANNED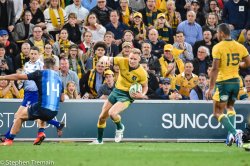 Wallabies winger Reece Hodge will now miss the remainder of Australia Pool matches after he was hit with a three week ban for a high tackle on Fiji's Peceli Yato.

The hearing in Tokyo took four hours before the panel decided that Hodge was guilty of foul play.

The Wallabies have 48 hours to appeal the decision but at the time of this article they have not expressed a plan to do so.

Hodge was initially sanctioned for six weeks, but was dropped to three due to his clean record and good character.

World Rugby released the following statement.

"In considering all the available evidence, including multiple broadcast angles and submissions from Hodge and his legal representative, the committee deemed that the incident was an act of foul play and warranted a red card in line with the high tackle sanction framework," the statement said.

"Given the above outcomes, the committee determined that the act of foul play warranted a red card," the statement said.

"The committee applied World Rugby's mandatory mid-range entry point, which was introduced in 2017 to mitigate the risk of head injuries, which according to World Rugby's sanctions table, carries a minimum six-match suspension.

"Having acknowledged Hodge's exemplary disciplinary record, good character and conduct at the hearing, the committee reduced the six-match entry point by three matches, resulting in a sanction of three matches."

The Wallabies argued that Hodge was the passive tackler in a "soak tackle" and that he turned his head to avoid a head clash, and that it was Yato changing his body height that caused the high contact.

This argument was dismissed completely by the panel.

Hodge will be free to play in the finals should Australia qualify.

Hodge is not the only one to face the judiciary panel this week after Samoan duo Rey Lee-Lo and Motu Matu'u were sanctions for high tackles against Russia.
WORLD RUGBY APOLOGIES FOR POOR REFEREES
World Rugby has made an awkward apology for the poor performance from referees in opening round of the Rugby World Cup.
Teething issues with technology and poor team communication were to blame for the referees and television match officials performance that "were not consistently of the standards set by World Rugby and themselves".
"Following the usual review of matches, the match officials team recognise that performances over the opening weekend of Rugby World Cup 2019 were not consistently of the standards set by World Rugby and themselves, but World Rugby is confident of the highest standards of officiating moving forward," theWorld Rugby said in a statement on Tuesday night.
"Elite match officials are required to make decisions in complex, high-pressure situations and there have been initial challenges with the use of technology and team communication, which have impacted decision-making. These are already being addressed by the team of 23 match officials to enhance consistency.
"Given this proactive approach, a strong team ethic and a superb support structure, World Rugby has every confidence in the team to ensure that Rugby World Cup 2019 delivers the highest levels of accurate, clear and consistent decision-making."
Interestingly though, Reece Hodge's controversial high tackle was not included in the referee review.
It is understood that Rugby Australia have employed the services former Waratah Mitch Chapman and referee manager Scott Young to help coach the Australian referees at the Rugby World Cup. 
Rugby Australia CEO Ralene Castle believes its important to have Chapman and Young work with Angus Gardner and Nic Berry throughout the tournament and offer them support.
"Rugby Australia has been working with World Rugby and supports their recognition that more needs to be done to support the referees, and more alignment between World Rugby and SANZAAR and World Rugby and Six Nations, and World Rugby and other refereeing [bodies]," Castle said. "World Rugby don't have any referee coaches here, at the tournament. So Rugby Australia has paid to bring our referee coaches from Australia up, to support our rugby referees.
"We think it is important and that's the support they get during Super Rugby and TRC [Rugby Championship], so we think that should remain in place for the world's biggest rugby tournament."
HJH LOCKED IN
NSW Waratahs have secured the services of newly capped Wallaby Harry Johnson-Holmes, with the prop signing a contract extension through to 2022.
HJH had a break out season in 2019, as he made the most of Tom Robertson injury and making the starting spot his own.
His performance earned him a spot in the Wallabies training squad, and more front row injuries had him leave his schnitzel dinner and jump on the play to Johannesburg for a Wallaby debut.
NSWRU General Manager of Rugby, Tim Rapp said that Johnson-Holmes had become a valued member of the Waratahs forward pack, and has praised the hard work of the young prop.
"Harry has really impressed since joining the squad in 2018," Rapp said.
"He arrived as a young player with plenty of promise after performing well in junior representative teams, and he's worked extremely hard to entrench himself into the match day squad over the last two years.
"While only early in his career, Harry has shown he can compete with some of the best in [Vodafone] Super Rugby and he'll be an important player for us next season."
HJH was happy to continue his rugby in New South Wales.
"I've been working through the pathways at NSW Rugby for a while now, stretching back to my junior days at the Wanderers in Newcastle," Holmes said.
"To represent my home state in [Vodafone] Super Rugby has been such a privilege, working alongside some great people has been huge for my development as a player.
"I'm learning every day, it's a great environment here at the Waratahs and to be here for another two seasons is something I'm really excited about."
Johnson-Holmes will continue to feature in the NRC for the NSW Country Eagles.
 POCOCK REFLECTS ON ANNIVERSARY OF COMING TO AUSTRALIA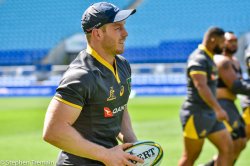 Wallabies Back Rower David Pocock had cause to pause and reflect this week. Not of the past match, or the past month, but of the past 17 years.
It was 17 years ago this week that Pocock's family moved to Brisbane, a move that put him on the path to being a Wallaby.
It was during his junior rugby at Churchie that his then coach Tim Baker suggest that Pocock move out of the backline and into the back row, a position that he has become world class in.
"I am so grateful for the opportunities that it (rugby) has given me," Pocock said.
"I think it was 17 years to the day yesterday that my family arrived in Australia. So, to be at a World Cup with the Wallabies reflecting on that is pretty special."
"I guess you look back and you reflect on how lucky we were to have the opportunity to move to Australia," he said.
"I look at my two younger brothers and we often talk about and think about the sacrifices your parents make.
"We are into our own things and are all doing well but it's your parents who arrive with no super, no cash in the bank, in their 40s and will probably have to work until they can't.
"You reflect on that and what a sacrifice it is for parents to do that. All immigrants have an idea of that."
Ever the true professional, Pocock refined his jackal skills to the point where his position over the ball became instinctive. Much like goal kickers doing extras, Pocock put in his extras over the ball.
"It's like any skill, you are trying to get better at it, more efficient to the point where you are not thinking, you are just responding to what's in front of you," he said.
"It's like anything, if you are a 10 and trying to read what the defence is doing, little clues and body language.
"You are just playing, you are not getting into a game and having to think, 'Oh he's going that way, so I am going to step', you just do it."
"You're doing a huge amount of practice on arriving," he said.
"Arriving there first, arriving there low, and arriving there on your feet, getting straight on to the ball and trying to steal it.
"You're not trying to buy time on the ball on your elbows, you're trying to get in there and be efficient.
"We've been doing a lot of work as a back row and it's something that we'll continue to work on through the tournament."
Pocock is looking forward to the challenge that Wales will bring, with the need for his over the ball talents being high as the breakdown contests become even more ferocious.
"Yeah, you look at the back row they've been picking and are likely to pick, a couple of really good on-ballers," he said.
"It is an area where every team is wanting to put pressure on the opposition and that will be no different for us.
"Working on the timing around that and what we can do to get some pay there in D."