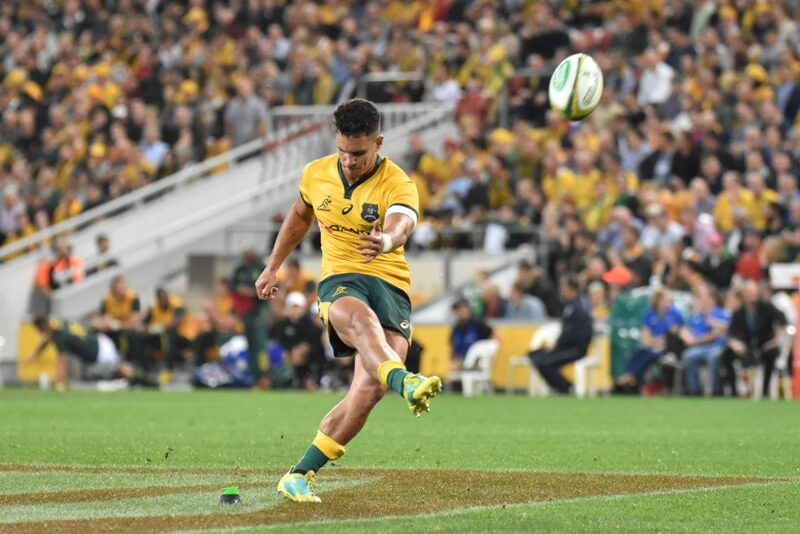 Lest We Forget.
ANZAC Days Rugby News sees Scott Johnson fronting the media, McReight named Captain, Uelese still hopeful of World Cup and Toomua a chance of early return.
---
FORM IS KING: SCOTT JOHNSON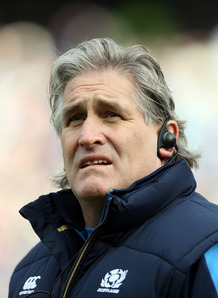 Just like every parent has their favourite child (me), Coaches have their favourite players, who will get picked whether they are worthy of selection or putting in the effort.

This happens at every level of sport, even the Wallabies.

With the Wallabies now having a three-man selection panel it appears some players days might be done with Director of Rugby Scott Johnson saying form is king for all those who wish to play in the World Cup.

"Players pick players and by that I mean if their form is good enough, they get picked," Johnson said.

"If their form warrants it, they get picked. They usually determine their fate. It's the odd choice that we have to split them but if a players' form warrants selection, he will get selected.

"(Combinations) will probably help if form is really close, but the form will be the determining factor. It usually works on the fact the best players get picked."

The Wallabies only have a handful of tests to figure out the squad and combinations, so Super Rugby form is incredibly important. These words give hope to plenty of players out there, often over looked when it was a one-person selection panel.

Players like Locky Mccaffrey and Isi Nisarani haven't played Test Rugby but are in strong Super form, and exiles Quade Cooper and Karmichael Hunt who haven't played for Australia since 2017, could both be on the plane.

Johnson has been impressed with what Australian rugby has had to offer in the way of talent and depth. Not all doom and gloom.

"I have sat abroad and in the cheap seats for 12 years. I have got to get down and dirty and that's what the trip was about," Johnson told media on Wednesday.

"Don't let anyone tell us we don't have talent in this country. We have good talent. It is impressive and I am buoyed by it.

"And the depth is better than I thought from afar. Four teams, it shows there is good talent out there."

Johnson is expected to meet with Michael Cheika soon to discuss the hiring of a new attack/backs coach, Johnson saying they have a few options on the table, with names like Matt Giteau and Brian Smith thrown around.

"We have got names, we are not without choice," Johnson said.
MCREIGHT TO CAPTAIN U20s
It has been a crazy 12 months for Reds flanker Fraser McReight, after debuting for the Reds, he's  picked up three caps off the bench and now being named Captain of the Australian U20s a head of the Oceania Championships on the Gold Coast.
"It's a bit of a whirlwind to be honest, I did not expect any of that to happen," McReight said.
"Last year at this stage I was coming back from injury and luckily Gilly (junior Wallabies coach Jason Gilmore) put faith in me and my first game was at this tournament last year.
"So it was a bit of a whirlwind and to be here where I am today after last year and after having a good pre-season with the Reds and being lucky enough to get a (super Rugby) cap or two is awesome.
"So hopefully we can bring that back and (provide) a bit of experience for the boys and I can't wait."
McReight is part of an experienced leadership group, and with plenty of Super Rugby players in the U20s squad, he was happy to just help mentor the younger player. That didn't stop him from smiling when he was announced as captain of the squad though.
"Any chance you get to lead a side, let alone Australia, is a huge honour, so I can't wait to lead the boys out and do my family and friends and the country and the team proud," he said.
"There wasn't any expectation on me being captain, we have a great group of leaders in the team, but it is pretty special. It's something that I did want.
"And just to do it at home for the first time, I get my mum and dad and my family and friends to come down and watch and I think that's pretty special.
"I have some really good mates in this team that I get to play with, so it's a huge honour."
The Australian U20s squad are preparing for their match against Japan on Friday night, in a tournament that they hope will help build a platform a head of the U20s World Championship in Argentina in June.
"The real goal is junior World Cup, so hopefully by the time we play New Zealand and move into our first game against Italy in June, our combinations are ticking and our form is really on the rise."
TOOMUA A CHANCE AT AN EARLY RETURN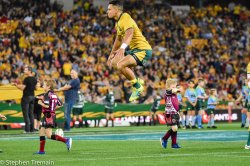 Melbourne Rebels Coach Dave Wessels will be watching the English Premier Rugby very intently to see if one of his star recruits will be back early than expected. 
Matt Toomua, who currently plays for Leicester, could be back in Australia in a fortnight if the English club escapes relegation according to the Wessels.
"In a best-case scenario, Leicester escape relegation, in which case they might release Matt early and he could be arriving within a fortnight," said Wessels. "Otherwise it may not be until the Sunwolves game (in Tokyo on May 25)."
Leicester currently sit at 10th on the ladder with Newcastle eight points behind them. The relegation issues could be decided in next weekend's round with Leicester will play Bristol, one place ahead of them on the ladder, while Newcastle meet sixth-placed Northampton. If Newcastle lose and Leicester win that could be the relegation sorter.
The Rebels have seen a drop in performance as they head into their second bye round for the season, after their first was in round 2, when no one needed a rest. After two defeats in a row, Wessels believes his boys are in need of rest.
"We have been pretty much going the first 10 weeks of the season pretty much continuously," said Wessels in the after he Rebels' loss to the Waratahs on Saturday night. "Part of it is that guys are pretty tired at the moment.
"I thought had we made one or two different decisions on the field, we could have won. What we need is to get away from rugby for a little bit, for a week or so and then we've got another block coming up when he will welcome blokes like Dane Haylett-Petty, Jordan Uelese and Gus Cottrell back."
Toomua coming in could provide a vital rest period for new Rebel Quade Cooper, who has played every minute for the Rebels this season. Though Cooper and Toomua offer a difference in playing styles, the versatility of the two class fly halves is something the Rebels have never had in their time.
 UELESE STILL PUSHING FOR THE WORLD CUP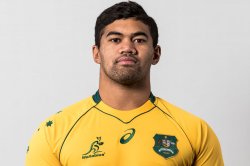 Despite not playing Rugby for almost 12-months, Melbourne Rebels hooker Jordan Uelese is still optimistic he can make it into the Wallabies squad for the World Cup.
A bloter in 2017, Uelese suffered an ACL injury followed by an infection in 2018 that slowed the momentum he built, after picking up two caps for the Wallabies. The injury hasn't slowed down his desire to don the gold again.
After a lengthy stay in the rehab group, Uelese has "tick a few boxes" at training next week before he could be back playing.
"I'm hoping that that hooker spot is still up for grabs and I feel like I've got a lot to give and want to push my claim for the World Cup," Uelese told reporters at a Wallabies program a Melbourne school on Thursday.
"Having so much time off I've had time to work on the rest of my body and I feel I'm in the best shape I've ever been in my life."
The No.2 spot for the Wallabies is still up for grabs with no one being able to fully stack their claim. Reds Brandon Paenga-Amosa, Brumbies Folau Fainga'a and veteran Tatafu Polota-Nau  all played hooker for the Wallabies in 2017 along with Tolu Latu, but it is still anyones game.
Rebels starting hooker Anaru Rangi has been one of the in form hookers in Australia but has not found favour with Cheika or the Wallabies selectors.
Uelese said the form of Rangi, and Melbourne's other hookers Robbie Abel and Hugh Roach, has motivated him in his comeback.
"Having the hookers we've got at the Rebels means I haven't had to rush my recovery, so it's been a blessing in disguise," he said.
"I'm grateful to have the competition there to push me to get better."