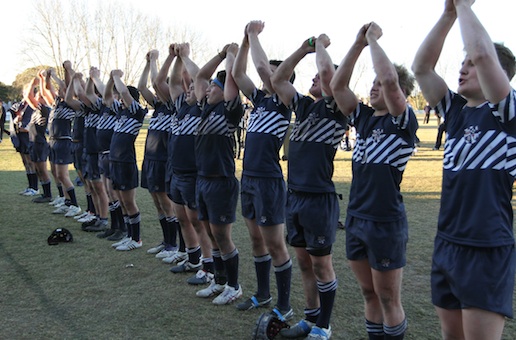 Shore hosted Riverview for a fantastic game of rugby in which both teams were well matched across the park. It was a lively atmosphere, with the lead changing several times throughout the match.
Shore 25 – Riverview 19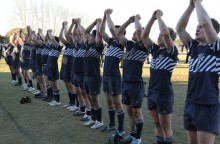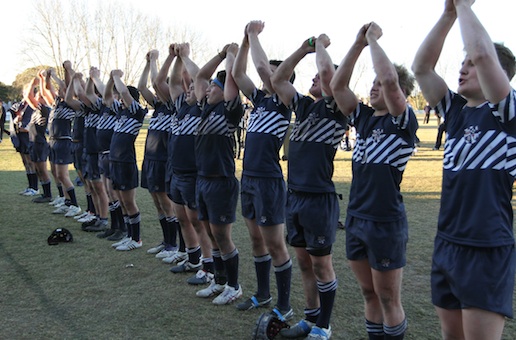 The scoring
Shore started well crashing their way to the Riverview's line until they knocked on. Riverview then drove their way up to the field and (14) Molloy found himself in open space on the 22, and ran into score. View 5-0 after 10 minutes. 5 minutes later (12) Davies slotted a Shore penalty to make it 5-3 to View.
For 10 minutes both teams had good spells of possession, but had injury setbacks with Shore's (5) Rickard and View's (4) Rorke suffering injuries which ended their games. Then (6) Dempsey of View was sin binned.
Shore sucked in the View defence down the blindside then spun it wide to (14) Oldham, who did well to finish a try after losing his footing. The conversion made the score 10-5 to Shore after 25 minutes. Just before half time View was awarded a scrum on Shore's 5 metre line. (10) Lyons put (12) Gerrey-Burgess through a hole ; he crashed through cover defence and stretched to score a try which was converted.
Half time – Riverview 12 – Shore 10.
Riverview's backline continued to look dangerous into the second half and (10) Lyons passed to (13) Redden (I think) who crashed through to score under the posts. View were leading by more than a converted try, 19-10, with 25 minutes left to play.
This seemed to be the point where Shore started to muscle up in defence and attack, playing with great ferocity and aggression. Defensive pressure immediately after the restart caused (10) Lyons to drop the ball. (12) Davies of Shore kicked it forward, got it back then looped it over to his centre partner (13) Arnold. He ran 30 metres down the sideline outpacing Riverview's outside backs to score in the corner in the 46th minute – just 1 minute after Riverview had scored. Davies then kicked a great conversion from the sideline to bring the score back to 17-19. Game on !!
Shore retained the ball from the restart and worked their way up the field with (10) Clancy setting up hit ups. Then Clancy got the ball on his 22 and ran around the Riverview defence down the right sideline. He looked isolated but stepped back inside and flicked a pass to (8) Buckling, who had wrapped around him. He scored near the corner post – great try. Shore 22-19 with 19 minutes to play.
Shore handled the restart again. After some pick and drives (13) Arnold broke the line, ran the length of the field and chipped over the fullback. However (11) Freeman of View beat Arnold to the ball and kicked it into touch. Shortly afterwards Shore were awarded a ruck penalty on the 30, and (12) Davies slotted the penalty. Shore 25-19 with 10 minutes left to play. Riverview needed a converted try to win.
It was from here on in, that some of the most exciting schoolboy rugby I have ever watched, was played. Riverview regathered the ball from the kick off, and worked their way up the field through (8) Whiteley and (12) Gerrey-Burgess who were dangerous for the rest of the match. Shore defended their line heroically for 5 minutes and once had to hold up Riverview over their line with 5 left to play. The crowd was silent as Shore just seem to make the last tackle, time after time.
With two minutes left, Shore received a penalty for Riverview not releasing the ball. They kicked for touch, then regathered the lineout ball and held on until the final whistle to win an historic match. Shore were the victors 25-19.
Overall
Riverview probably shaded Shore at the breakdown but it was a pretty even contest, with both teams stealing each other's ball. You would think Riverview would be more dominant in this area but I guess Rorke's injury and Dempsey's sin binning didn't aid their cause. The set pieces were even and both sides kept their own ball. Riverview's backline looked dangerous when they got the ball, and made consistent metres, but not many clean line breaks. Shore the opposite, struggling to make metres through the crash ball, but making a number of line breaks.
Riverview
Anyone who says that Riverview played poorly yesterday would be kidding themselves. Straight from the start it was clear that they were looking to restore their pride. I know that they've had a lot of injury problems, but their team played very well. A shame for them to lose Rorke as well as Redden later on.
They played well at the end, doing all the right things to try and get the winning try. They were just unlucky to face a team that was so resolute in defence. I think they took their opportunities when they were presented, and shut down a number of Shore goal line attacks. They could have won yesterday, and are an outstanding team. But I think Shore deserved it perhaps 1% mores due to the outstanding period of defence before the buzzer.
Players to Watch
(5) Hunt, made good metres and seemed to really come alive when his partner Rorke left the field. Best forward from View today for me.
(8) Whiteley, was well contained in the end, but certainly looked dangerous every time he got the ball. I am particularly impressed by the way he was able to get involved in the backline plays. An incredibly skilful forward.
(10) Lyons, ran his backline well, linking up well with Burgess. He looked dangerous with ball in hand and was unlucky to not break the line more.
(12) Gerrey-Burgess looked threatening and made metres through crash balls. He also scored a good try before half time driving the Shore players over the line with him.
Shore
It was an amazing performance at the end. You had to be there. For 10 minutes they held Riverview off their line, holding them up over the line twice. Their backline played their best game of the season, slicing through View's defence a couple of times and again scoring and setting up all tries.
Players to Watch
(4) Fishburn, made countless tackles, one such shaking Whiteley for a period of time. He was one of the key men who kept out Riverview at the end. He also carried the ball well throughout the match.
(7) Woodhill, the year 10 boy continues to impress me with his amazing consistency. Doesn't put a foot wrong and seems to get involved in every breakdown. He can steal the ball and carries the ball particularly well.
(8) Buckling, faced the challenge of containing View's big three and played outstandingly. He carried the ball well and kept driving them back at the end of the match.
(13) Arnold, made an impressive break from his own 22 that almost lead to a chip and chase try. He also showed his speed when he gathered the ball from a Riverview knock on to outpace View's outside backs to the line. However, I think the most impressive thing yesterday was his tackling. Riverview's backs looked dangerous every time they got the ball, but his low tackling style was able to contain them and also made several key tackles in that last 10 minute period. Man of the match for me.
Also a huge rap to Shore's 2nds (8) Shepherd, who had to play three quarters of the match when he ran on for Rickard. He played particularly well in defence and made several powerful carries.
Conclusion
A setback for Riverview, its going to be hard for them to pick themselves up, particularly after losing some key players again. I think they played outstandingly yesterday, defending their line well, and fought to the end but were unlucky to meet a Shore team that was so determined to hold them out. They still have the capacity to beat any team in the competition, and I'm sure they will relish the opportunity to knock over Kings next week, and perhaps beat the favourites for the premiership undefeated Newington in their last match.
Well, the doubters were proved wrong again, by an incredibly determined Shore side. I think the difference for them this year is that they have solid players across the entire team. Their pack is ferocious and works extremely hard, and what their backline lacks in size makes up for in effective tackling technique and speed.
At the start of the season many were backing them to only come away with one victory over Grammar. Now they have beaten the Schoolboy studded teams of Kings and Riverview and find themselves equal with Newington with three rounds left to play. Admittedly, its uphill from here, facing their two biggest challengers for a title in Newington and Scots, and then facing a traditional rival match at St. Josephs which is always an incredibly tough match. However, yesterday's match proved that their victory over Kings wasn't a one off performance, and sent a message that This year, Shore is serious.
Shore – 25 – Tries: C. Oldham, R. Arnold and C. Buckling. Conversions: S. Davies (2), Penalties: S. Davies (2).
Riverview – 19 – Tries: T. Molloy, S. Gerry-Burgess and J. Redden? Conversions: B. Freeman (2).
Referee: Steve Hardy
Crowd: 1500