In a competition of nine sides, five now sit in a logjam at the top of the table. Ipswich, Nudgee, Toowoomba, TSS and BGS each have had a single loss; Ipswich and Nudgee are tied for first only because they've played an extra match and are yet to have their bye.
With every result crucial, each side will be taking even greater than usual interest in other results for the remainder of the season.

Toowoomba Grammar School v Ipswich Grammar School
Ipswich Grammar, leading the competition after four rounds, journeyed up the range to take on Toowoomba Grammar at high altitude. Kicks certainly flew further in the country air, though only in one direction – the teams ran out to a strong, gusting wind running straight down the ground.
The adage that forwards determine the result, and backs the margin does not always apply as faithfully to junior (and especially schoolboy) rugby. Players at varying stages of development play in a competition of teams of varying professionalism and, ahem, resources. In this match however, the adage was perfect.
Both sides have benefited from strong performances up front week in week out, and sprinklings of class across both sets of backs made for a fantastic match of schoolboy rugby.
After a fast, instense start, Toowoomba were the first to open their account, with a good forwards try in the third minute cutting through some soft Ipswich defence.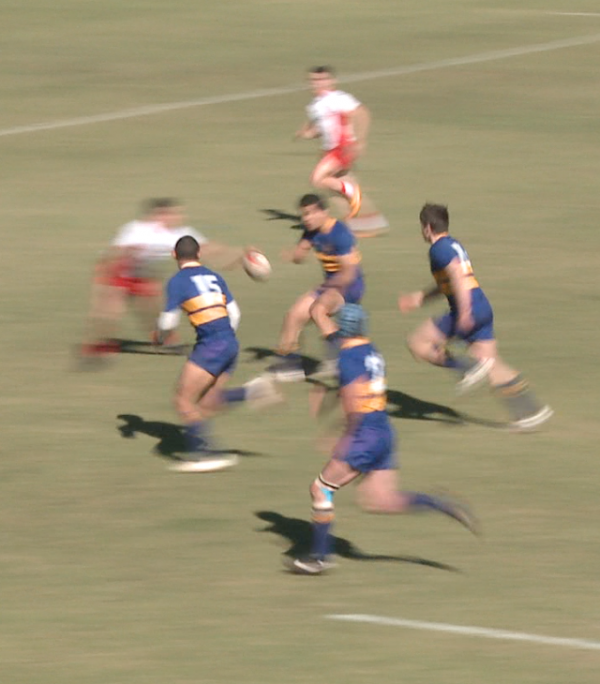 Ipswich were however quick to hit back, using their ever-strong scrum as the platform to run a simple but well-executed set play from just inside Toowoomba's half. 11. Thomas McKitrick got over in the corner. 5-5 in the eighth minute.
A half hour's arm wrestle ensued. TGS were unlucky to have a try denied for a deemed forward pass in the 17th minute, though even that play came from a sudden break from within their own half – no sustained dominance was had by either side.
The breakdown contest was fierce, and calculated. While neither side committed too heavily, those men that did get stuck in made their presence felt – the country boys were playing tough rugby, while Ipswich sought to steamroll another opposition pack. Neither team could get any regular quick ball.
Things were a little less even out back. QLD Schoolboys rep 9. Adam Deck (TGS) was being kept quiet by strong Ipswich defence around the breakdown, making things even harder for the men outside him. Barring 15. Jonah Placid's consistently impressive runs, Toowoomba were largely unable to break the Ipswich defensive line despite some promising attacking movements.
Though behind 18-5 at half time (Toowoomba scored another try through the forwards), Ipswich were looking strong. With good go-forward, their backline looked dangerous. 12. Mikaele Tela was running good lines at pace and was keeping the Toowoomba defence busy.
Delivering on this potential, Ipswich got over the line early in the second through the enormous 3. Latham Takau – in the same minute and on the same patch of grass as Toowoomba's effort in the first half.
After another period of intense battle, Toowoomba hit back for a try and soon received a penalty as well – as 9. Deck ran in to take his shot, the ball blew off the tee. Calmly breaking from his approach, he bent down and with the barest glance at the posts, drop-kicked the penalty in the stiff breeze. 26-17.
In the final ten minutes, Ipswich crossed for two good tries – the first off a stolen Toowoomba lineout and the second after a sneaky break by 10. Aaron Adcock, scored by 13. Landon Hayes. The score narrowed to 26-22 with only a few minutes to go. It was game on.
Gaining a penalty from well within their own half, Ipswich 4. Jack Parcell (yes, a lock) kicked for the line. With the wind at his back, the ball crossed touch well down field, a mere 12 metres from the TGS line.
After a few promising phases, the ball was spoiled and it went back for an Ipswich penalty. 3. Takau lined up to charge into the Toowoomba line, but his services weren't required. Looking at the Takau and not the ball, Ipswich 2. David Harris made a meal of the quick tap, knocking the ball forward.
Full time, 26-22 to Toowoomba and and a traffic jam at the top of the table leading into the pointy end of the competition.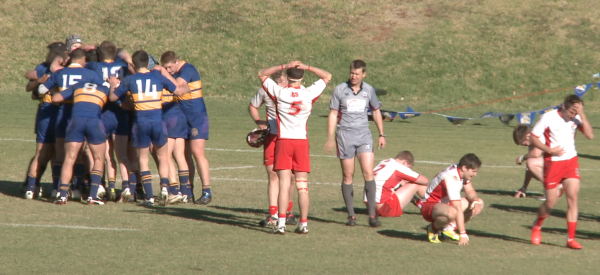 Brisbane Grammar School v Brisbane Boys' College
After a string of close and disappointing results in past weeks, BBC took to the field on a mission. Being a genuine chance in the competition after some strong showings, Grammar would have been looking to string together another solid victory, this time against the Collegians.
With the Ekka wrapping up that night, only one fireworks display was expected in Brisbane on Saturday. Spectators at Grammar's Northgate playing fields however saw some of their own. In a high-tempo, high-scoring affair, Grammar were able to come from behind to continue BBC's woe, winning 51-37.
From kickoff, it rapidly became clear that neither side was especially keen to commit men to their opponent's breakdown – a tactic that wasn't to change for the entire match. This being the case, both sides got consistently quick ball.
This allowed for the enthralling match that ensued, with both sides playing enterprising rugby and showing great willingness to throw the ball around.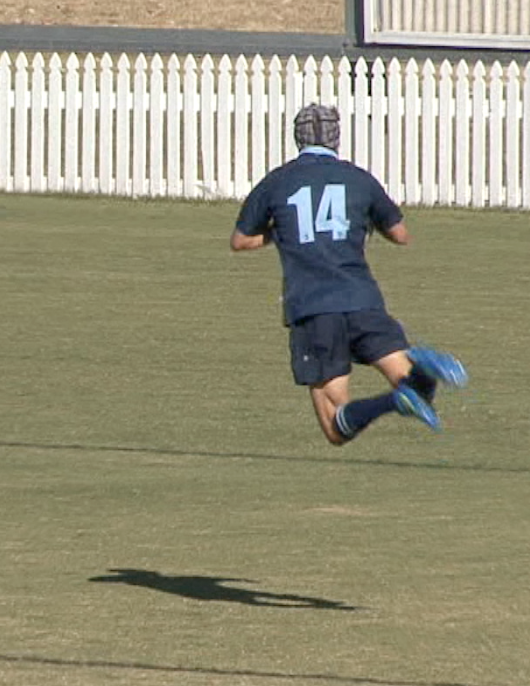 Grammar opened proceedings with a try in the fifth minute, with some good support play allowing a try under the posts. BBC 15. Josh Bowyer's occasional defensive frailties were shown, with his miss of a bread-and-butter cover tackle gifting BGS the try under the posts. 7-0.
BBC soon hit back with a good try, starting with an intercept and finishing down the other end, Bowyer redeeming himself with a try in the corner. 7-5.
After a penalty to Grammar, BBC were able to run in a further two tries. The first was scored through a clinical rolling maul – fast becoming BBC's favourite move this year – and the second was a great team effort, featuring some very quick hands a pinch of luck with the sideline. Half time, 22-17 to BBC.
First up tackles had been key. Grammar were largely solid in defence, being able to quickly reform their defensive line each phase ready to absorb BBC's next attack. Rarely were forwards caught napping by fleet-footed backs, and similarly no back was trounced by a charging forward runner.
BBC too had been largely good in defence, stifling some promising Grammar movements and stopping a number of runners, head of steam and all.
The second half was [even more of] a try fest, with seven scored in 35 minutes (and two penalties kicked for good measure).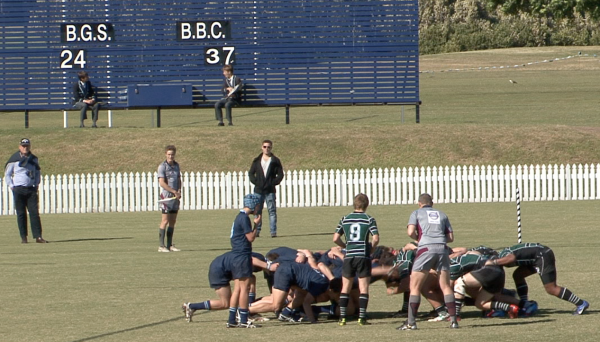 Twelve minutes into the half, BBC had drawn out to lead 37-24 with some opportunistic tries, including one from the scrum base to 9. Mikey Dyring. Grammar had zoned out and BBC were able to capitalise.
This wasn't to last for long, however. After thirteen uncharacteristically quiet minutes, the game again opened up. BBC were found wanting out wide, with Grammar running in a good try off the back of some enterprising running by their outside centre.
With a man in the bin after a deserved yellow card for a shoulder charge, BBC quickly unravelled. First up tackles were missed and their defensive line quickly degraded, with poor spacing and frequent instances of an individual man rushing up at the wrong moment. Grammar ran in three quick tries in the final six minutes, coming from behind to score a strong 51-37 victory.
It was a fast-paced contest won by the more alert side. BBC were often disorderly and, despite missing some key men to injury, played away from their forward strength of recent weeks.
Other Fixtures
Nudgee College convincingly trumped Gregory Terrace in their annual grudge match, winning 50-13, while TSS were similarly able to account for State High 46-12.
The final four rounds will be great viewing as the top five stare each other down. With a number of big matches still to come, it's anybody's comp.