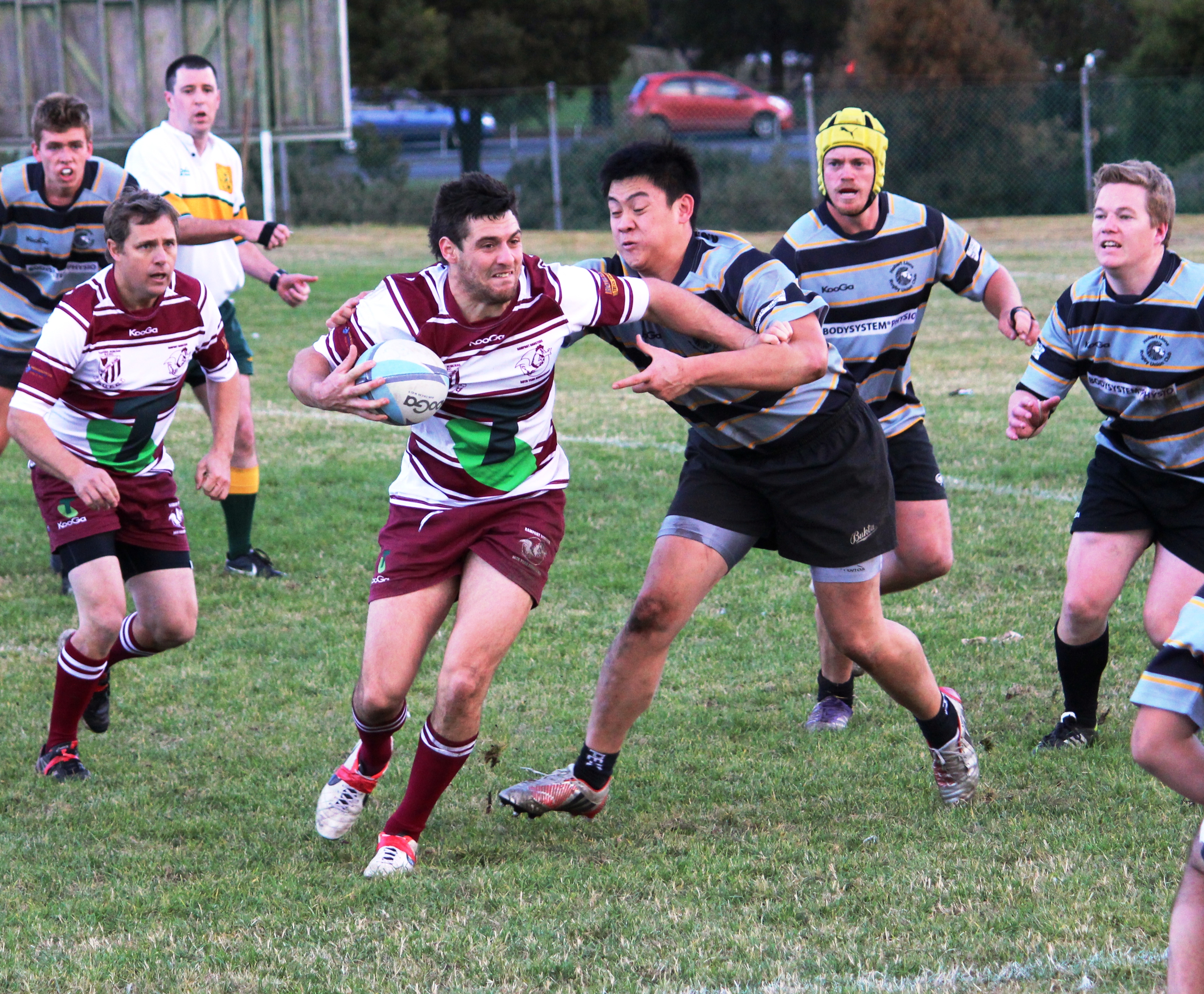 ROOSTERS RUN RIOT AGAINST LACK-LUSTRE LIONS
Eastern Suburbs Roosters produced decade-best performance in subduing Hobart Lions 36-22 at Rugby Park in Hobart, confirming the promise of a revival that has built throughout the season.
Led by barnstorming Rob Casboult, ably supported by Phil Barry and Marc Whitfield amongst a host of tidy performers the Roosters weren't headed, two late tries to Hobart's Ikwhan Sallih reducing the margin as the Lions laid siege to Easts tryline, being denied several tries by last ditch defence.
'We trained hard this week and to our credit the players climbed a mountain today', said Easts mentor Brett Bourke, observing his side dominated for all but the first and last 10-minute periods of the second half. 'We contested well at the breakdown and continued to play our game.'
'They wanted it more than we did', admitted Hobart's Derik Clack as the 22-3 half-time margin reflected a lack of possession, despite the Lions taking the second period' Sallih, Mark Playle and Jon Clack featured strongly for the Lions.
Taroona Penguins took 35 minutes to settle against University before easing to a 40-5 winning margin. Sam Lowe, 100-gamer Andrew Wicks and Charlie Holmes stood out for the Penguins and veteran back Chris Noble showed class in a return to the top grade. University lost skipper Brady Gower early, followed by secure scrum-half Matt Tehau later, but were well served by Jack Beattie and Brad Doran.
Glenorchy Stags staged an unheralded return to the four with a 50-15 defeat of Burnie Emus at Eady Street in Glenorchy, despite a threadbare 16-man squad. Josh Dorahy, Dan Aualiitia and Bryan Watt were industrious for the Stags whose discipline and defence improved in the second half to run in five of their 8 tries. 'Our forwards played very well, and we could get a couple back next week', said Stags coach Shannan Banks. Burnie's best were Hamish Howe, Rhys Weber and Jack Colburne but their set pieces failed to match a courageous performance in the loose.
Second-placed Hobart Harlequins had to resort to running a penalty after the bell to outscore Launceston Bees 24-20 in a heart-stopper at Royal Park in Launceston, the lead being exchanged several times. The final play saw Quins player of the match Fale Atileo skilfully position Sunia Ma'afu and preserved Harlequins undefeated status. Luke Brooks and Jeff Altmann provided plenty of forward grunt for Quins. Although disappointed at the Bees being outlasted coach Ray Burgess said' It was a physical game played in good spirit, but our discipline cost us.' Harley Lyons, Colin Montgomery and Michael Hafaifonua played strongly for Launceston.
Devonport Bulls weren't extended beyond the 30 minute mark by AMC Vikings, with Mark Meo scoring five tries and multiple goals in their 57-7 win. Courtney Harris and Luke Bryan were also dominant for the Bulls. Tom Scarfe, Michael Fox and Jon Pini were AMC's best.
Scores round 7:
Eastern Suburbs 36 def Hobart Lions 22
Taroona 40 def University 5
Glenorchy 50 def Burnie 15
Harlequins 24 def Launceston 20
Devonport 57 def AMC Vikings 7
Ladder after round 7:
| | |
| --- | --- |
| Taroona | 30 |
| Harlequins | 30 |
| Devonport | 27 |
| Glenorchy | 17 |
| Launceston | 15 |
| Eastern Suburbs | 15 |
| AMC Vikings | 14 |
| University | 13 |
| Hobart Lions | 13 |
| Burnie | 6 |