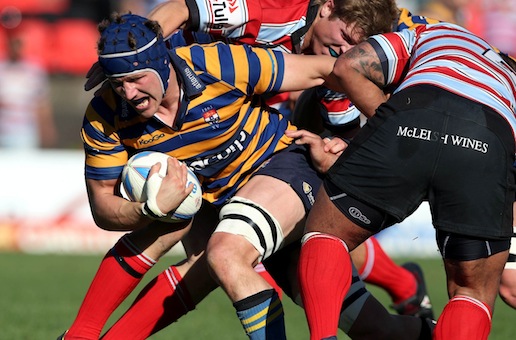 Forshaw Rugby Park will this Saturday host a rematch of the 2012 Shute Shield Grand Final, as undefeated Southern Districts host reigning premiers Sydney University.
The game will be littered with stars with seven HSBC Waratahs due to take the field, with Jed Holloway, Lopeti Timani, Grayson Hart and Ben Volavola playing for Souths and Tom Carter, Michael Hodge and Tom Kingston on the field for Uni.  It will also be broadcast live on both ABC1 TV and covered on Radio 2UE's Weekend Sports Today program with Paul "Fatty" Vautin and John Gibbs broadcasting live from the ground.
After a flying start to the 2013 season, Souths – who come Saturday will sport black armbands and observe a minute's silence in memory of Trish Douglas – sit comfortably atop the Shute Shield Ladder having won six out of six games against some tough opposition.
However, with four of Souths' last six games having been won by less than three points, Rebels head coach Cameron Blades recognises how important it is for his team to keep its guard up for the full 80 minutes to come away with the points.
"Nothing needs to change for us to beat Uni this week," Blades said. "Their bounce back against Norths last week only proves to us that if we want to win this game we need to play for the whole 80 minutes.
"Against a team like Uni you can never assume that the game has been put to bed, last year's final proved that to us. They will put pressure on us in the tight and it's up to us to control the result," he added.
Away from the grunt of the forwards and in the wide open spaces, Blade expects the commanding presence of HSBC Waratahs' rising star Ben Volavola to provide "a massive lift against Uni's well-drilled backs". According to Blades, the athletic fullback will offer added "strength, power and direction" to the Souths' backline.
On the opposing side of the pitch and despite a shaky start to the season, the Students enter the game off the back of a convincing 41-13 win against Northern Suburbs last week. As such, they will have gained some much-needed confidence ahead of this weekend's venture south.
Furthermore, with the likes of Carter and Kingston offering additional flair and speed to an already classy backline, the students are expected to be dangerous out wide.
"Last year will have no reflection on Saturday's game," Blade said of the 2012 Shute Shield Grand Final. "Uni always bring high standards but we both have completely different teams, it's a new season and an opportunity our boys have been looking forward to."
Also on Saturday, Randwick are away at North Sydney against Northern Suburbs, Penrith host Manly at Nepean, Warringah are at home to West Harbour, Parramatta are up against Eastern Suburbs at Woollahra and Gordon face Eastwood at T.G Millner. All of the games are scheduled to kick off at 3pm.
As always, the 2013 competition will be broadcast live on ABC1 throughout NSW and the ACT on Saturdays from 3pm. Interstate viewers can watch a full replay of each week's Shute Shield game at 3.30am on Tuesday mornings on ABC1 nationally and rugby fans everywhere can catch all the action online at anytime on ABC iView.
You can also catch highlights of every round on the ShuteShieldTV channel on YouTube.
Words by Nathan Roye. Photos from www.seiserphotography.com
Shute Shield Round 7 matches
Southern Districts v Sydney University @ Forshaw Rugby Park (3pm)  
Southern Districts: 1 Duncan Chubb, 2 Stephen Fualau 3 Tim Metcher, 4 Andrew Leota, 5 Jed Holloway, 6 Luke Smart, 7 Jono Hayes (C), 8 Lopeti Timani, 9 Grayson Hart, 10 Rohan Saifoloi, 11 Alex Gibbon, 12 Apo Latunipulu, 13 Denny Godinet, 14 Ollie Ngungutau, 15 Ben Volavola.
Sydney University: 1 Alisdair King, 2 James Willan, 3 Sam Talakai, 4 Sam Jeffries, 5 Liam Winton, 6 Tom Boidin, 7 David Hickey, 8 Tim Davidson (C), 9 Jake Gordon, 10 Stefano Hunt, 11 Greg Jeloudev, 12 Tom Carter, 13 Michael Hodge, 14 Tom Kingston, 15 Alex Rokobaro.
Referee: Angus Gardner
Penrith v Manly @ Nepean Rugby Park (3pm)
Penrith: 1 Peter Niumata , 2 Kerren Straker, 3 Nigel Vaifale, 4 Tyrone Emelio, 5 Sione Pusi Fifita, 6 David Reopoama, 7 Adam Barrington, 8 Willie Tooala, 9 Siaa Taveuvu (C), 10 Fokolulu Taumalolo , 11 Paula Katoa, 12 James Umu, 13 Wilson Silipa, 14 Keori Okati, 15 Campbell Hislop.
Manly: 1 Andrew Collins, 2 Dave Porecki, 3 Tim Fairbrother (C), 4 Dave Shotton, 5 Phoenix Battye, 6 Harry Bergelin, 7 Kotoni Ale, 8 Dylan Sigg, 9 Adam Crerar, 10 BJ Hartman, 11 Richard Hooper, 12 Joe Christie, 13 Brian Sefanaia, 14 Damien Reti, 15 Marshall Milroy.
Referee: Anthony Moyes
Northern Suburbs v Randwick @ North Sydney Oval (3pm)
Northern Suburbs: 1 Nick Lah, 2 Will Weeks, 3 Karl Truijens, 4 Matt White, 5 Chris Thomson, 6 Ben Matwijow, 7 AJ Gilbert (C), 8 Hugh Sinclair, 9 Liam Walker, 10 Scott Daruda, 11 Corey Brown, 12 Chris Tuatara-Morrison, 13 Bill Meakes, 14 Blake Murray, 15 Liam Windon.
Randwick: 1 Faitotoa Asa, 2 Nio Halangahu, 3 Richard Aho, 4 Geoff Ingram, 5 Lai Vatadroka, 6 Seilala Lam (C), 7 Tom Conor, 8 Peter Samu, 9 Harrison Boileau, 10 Cayden Matehaere, 11 Timothy Wright, 12 David Horwitz, 13 Terrence Hepetema, 14 Rennie Lautolo, 15 Ethan Ford.
Referee: Richard Goswell
Warringah v West Harbour @ Pittwater Rugby Park (3pm)
Warringah: 1 Ben Ryan, 2 Luke Holmes (C), 3 Wayne Borsak, 4 Ben Adams, 5 James King, 6 Sam Ward, 7 Mark Porpigilia, 8 Boyd Killingworth, 9 Joshua Holmes, 10 David Harvey, 11 Brad Dixon, 12 Michael Adams, 13 Dylan Smouha, 14 Conrad Gillingham, 15 David Feltscheer
West Harbour: 1 David Lolohea, 2 Reg De Jager (C), 3 Vaughan Lomax, 4 Alfred Pinomi, 5 Chris Simons, 6 Matt Coles, 7 Cohen Masson, 8 Vaka Manu, 9 David Osofua, 10 Jack Debreczeni, 11 Tito Mua, 12 Winston Wilson, 13 Henry Seavula, 14 Alofa Alofa, 15 Dylan Taikato-Simpson.
Referee: Nathan Pearce
Eastern Suburbs v Parramatta @Woollahra Oval (3pm)
Eastern Suburbs: 1 Sione Kolo, 2 Alex Walker, 3 Clay Brodie, 4 Keliti Vaingalo 5 Richard Stanford, 6 Andrew Shaw, 7 Ryan Hodson, 8 Pauli Taumoepeau (C), 9 Luke Irwin, 10 Henry Hudson, 11 Damon Anderson, 12 Angus Sinclair, 13 Apakuki Ma'afu, 14 Anton Lavin, 15 Will Fay.
Parramatta: 1 Nick Blacklock, 2 Myles Hunkin, 3 Luke Troy, 4 Charlie Leaeno, 5 Adam Coleman, 6 Josh Kaifa, 7 Rodney Ma'a, 8 William Tuitupou, 9 Troy Lobendahn, 10 Sam Yakopo, 11 Damien Fakafanua, 12 Tukia Muli, 13 Dan Yakopo, 14 Moses Tavola, 15 Sosene Anesi (C).
Referee: Tim Wills
Eastwood v Gordon @T.G. Millner Field (3pm)
Eastwood: 1 Marty Plotstys, 2 Hugh Roach, 3 Dylan Brass, 4 Steve Cummins, 5 Mitch Lees, 6 Gareth Palamo, 7 Hugh Perrett (C), 8 Sione Tau, 9 Shanin Proctor, 10 Jimmy Hilgendorf, 11 Nick Batger, 12 Tom Hill, 13  Michael McDougall, 14 Nick Reilly, 15 Ben Batger.
Gordon: 1 Tobias Gukibau (C), 2 Jim Handlin, 3 Willy Maumalanga, 4 Seb Murphy, 5 Mark Johnson, 6 Andrew Turner, 7 Gordon Broome, 8 Jono Broome, 9 Terry Preston, 10 Erik Moss, 11 Vesi Tokalaulevu, 12 Tom Mathews, 13 Mark Preston, 14 Richie Williams, 15 Mitch Walton.