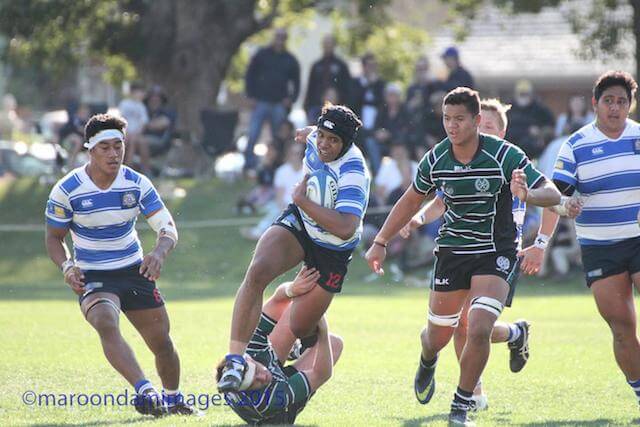 GAME OF THE ROUND: BBC at Nudgee College (10-39)
TheKing
Green and Gold Rugby wishes to thank Maroon Dam Images for supplying the images showcased below. For more of John's work from the match, click here: https://www.flickr.com/photos/maroondamimages/albums/.
Nudgee devastated the premiership ambitions of BBC 39-10 at their Ross Oval fortress in Round Four of GPS Rugby, winning the inaugural Halley Appleby Memorial Cup.
In a match universally predicted to go down to the wire, Nudgee blew the pre-season favourites out of the water in a timeless display of Rugby might.
A terrifying defensive front from the home side pressured BBC into committing 13-knock-ons through 70-minutes of play.
A perhaps ill-advised short-kicking game from deep within BBC's half helped gift-wrap an overwhelming territory and possession advantage to their hosts.
Nudgee's forwards were a class above their BBC counter-parts, rolling through the defensive line like a German Panzer division.
Much like the All Blacks, visiting teams on Ross Oval need to out-bully the the perennial premiership-hopefuls, but the BBC defence lacked the sting required to halt their charge.
BBC and Australian Schoolboys coach Stephen Phillpots was blown away by the clinical performance from Nudgee College.
Phillpots said: "Obviously they were a very good Nudgee side, they certainly turned up today.
"Their speed of execution and speed at the breakdown recycling the ball got us early on, and they put points on the board.
"It was tough for our boys to adjust to the speed of the game. 
"Obviously we made a lot of mistakes particularly with our catch-pass and knock-on … you can't keep turning the ball over, giving them more opportunities to attack us," coach Phillpots said.
Nudgee College coach Gerard Alexander was quick to assert that the high error rate was a product of his side's defensive tenacity.
"I think that the pressure was from us," he said.
"We've tried to play like that and cause errors, so we've done it against every team we played so far.
"Toowoomba Grammar made heaps of errors, and again last week we forced Grammar into making heaps of errors as well, so I hope we can keep doing that for the rest of the year.
"I'm just so proud of the effort, we knew BBC would be very, very hard to beat having only lost to Southport 17-15, and we've had a few injury concerns, so I'm really proud of how we played," said Mr Alexander.
Nudgee struck within the first few minutes, taking the lead out to 10-points when BBC No.8 Ben Gunter was penalised for laying out the biggest hit of the year.
BBC firmed up in defence for the next 10-minutes by holding Nudgee out by the skin of their teeth, eventually winning a turnover on the try line after 20-phases on the line.
The defensive effort was all for nought when captain Darcy Tai'mua-Swain fumbled his pick and drive cold in-goal, untouched.
Nudgee won a penalty and kicked for the line, driving their rolling maul over for Reece Hewat to score Nudgee's second.

BBC winger/halfback Kris Verevis chipped and chased out his 22 following the re-start, allowing centre Tony Hunt and wing Brendan Malala to combine on the left wing in counter-attack to stretch the lead to 22-0.
BBC's fifth knock on of the half, the third from inside their 22, set up winger TJ Meni for Nudgee's final try of the half.
Nudgee opened their second half account with a well-worked lineout move, sending a runner crashing through the 5m channel to take the match to 34-5.
Nudgee's success was built upon simple rugby, executed to perfection.
BBC's 10th knock-on of the match preceded Nudgee's final try, rolling the scoreline up to 39-5 with minutes to play.
A long Jayden Ngamanu run from fullback sparked BBC's final scoring play, with Rockhampton product Conor Christensen pick and driving for his side's second.
Nudgee captain Reece Hewat was incredible throughout the match, demonstrating his class in every involvement – most notably in his tackling, carrying and lineout prowess.
Hewat said: "It was amazing [to get the win].
"I think we've finally found our rhythm again, those first few games we were quite rusty but I think we've found ourselves today.
When asked how his side was faring approaching the home stretch, Nudgee coach Gerard Alexander commented that: "we had this game, then Churchie and Southport who are the two undefeated teams as well as us (Ed. note: Churchie had lost to Toowoomba Grammar moments earlier), so we've still got a hard road ahead."
Nudgee play Churchie at home next week in a potential banana-peel fixture – Churchie have the most success at Ross Oval of any team over the last decade.
BBC will lick their wounds against potential wooden-spooners Brisbane State Home at home next week.
Fulltime: 39-10