Monday's Rugby News Sekope Kepu is an idiot Sekope Kepu is an idiot Sekope Kepu is an idiot Sekope Kepu is an idiot Sekope Kepu is an idiot.
---
Kepu is an idiot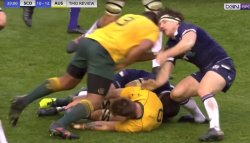 Sekope Kepu, officially the world's dumbest footballer, after overtaking Sonny Bill Williams with his red card on the weekend, may miss out on a few Waratahs games next season.
It may be a while until Kepu learns how long he's suspended for, as the Wallabies planned to fly out from Scotland today. So, neither can Kepu go to the disciplinary panel in person, or say hi via video link.
Last time a Wallaby got carded – Samu Kerevi against Ireland 4 years ago – they were suspended for 5 matches (for a lifting tackle).
Michael Cheika admitted that the red card was justified, but in the post-match press conference questioned whether the intent was there.
"The player when you watch him, his back leg slips underneath him, so he gets lowered, he goes low, lower than where Kepu is aiming … that's where the contact was made but there's no intent for Kepu to go there," Cheika said (according to the SMH).
"That's seen by the player not even going to the HIA [Head Injury Assessment], it's not a strong hit. He gets back up and keeps playing. The impact of the contact is not hard. I don't think there's any complaints."
Cheika also doesn't think Kepu's red card meant the end for the Wallabies.
"I don't think it was the story of the game," Cheika said. "I thought we still could have won with 14 to be honest.
"We came back and started off the second half very well. We just had to keep believing in what we wanted to do and instead we didn't.
"It's definitely unfortunate but definitely not the red card [that cost us]. That happens in matches. I don't think it was a turning point."
Cheika Not In trouble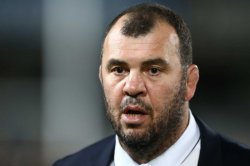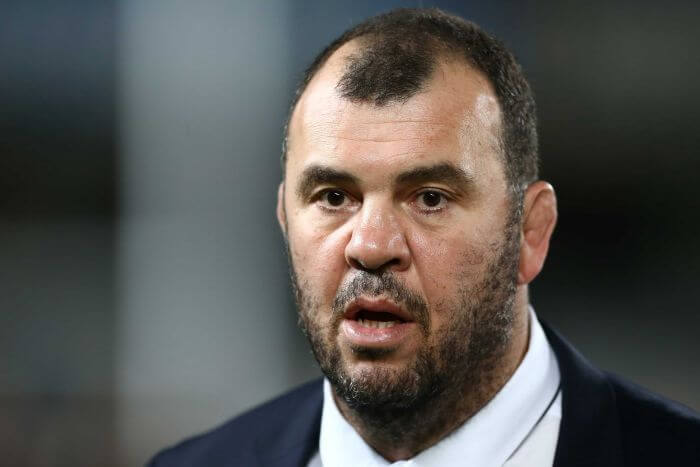 World Rugby hasn't pinged Michael Cheika for saying "f*cking cheats" while watching the England game, presumably because they got someone in who can actually read lips and knows what a voiceless palato-alveolar affricate looks like. Or, they came to the conclusion that he had a camera shoved in his face and whatever he was saying was said in private. Who knows.
The Autumn International Disciplinary has, according to ESPN, only wagged their finger at Cheika and told him to curb his effin' and jeffin'.
"Mr Cheika and the Australian Rugby Union cooperated with the investigation, which has now been completed," a statement read.
"In light of Mr Cheika's explanations of his conduct, his clear understanding of the need to protect and promote the interests of the sport, and his open apology for any offence caused, the Disciplinary Officer for the Autumn Internationals [in consultation with World Rugby] has decided not to pursue any disciplinary proceedings against Mr Cheika.
"The Disciplinary Officer has, however, urged Mr Cheika to be aware of the risks during matches when he knows he will be being filmed and potentially broadcast, and where possible to moderate his conduct and language accordingly. Mr Cheika has accepted the position."
Wessels 14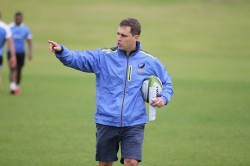 The Force are slowly animorphing into the Rebels, with Dave Wessels announcing his backroom staff will be joining him in the Universal Capital of Sport.
Joe Barakat, who will be Wessels' assistant, former Tah Shaun Berne and Perth Spirit coach Kevin Foote will all make the move, reports Rugby News.
"We set out to establish an elite professional rugby environment at the Melbourne Rebels and feel that we've been able to assemble a world-class staff of top coaches and performance staff," Wessels said.
Likewise, with this announcement, Zane Hilton (assistant coach) and Morgan Turunui (backs coach) will be leaving the Rebels. Hilton also coached the Melbourne Rising, leading them to three finals in a row. Turunui will hang around the joint as an ambassador, until the end of the year.
"I want to take the opportunity to thank Zane and Morgan for their contribution to the Rebels, both have provided signigficant leadership and player development in their respective roles," Melbourne Rebels CEO Baden Stephenson said.
"Along with his work as forwards coach, Zane will leave a lasting legacy for Victorian rugby with his unwavering commitment to the development of local talent through his work with the Dewar Shield and Rising program.
"Morgan has been a wealth of knowledge and experience for our young group over the last 18 months and has played a key role in the development of key backs, including Wallabies Reece Hodge, Marika Koroibete, Sefa Naivalu and future Wallaby Jack Maddocks."
Weekend Action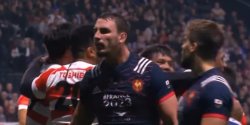 This weekend was the end of the official November test window. Wales will play South Africa next weekend, but apart from that, that's it. It's been a tough year to decide who the worst team from a Tier 1 side is – the Crab Juice Cup – with Australia, South Africa and France all putting their hands up, as are perennial favourites Italy.
The biggest clash was probably Wales – New Zealand, with the Kiwis overcoming Wales 33 -18. Wales seemed to do okay, pinning the All Blacks back in periods – 30 minutes in, according to rugby.com.au, they had made 11 tackles while the ABs had had to make 81. The ABs suffered a yellow card in the 68th minute, and were *only* 8 points ahead with 10 minutes to go.
The biggest lol of the round, outside of the Wallabies, was France's 23-23 draw with Japan, which might console Australia fans with the fact there's a worst team than the Wallabies. The Japanese scored a try to level the scores in the 73rd minute, but unfortunately they didn't hit the conversion to take the lead. The draw ends France's 5 defeats in a row, but yeah shit. France looks a mess.
In other news, Ireland beat Argentina (they've lost all their games this year, bar one haven't they?), England pumped Samoa, and South Africa slapped Italy. GAGR's own Georgia pipped USA 21-20, Chile thumped Germany 32-10 in Germany, Tonga beat Romania 25-20 away, Fiji belted Canada, and Uruguay beat Namibia, in Namibia, again.
Results:
Wales 18 New Zealand 33
Italy 6 South Africa 35
Ireland 28 Argentina 18
France 23 Japan 23
England 48 Samoa 14
Georgia 21 USA 20
Romania 20 Tonga 25
Fiji 57 Canada 17
Germany 10 Chile 32
Namibia 34 Uruguay 39