Well, happy Monday to you all G&GRs. A long weekend and the start of daylight saving, that wonderful institution where we divide our country even further. Mind you in Queensland that extra hour of daylight will fade the curtains and confuse the cows as to when miking time is 🤣! But let's kick our day off with a review of the weekend's games and then examine our divided union.
*Note – This Daily News summary was written before South Africa v Tonga and Portugal v Australia.
Japan 28 defeated Samoa 22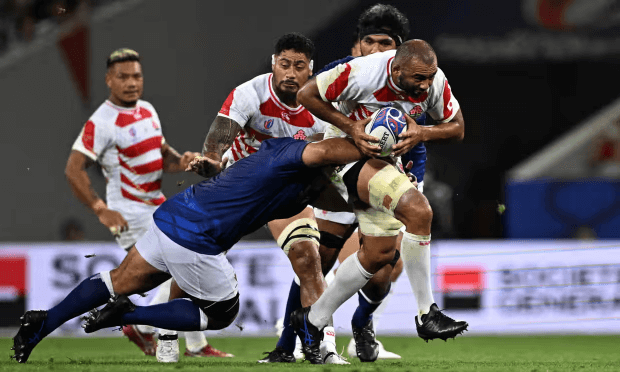 See Nutta's excellent match Preview and Review here.
Six points were all that separated a plucky Samoa and the Brave Blossoms in what can only be described as an enthralling Rugby World Cup contest that threatened to rearrange Pool D. For the third time in Bill history the Japanese team defeated a gritty Manu Samoa to keep their hopes of a quarter final berth alive. Japan wound up winners 28-22. Although a depleted Samoa certainly put in a do-or-die effort and nearly stole the chocolates with 14 men at the death. Certainly worth watching the full replay on this one.
New Zealand 96 defeated Italy 17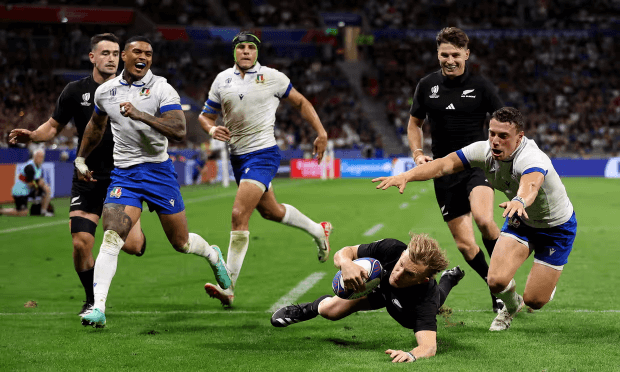 See KARL's G&GR match report here.
New Zealand slammed down 14 tries to destroy Italy 96-17 for a bonus point victory in Pool A and moving one step closer to the quarter-finals. The Nearlies, with lock Sam Whitelock celebrating a record 149th All Black caps, showed no mercy as Will Jordan ran in two tries, Aaron Smith three, Mark Telea and Ardie Savea two tries, Brodie Retallick, Dalton Papali'i, Dane Coles two tries, Damian McKenzie and Anton Lienert-Brown scoring singles with all but one converted by Richie Mo'unga with nine conversions and McKenzie four.
Itlay managed to clock up a few points banging down two tires, as it appeared that En Zud were starting to take their foot off the gas.
Fiji 17 defeated Georgia 12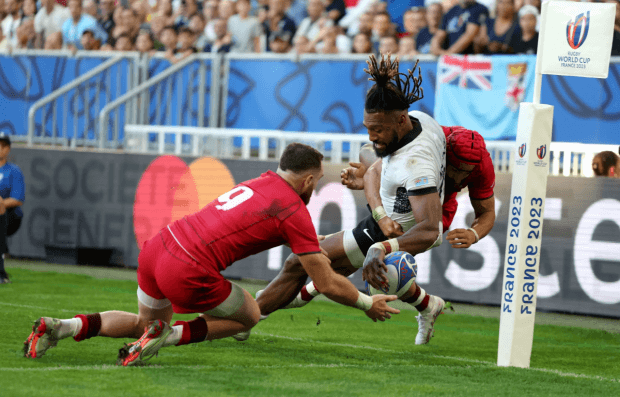 See my match report here.
In summary, Fiji made really hard work out of this one. They seemed rusty and lacking their usual cohesiveness. The Georgian defence was immense and their kicker Niniashvili demonstrated some serious chops. Worth watching just to see his 62 metre shot, nailing it!
Argentina 59 defeated Chile 9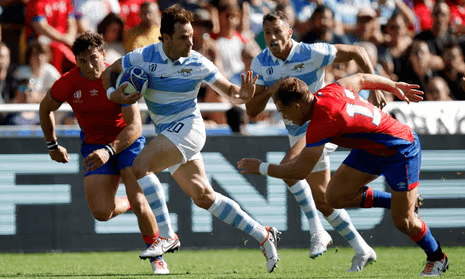 See Nutta's G&GR match review here.
Argentina banged down eight tries in a 59-5 bonus point smashing against a spirited Chile in Nantes in western France. This sets up a crunch match in Pool D against the Brave Blossoms next week for the remaining quarter-final spot.
Scotland 84 defeated Romania 0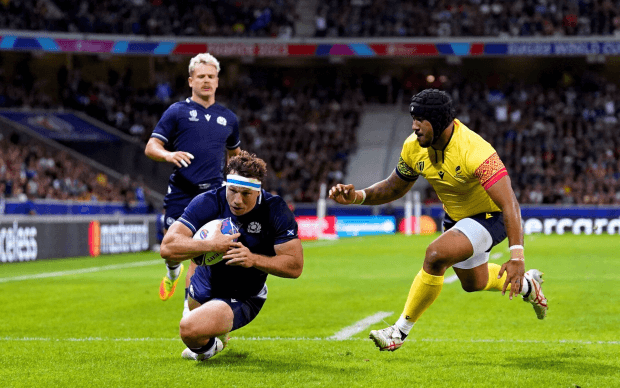 See Yowie's G&GR match report here.
If there were doubts about Scotland's ability to step it up a gear prior to their much anticipated clash with the Oirish, yesterday's performance should help to relieve some of those. The Scots rested 13 of their usual starters but still managed to rack up 12 converted tries, 11 of them converted by Ben Healy, who also scored a try for a personal tally of 27 points in his first World Cup game.
The Divided Union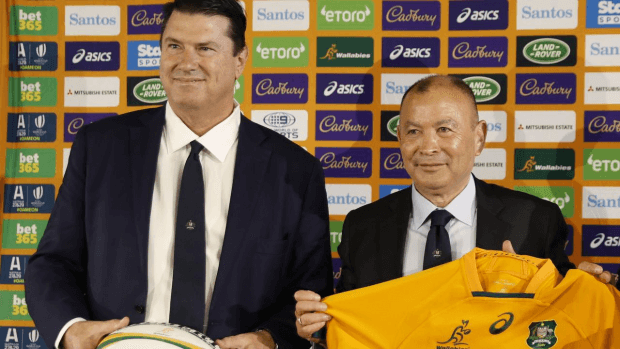 Since the Wallabies embarrassing defeat to both Fiji and Wales, there've been many articles calling for the sacking of Eddie Jones and Hamish McLennan, including G&GR's own here and here. In parallel to these articles there've been numerous others calling for them to remain and stay the course. Some were from the usual suspects, others not so. But when even Alan Jones seems rational and is putting forward sound arguments and logic, then you know the world, or in this case, the Australian rugby world, has gone to hell in a handbasket!
We're in a period where Australian rugby is in a truly weak position. Diabolical. Lowest world ranking in the history of the game, poorest financial state, lowest levels of support for the game, and even where the rusted-on are questioning their support for the Wallabies and RA.
RA is looking to centralise the game, and out of all the crap things RA has thought of, proposed or done, this one is the one that actually needs to happen. Here in lies the rub. RA, particularly the Chairman and CEO (as well as the Wallabies coach) are now in the weakest position possible. In a time when we need them to have authority to enact the change required, they simply don't have it. And the state unions know it and will use it to defy and deflect from centralising. The cry so far has been along the lines of "We aren't handing control over to these lunatics"! And to be honest it's hard to argue with them.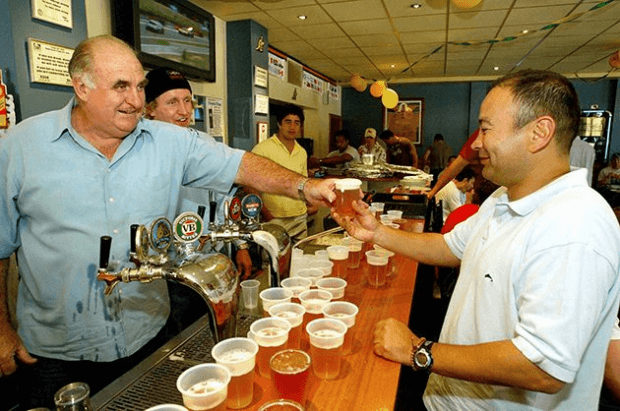 I personally wouldn't let Eddie or Hamish organise a piss-up in a brewery at the moment, they'd even manage to screw that up! So what do we do? Good question well asked. And to be 100% honest G&GRs, I don't know the answer to that either. But we do have to centralise; our game lacks the players, resources, structures, and pretty much everything else to move forward and develop into a position of strength. But let's not kid ourselves, after watching the AFL Grand Final on the weekend, we will never achieve those lofty heights. We are never going to have Super or club teams that are averaging 76k per home and away game. So where do we want to go?
That needs to be the question. How do we get there? Fark knows? But working independently and in most cases pulling in opposite directions isn't ever going to help achieve anything. In a time when we need to unify, a time when we need to take stock and work out where we are headed having a chairman and a board that most people don't trust, or don't want to work with, won't help us achieve this.
If I was King for the day, I'd get a retiring Gillon McLachlan and beg him to help us. He understands club football. He understands supporters and the requirement to keep them as one of the most important tenets of the game. He understands grassroots and getting kids into the game early and keeping them there. He understands commercial realities. In short just the person we need. But I'm not sure this challenge is something even he'd want to touch with a 10ft pole.
Anyway, hope you enjoyed the read, and enjoy your Monday. Have at it.
BL Out!