Well happy Monday G&GRs and what an exciting round 3 of RWC. Some great matches out of this round, and potentially we saw a preview of the World Cup final. Also, some massive injury news could greatly affect the hosts' chances. A couple of cricket score type games balanced out a few of the nailbiters to make this a really exciting round. I'll also round out Monday's news with a stunning piece of arrogance from RA and Hamish 'The Hammer' McLennan.
*Note – This is written before Scotland v Tonga and Wales v Australia.
France 96 defeated Namibia 0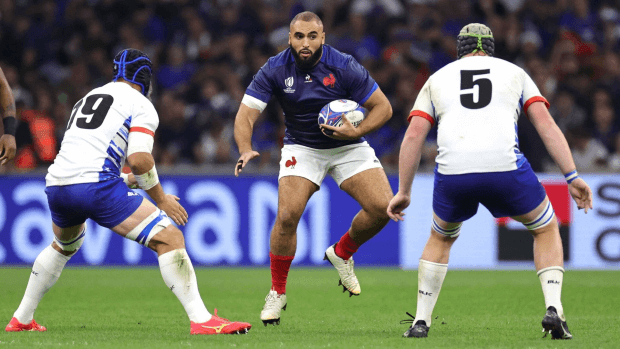 Read Eloise's excellent G&GR game report here.
In what may turn out to be one of the most consequential games of RWC 2023, we saw France knock up a cricket score against poor old Namibia. This game's importance, however, has nothing to do with the score and more to do with the injury count. The Namibian Captain copped a 'shiraz' for a head knock with Antoine Dupoint that has fractured the French No. 9's cheekbone. Initial reports are saying the talisman for Le Froggies is likely to be out for 4-6 weeks, which could be catastrophic for the Les Blues.
I 100% agree with Eloise's summation: some people don't like watching one-sided baby seal clubbing! But this game is worth watching just for the flair behind some of the French tries. Magnifique.
Argentina 19 defeated Samoa 10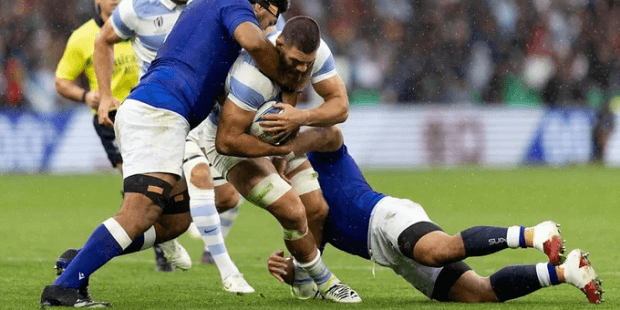 Read Nutta's game report here.
In a game played in fairly poor conditions compared to the last two weeks, Los Pumas finally got the job done against Samoa. The pure weight of possession and territory by the Michael Cheika-coached Argentinian team sapped the life out of the Samoans. In a vital match for both teams, the Argies were much improved over the dross they served up in their last game.
Ireland 13 defeated South Africa 8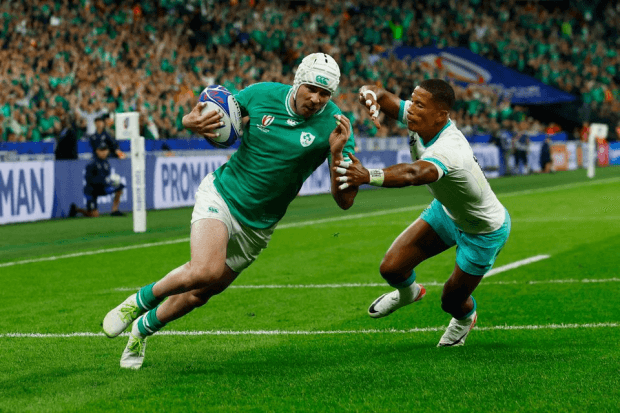 Read GoldyLocks's GAGR match report here.
Well G&GRs, I got up early for this one and was damned glad I did. In what easily could have been the RWC final, this match was an absolute belter. The Saffas started off at a breakneck pace only to throw the ball over the sideline. Closely followed by the Oirish duffing four attacking lineouts in the first 15 minutes. The game settled down into a very tight, and forward-heavy game. The Irish continued to bash away with their tight five, with a very clever close passing game.
The Saffas had their chances, but their inability to take points with the boot, combined with their ability to hang onto the ball in attack due to Irish turnovers, cost them the game. The Irish played a very smart and concise game plan, and the Dutch Dirt Farmers will be ruing the fact they could've won this game but missed the moments that counted. This game is definitely worth watching the full replay.
England 71 defeated Chile 0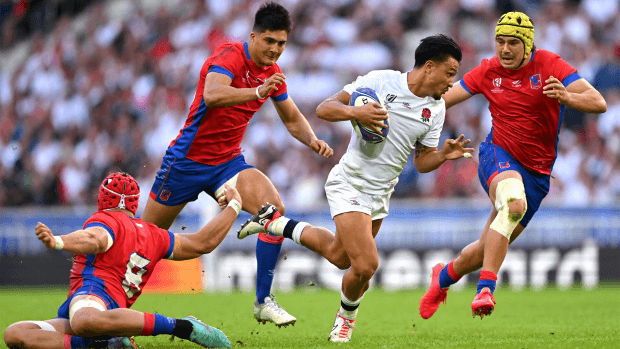 Check out Keith's (our resident Tasweigan (and an ex-Soap dodger) match report here.
The Soap Dodgers World Cup campaign is picking up some momentum after coming into the campaign as total bin juice. After a five-try outing from Henry Arundell and a few moments of sublime skills from Marcus Smith, this author thinks that this might not be the last time we see him at 15. The England team will head for their week off in a happy and contented mood.
Georgia drew with Portugal 18 All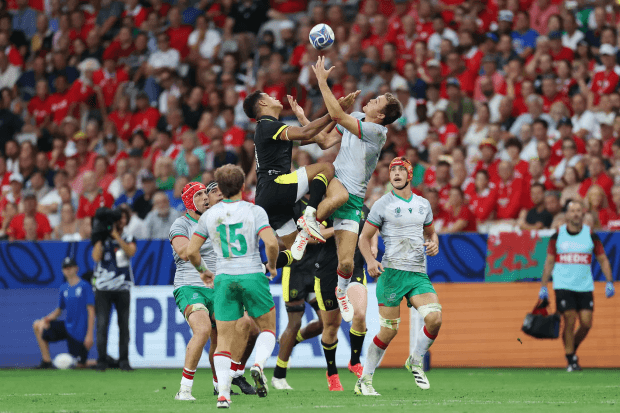 See Yowie's detailed G&GR match report here.
Well, it had to happen eventually, but we have the RWC 2023's first draw. Georgia and Portugal definitely dished up an RWC 23 nailbiter, as their Pool C match finished with an 18-18 scoreline at Stadium de Toulouse on Saturday. Portugal started off with two Raffaele Storti tries, and looked like they would ice Portugal's first-ever World Cup win, but a last minute try by Georgia's Tengizi Zamtaradze with just under two minutes from the whistle pulled the teams level. Luka Matkava ended up missing the conversion and Portugal blew a last-gasp penalty kick at goal that would have secured the win. A cracker of a game, well worth the 20 minute package.
Hamish McLennan Demonstrates His Utter Arrogance and Contempt for Wallabies Fans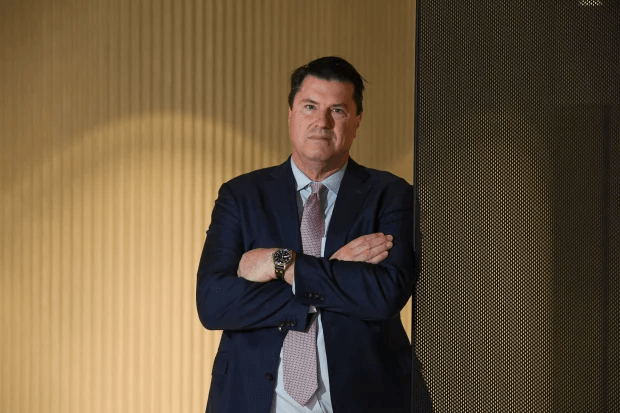 In an article in SMH by Tom Decent found here, the Chairman of RA demonstrates how completely out of touch he is with those who pay his wages, us fans! In a complete tone-deaf statement, Hamish tells all of us Wallaby fans "that if you don't like it, don't watch!" In clear signs that it isn't just Eddie and the players that are feeling the heat, Hamish "I don't care as long as I get paid" McLennan is as well.
RA took a massive risk at the beginning of the year by sacking Dave Rennie, who still had one year remaining on his contract, paying it out, and then replacing him with Jones. Who, by the way, RA had to pay a motza on a five-year deal for one of their Randwick old boys. McLennan led the decision process and negotiated the deal, and will be the one that should be held responsible when it inevitably turns to custard.
In addition to this, McLennan has fairly and squarely laid the blame for the 22-15 loss to Fiji last week on the previous 20 years' incompetence at RA. Considering he's been in the job for three years this is a statement of utter arrogance. I am sure that Hamish thinks that all Wallaby fans are complete idiots. This statement is without a doubt what we military people would refer to as 'preparatory fires'!
"Preparatory fire, delivered before an attack to weaken the enemy position"
These statements, and similar ones made by Jones in the last week, are definitely there to prepare the way for if the Wallabies lose against Wales on the weekend, and the masses turn on them. And turn on them they will, have little doubt about that! "It wasn't our fault, it was the people before us! We are just trying to fix the last 20 years of dross!" That'll be the tune these two pied pipers will try and weave for us rugby fans to dance to. I don't know about you, G&GRs, but I'm not buying it.
Now G&GRs, don't for a second think that I'm saying that there haven't been 20 years of shite decisions and turd sandwiches for Australian rugby that has been dished up by RA. But that really doesn't bear too much relevance on the Australian team's performance at this RWC. Hamish and apparently RA have fully endorsed Eddie's RWC 23 plan. All in with youth! Ditch experienced players and game makers! Play a game plan of complete stupidity of kicking away possession at every opportunity. There were plenty of educated rugby types who raised legitimate concerns with Eddie's selections, and there've been plenty of educated rugby types who've raised concerns with the Wallaby's execution of these poor plans. But they've been shot down as 'nay-sayers' who aren't supporting the team, and people who don't understand Eddie's brilliant 'masterplan'.
To be honest, it's hard to be a Wallabies fan. But to be a Wallabies fan at this World Cup has been particularly hard. We are seeing the outcome of a stupid plan that even blind Freddy could've spotted from miles away. "Yes, it's disappointing what happened, but we're firmly fixated on 2027!" Hamish stated! Really? WTF? We aren't even trying to win our games at this World Cup?
This is a pre-emptive raising of the 'White Flag'! To admit that they got it totally wrong, and are now using the rest of the RWC as a test bed for players and combinations. Who cares that there are 10s thousands of fans watching the games as long-term Wallabies supporters being totally disrespected? Who cares that there are hundreds of Wallaby fans who saved for years and travelled to France for the spectacle of RWC23, to support their team, only to have this shite dribbled out in front of them. I'm sure they would've loved to've known this before slapping down their hard-earned and flying 22 hours to Europe, that this was going to be Eddie and RA's plan. Thanks for that, really appreciated RA! And what really should be of concern to World Rugby, is the utter disrespect that this shows to the other nations and fans attending this event that Australia wasn't even prepared to show up with their best players and try to be competitive.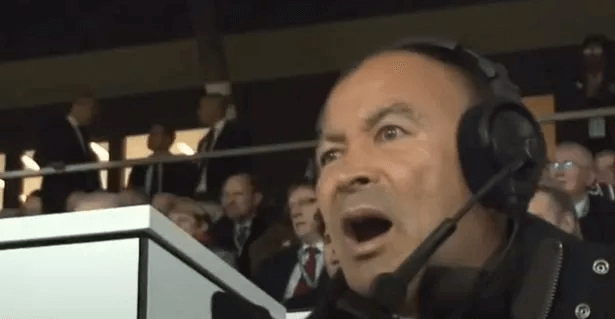 The utter arrogance of RA and Eddie Jones to think that they can play Wallaby fans for complete and utter fools! Do they think we're that rusted on that we'll hang around? I'm not sure! Did I think that we were going to win the RWC this year? No! Did most Wallaby fans think that? Probably not! But going there with such a bizarre plan and way out of left field selections has demonstrated that Eddie and RA were never serious to begin with. Or if they genuinely believe that this plan was serious then they're completely delusional and shouldn't be anywhere near professional sport.
There are now significant rumblings from within the Wallabies camp alluding to the fact that Jones won't be at the helm by the next RWC, if not even sooner. If this is the case, I'm pretty sure Hamish "It is all part of my master plan" McLennan is going to come out and say this was always going to be the case. In addition to this, there are articles stating that Eddie has had job interviews with Japanese rugby in the lead-up to this Bill!
Whatever the truth is, and whatever eventuates, what I know for certain is all of us rugby fans are being treated like mugs. As the saying goes "Fool me once, shame on thee; fool me twice, shame on me!" I'm not going to be fooled a second time!
Over to you G&GRs! Have at it!