Friday's Rugby News features Wallabies gongs, Larkham's new disposition, a trimmed down Will Skelton and Clive Woodward on that Lions tour.
---
[one_half last="no"]
Awards Awards Awards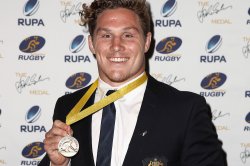 Australian rugby has its annual awards night last night, and boy did they hand out some awards.
Michael Hooper won the John Eales Medal, the biggest and shiniest prize on offer, being voted the best player in Australian rugby. It's Hooper's second win, and the first time in three years that Israel Folau hasn't won.
"I hope I can keep playing and staying on the field." Hooper told rugby.com.au,  "I've had a really good run, being able to stay on the field and like I've been saying. it's so much fun, it's something you're chasing to do all the time. I've had a good run at it, I want to keep that trend up."
Hooper also scooped the People's Choice Award for the fourth year in a row. David Pocock and Bernard Foley came 2nd and 3rd in John Eales Medal voting, respectively.
Dane Haylett-Petty won the Wallabies' rookie of the year award after finishing 6th overall in the John Eales count in his first year, while Sean McMahon claimed the best Super Rugby player and Reece Hodge was the Super Rugby rookie of the year.
Charlotte Caslick won the Shawn Mackay award for best female sevens player, and Ed Jenkins – who is stepping down as sevens captain so Lewi Holland, aka Mr Charlotte Caslick, can step up as captain – won best male sevens player.
On the other hand, Stephen Larkham won coach of the year while his Brumbies won team of the year.
[/one_half][one_half last="yes"]
Larkham Leaving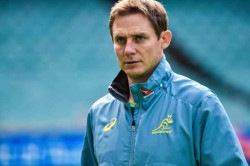 In what might be music to Brumbies fans – or not – the Canberra Times is reporting that Stephen Larkham is set to leave the Super Rugby franchise for the Wallabies at the end of next year.
It seems that Larkham is quitting his day job to become a full-time assistant coach at the Wallabies in the two years leading up to the 2019 World Cup in Japan. Currently, Larkham is working one-and-a-half full-time jobs with his responsibilities at the Brumbies and the Wallabies.
As the article writes, "The Brumbies have endured a turbulent year off the field and Larkham's looming absence will leave a massive hole at an organisation that has already lost chief executive Michael Jones, captain Stephen Moore, team manager Ben Gathercole and Wallabies Matt Toomua, David Pocock and Joe Tomane."
The article also notes that Michael Cheika has been chasing Larkham for a while, but given the Brumbies turmoil, Larkham was reluctant to leave the Brumbies in the lurch. This early announcement gives the Brumbies a year at least to find a new coach.
Larkham has been in the Brumbies coaching set up since 2011, and head coach since 2014.
[/one_half][one_half last="no"]
Helton Skelton
Returning from injury and in the spring tour squad, Will Skelton has told the SMH that's he's raring to go.
He's admitted to the paper that he "wasn't in a good place" during this season, after having surgery on his shoulder and rocking up to the Waratahs unfit and out of shape.
"I wasn't in a good place during the Waratahs season," Skelton said. "I didn't think I managed it [the injury] well coming back from last year. I tore my pec [muscle] so I had maybe six weeks in a sling. Then getting back into things it was quite slow because I had to take my leave as well. [At the] beginning of the year I started slow and then it's picking up now.
"I've started this new diet and it's been working really well. Just being more efficient with my food, not eating at the wrong times. It's not a major change but my body's felt really good."
Skelton is now a rather sprightly 140 kilograms and wants the world to know now that's he's feeling like that Helter Skelter song sounds.
"Cheika rewards guys who train well during the week so that's my focus," Skelton said. "I haven't been in the squad for the last couple of weeks but that's going to be my focus over there; train really well and put my best foot forward.
"A lot of players go through it [setbacks] in their career … I've wanted to hit some goals this year and I've felt I've hit them off the field. Now it's up to the selectors and the coaching staff to put that faith back in me."
[/one_half] [one_half last="yes"]
Woodward Would
Something which might give a bit of perspective on the Michael Cheika project is what Sir Clive Woodward said what he would have done differently in his career. Pundit Arena reports that Woodward has opened up on the disastrous Lions' tour of New Zealand in 2005 that crashed and burned.
"We lost a test series 3-0. It was an amazing All Blacks team," said Woodward. "[Dan] Carter was at his best, they had Tana Umaga. I can use all the excuses but if the Lions record had been that we'd gone there 12 times and won 11, I'd be pretty despondent about it.
"Was the tour team united? I think it was, we just lost three test matches. Was the actual squad okay? We had no front page news, no stories of bad behaviour or all that sort of stuff, we had some really shocking injuries headed by Brian's [O'Driscoll], which I think cost us dearly."
A big difference Woodward notes is that he felt he found success with England (Clive became Sir Clive after winning the 2003 World Cup) because he knew every player inside and out and had time to build a culture.
"It probably took us two or three years before we really started to establish a culture," Woodward said of his English team. "But certainly by 2000 I was confident of every person sitting in the room. I can't praise Martin Johnson, [Lawrence] Dallaglio enough, because they got it. They were amazingly tough individuals but they also understood the importance of creating this culture, especially when you have players coming from 12 different clubs with all different cultures."
Woodward feels he abandoned the approach that made him so successful with England, when he coached the Lions. "I wasn't myself because there were a couple of players, that had they of been English, they would have been on the plane home," Woodward added. "Very, very quickly. They just didn't fit…I totally wish I had sent them home."
The interview can be found here.
[/one_half]