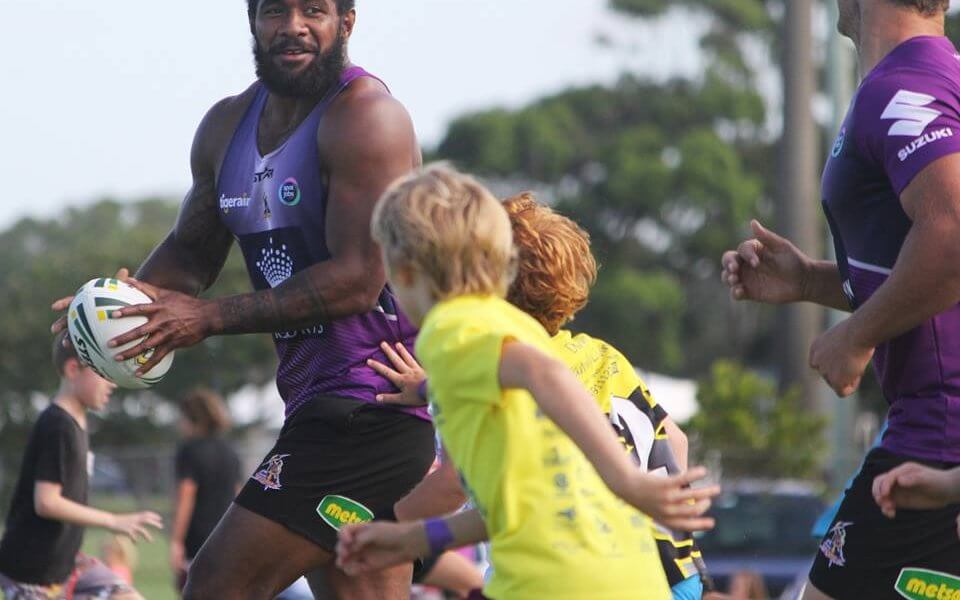 Wallaby coach Michael Cheika has selected former Melbourne Storm winger, and eventual Melbourne Rebels winger, Marika Koroibete, in the Wallaby squad to tour the UK and Europe departing today (Friday). The selection has caused quite the stir considering Koroibete is actually yet to play rugby union in Australia.
Now I'll admit I was one of the ones who got caught up in the selection dynamics and banged out a few angry tweets on my keyboard. One of my theories being, selecting Marika for the Wallabies was a bigger affront to the Wallaby jersey than the infamous clown cartoon that featured in the New Zealand Herald. The results of an ad hoc poll (and number of votes in 24 hours) I threw up on twitter seem to indicate I was not alone in my concerns.
Which devalues the Wallaby jersey more?
1) A cartoon in a newspaper
2) giving one to a player who has never played rugby in Australia

— Rugby Reg (@RugbyReg) October 25, 2016
But let's get into this latest selection a little later, because this is not an isolated selection. Cheika has been Wallaby coach since late 2014 and if there's been a theme to his coaching regime through this time it's "who Chek wants, Chek gets". There's been a number of occasions now that Cheika has made clear his intent to pick particular players, in traditionally unusual circumstances, and on each occasion the ARU have relented to his wishes.
Let's take a look at these.
---
Beale's Reprieve
At the risk of opening up old wounds, this one happened during some of the darkest days in Australian Rugby's history. Without rehashing what happened the facts remain that Ewen McKenzie resigned from the Wallaby Head Coaching role following a one-point loss to the All Blacks (18 October 2014); Michael Cheika was appointed the new Wallaby Head Coach and the Wallaby squad to tour the UK and Europe was named, sans Beale (22 October 2014); Kurtley Beale was found guilty of a "serious violation of the ARU Code of Conduct, and handed a $45,000 fine, for sending an offensive photograph to an ARU employee (24 October 2014); Kurtley Beale and Jake Schatz announced to join the Wallaby squad. Schatz as a replacement for the injured Scott Higginbotham (14 November 2014); Beale makes return to the Wallaby test team v Ireland (22 November 2014).
So they are the facts, as provided by ARU Press Releases.  From this I think there can be some observations made.
The quick change over from McKenzie to Cheika didn't provide much time for Cheika to have much selection input to the Wallaby touring squad. The fact that it was named the same day he was confirmed as Coach, supports this theory. It's interesting to note that the day Beale was found guilty of his offense the ARU came out with the below:
The Australian Rugby Union today confirmed Qantas Wallabies head coach Michael Cheika has advised Kurtley Beale will not join the squad for the Spring Tour.

From time to time there are changes to personnel during tours, due to injury or other matters, and we will advise if there are any changes to this position.
It's that last sentence that seems to indicate that Chek had a plan. Beale was a critical part of his success at the Waratahs and why wouldn't he want him in his Wallabies? As it turned out there was an injury in the Wallabies and Beale was immediately brought in. Never mind that the injury was to backrower Scott Higginbotham and Jake Schatz was also brought in to replace him. Never mind that there were existing squad members, in Kyle Godwin and Tom English, who would not play a minute for the Wallabies that tour (not even against the Barbarians). Cheika wanted Beale in the Wallabies and that's exactly what he got.
Was it a popular selection? A GAGR poll at the time would indicate, much like my twitter poll, that perhaps not!

---
The Giteau Clause
Following on from what was an unsuccessful first tour as coach (four games, three losses) Cheika made the determination that he needed to expand his selection base. For a number of years Australian Rugby had suffered  as a constant flow of players, both experienced and otherwise, departed our shores to join rich clubs throughout the UK, Europe and Japan.  Cheika wasn't the first Wallaby coach to bemoan this loss of talent, but he was the first to act on it.
On 22 April 2015, the ARU released a statement announcing that they had made changes to its "Player Contracting Policy" in that overseas based players, who met a certain criteria, would be eligible for selection for the Wallabies. The criteria was declared to be 60 test caps and seven years as a professional rugby player in Australia.
The figures were arbitrary, perhaps, but had to come from somewhere. While the policy would become known as the 'Giteau Clause', such was the value placed on the return of the 90+cap Wallaby veteran to the Australian team, it seems the cut-off was in place more to suit a number of other key players. Giteau's Toulon team mate, Drew Mitchell was in close to career best form and his finishing prowess and mighty boot were potential assets to the national team. He was, at that time, sitting on 63 Wallaby caps while other potential soon to leave players were all sitting around 50 caps (Horwill & Genia 58, Palu 54, Cooper 53 and Kepu 52).
Regardless of the number, it was a complete break from years of Wallaby selection tradition. Since the age of professionalism, pretty much the first eligibility requirement for the Wallabies was that that player was playing in Australia. Losing players to overseas clubs was always an issue as the likes of Jim Williams, Rod Kafer, Dan Herbert, Pat Howard and others all explored the opportunities that a contract overseas offered. They did so, you can be sure, with the knowledge that they may never wear the Wallaby jersey again which I am sure made such decisions incredible difficult.
Mitchell, Giteau as well as George Smith all made the same decision. It's hard to blame them. Each had enjoyed substantial rugby careers in Australia and the chance to play overseas, particularly in France, was almost too good to turn down.
And then it all changed early last year. All of a sudden these players could have their cake and they could eat it too. Giteau and Mitchell were called into the Wallaby squad that year, and would feature at the Rugby World Cup, despite not participating in any domestic rugby at all. Any thoughts that it may have only been for the RWC were dispelled when Mitchell and Giteau were joined by the recently departed Genia, Horwill and Adam Ashley-Cooper in the Wallaby squads this year, to varying degrees of success.
Cheika had provided to him an opportunity that no other Wallaby coach in the professional age had managed to secure – access to players no longer playing in Australia, in ARU sanctioned competitions.
---
Koroibete
Which brings us back to Marika. Make no mistake about this. I have been extremely enthusiastic about this signing since it was made earlier this year. While I don't watch a lot of NRL, the highlights clips show that this kid can play. He will be a valuable asset to the Melbourne Rebels next year and I was looking forward to seeing how his career progressed.
But now he's been selected for the Wallabies just over three weeks after his last game of rugby league, in the NRL Grand Final, for the Melbourne Storm – before he has played any form of rugby union in Australia.  I know Koroibete has played rugby before, only switching to rugby league when he moved to Australia from his native Fiji in 2012. But the fact remains that no one in Team Wallaby has ever seen him play rugby union and are basing his selection entirely on his performances in a different, albeit kind of similar, sport.
Now there is some precedence here, somewhat. Matt Giteau himself was selected for a Wallaby tour in 2002 having not played Super Rugby, making his test debut off the bench against England at Twickenham. Just a few years later Tatafu Polota-Nau did the same thing when he came off the bench in the same scenario (v England at Twickenham, no Super Rugby experience). Both were massive calls yet both players' rugby capability were well known due to their participation in the rugby pathway in Australia (club and junior programs).
As at this stage Koroibete hasn't played a minute of any level of decent rugby union in Australia but all of a sudden he is considered one of our best 32 players in the country.  I acknowledge he is not being capped with this selection, but as there are four development players named on top of this squad (Izaia Perese, Andrew Kellaway, Jack Depsey and Taniela Tupou), so his spot is that of a full squad member. Ahead of credentialed alternatives Luke Morahan, Tom English and even Kellaway himself.
As mentioned, I don't know Marika's rugby league credentials but I know that Wendell Sailor, Matt Rogers and Lote Tuqiri all played for their state and country in league and all had to prove themselves in Super Rugby before getting a Wallaby gig. In fact they all had a one off stint in the Aussie 7s team as well as part of their rugby induction. I'm not sure if this was beneficial to them, but it was not a bad way of them getting into the game.
But it is a selection that Cheika has clearly wanted since negotiations began, amid speculation that it actually formed part of the negotiations themselves. And as we have learned, what Cheika wants, Cheika gets.
---
Let me make this clear. I do not doubt that Kurtley Beal, Drew Mitchell, Matt Giteau, Adam Ashley-Cooper, Will Genia et al played with all their heart and soul when they wore their green and gold national jersey. That is not in question. Equally I expect Koroibete to be a complete professional on the training paddock when training with the Wallabies and, if given an opportunity to play for the Wallabies, (however much I personally would disagree with it) I am sure he would give his all.
Personally my concern from all of this is that it now seems that the Wallaby squad is no longer a representative one. My traditionalist's heart will forever hope that Wallaby selection is one based primarily on merit and as a reward for performance as evidenced in our domestic competitions. It is clearly a belief I am going to have to get over as the full impact of professionalism in the game continues to evolve. Perhaps we have reached the stage whereby the Wallabies, once an aspirational national team, has become simply a full professional franchise in its own right.
Michael Cheika has a job to do. To pick and coach winning Wallaby teams. Currently he is struggling to achieve that with a winning percentage a tad above 50%. He demonstrated in the RWC campaign his ability to bring the squad together but this year's outcomes have been worrying. I suggest he will go on making any and every player selection he thinks is best to get more wins, regardless of what we the punter thinks. I'm not sure where he goes next other than deeming every Aussie playing anywhere in the world eligible for selection, and I don't think that's something he would rule out. As Hugh Cavill joked in our podcast this week, the Wallabies are now the Chek Republic, and as we are fast learning, what Chek wants – Chek gets!