The undefeated Iona have overcome the first of two serious challenges for an outright premiership downing St. Edmund's 28 – 17.
A physically dominating performance led by Australian schoolboy and captain Brad Wilkin and powerhouse frontrower Carter Ozanne saw Iona muscle Eddies out of the game until it was too late.
Both teams traded penalties early on through fly-halves Jayden Carroll and Carter Auld after brief attacking stints in each others 22.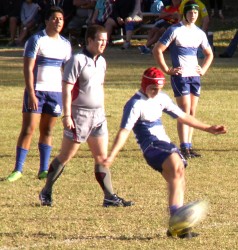 Some strong running from  Ozanne and a forced turn over by captain Wilkin saw Iona muscle their way in the Eddies 22 again.
Iona were awarded another penalty in Eddies 22, and off the ensuing scrum Iona flooded the blindside outnumbering Eddies' defenders and exploited the six on three overlap  to send fullback Sam Rose across in the corner.
Momentum swung firmly in Iona's favour, and Wilkin immediately spread it wide after taking the resulting kick-off to centre Sione Hola, who made a bullocking run down the left flank which ended five metres from the tryline when a supporting 11 Mitchel Whiffler was tackled out by a covering 15. Clifton Setu.
Iona continued to challenge Eddies defence and a dangerous tackle on an Iona attacker saw tempers rise. After both teams had hugged it out, Carroll calmly slotted the penalty.
Continuing their attack, Iona's forwards and centres made real progress down the blindside but two promising looking attacking opportunities were foiled by a knock on and chasers being in front of the kicker.
A penalty was awarded for another dangerous tackle in Eddies' 22, however this time Iona opted to take the quick tap and 3 phases later front rower Dominic Dingwall burrowed over.
Eddies best attacking chance in the first half came off a five metre lineout but they struggled to breach Iona's defence. Centre Ambrose Fenn almost punched through a hole 10 metres out from the tryline off some broken play but Iona defenders managed to contain the threat.
Eddies struggled to compete with the physicality of Iona, namely centres Todd Dawson and Hola, Wilkin, lock Matt Burke and Ozanne who continued to make numerous strong carries and big hits in defence in a man of the match performance.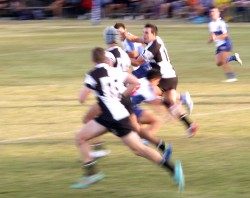 After a big hit, Eddies spilt the ball, and it was picked up by Rose and passed to Whiffler, who ran 50 metres down the touchline and managed to thread the ball 2 defenders to a supporting Dawson who then slipped out of his tackle to score. Halftime ended SEC 3 – Iona 25
Eddies came out looking to score in the second half, camping down in Iona's 22 and nearly got that elusive first try when Auld put a straight running Fenn through a gap, but Wilkin managed to scramble closing him down 10 metres out.
They were then dealt a massive blow when lineout throwing flanker Jacob Lindsey came off injured and Iona preyed upon Eddies' weakened lineout with Sharley Yak and other jumpers winning 5 against the throw.
Wilkin continued to lead his team with two linebreaks and a number of good darts from behind the ruck, one of which resulted in another converted penalty by Carroll.
However off the following kick-off and against the run of play Eddies star centre Rory Humphreys scored a intercept try in Iona's 22 for their first.
A characteristic late Eddies resurgence followed and Humphreys looked to have scored again as he sliced through the Iona defence but a covering Wilkin cut him down centimetres from the white line. However, Iona couldn't contain the late insurmountable pressure from Eddies' pick and drives off the linebreak and prop Jordan Tui eventually crashed over.
Similar to last weeks loss, Eddies' resurgence came too late and the try served as consolation for a physically out muscled team.
The win now sets a massive showdown with AIC powerhouse Ashgrove, that could see Iona win the premiership outright with a game in hand or it being shared between the two.
Iona 28 (tries: Rose, Dingwall, Dawson, cons: Carroll 2, pens: Carroll 3) SEC 17 (tries; Humphreys, Tui, cons: Auld 2, pens: Auld 1)
Other results:
Ashgrove 45 def Padua 7
Pat's 17 draw Villa 17
Peter's 52 def Lauries 24
| AIC 2013 First XV Premiership | | | | | | | | |
| --- | --- | --- | --- | --- | --- | --- | --- | --- |
| School | Played | Won | Lost | Draw | PF | PA | PD | Points |
| Iona | 5 | 5 | 0 | 0 | 136 | 54 | 82 | 10 |
| Ashgrove | 5 | 4 | 1 | 0 | 218 | 84 | 134 | 8 |
| Peter's | 5 | 3 | 2 | 0 | 169 | 101 | 68 | 6 |
| Eddies | 5 | 3 | 2 | 0 | 149 | 98 | 51 | 6 |
| Villa | 5 | 2 | 2 | 1 | 75 | 109 | -34 | 4 |
| Pat's | 5 | 1 | 3 | 1 | 88 | 145 | -57 | 3 |
| Padua | 5 | 1 | 4 | 0 | 75 | 145 | -70 | 2 |
| Lauries | 5 | 5 | 0 | 0 | 80 | 253 | -173 | 0 |